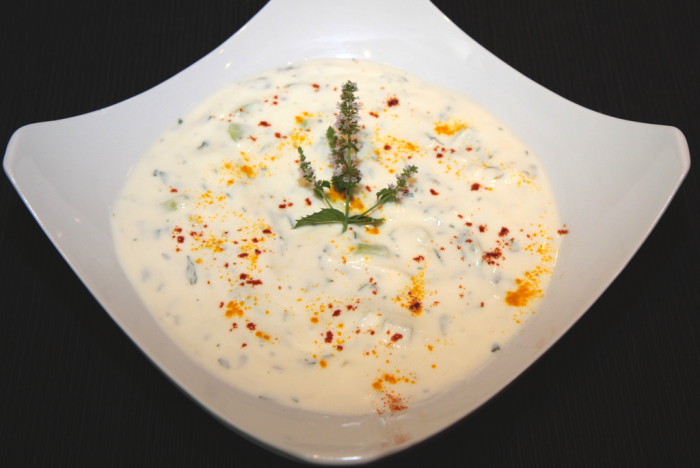 The Indian side of my family is split about 50/50 on the type of yogurt used for raita, a yogurt-based condiment entirely necessary for controlling the raging fire of vindaloo and other spicy South Asian favorites. Half still use regular yogurt, usually homemade because it's so easy, and half use Greek yogurt. Both have their benefits, but here's how I switched to Greek.
Regular yogurt has the proper consistency you're looking for in raita — thin and slightly runny to enable it to spread over food and coat it with its magical heat-erasing and flavor-enhancing properties. Greek yogurt is famously thick and creamy, very unlike regular yogurt. To thin it out but retain the extra-tangy flavor, I grate half the cukes on a Microplane and chop the rest coarsely. This way you get the right texture, plus extra cucumber flavor. Watering down is not an option.
The "rai" in raita means "mustard seeds," which I almost always add. It's one of the few whole spices you can use without cooking them, since the exterior isn't as woody or fibrous as, say, cinnamon sticks or coriander seeds. Toast a half teaspoon or so in a hot pan for about a minute, shaking constantly, and add to the mix at the end.
Ingredients
1

cup

Greek yogurt

1

large

cucumber, half grated on a coarse microplane and half coarsely chopped

1

medium

carrot, peeled and coarsely grated

1/4

cup

fresh cilantro, finely chopped

1/2

teaspoon

black mustard seeds

1/2

teaspoon

ground cumin

salt to taste
Directions
Mix Greek yogurt, cucumber, carrot and cilantro in a large bowl and set aside.
Heat a small pan over medium high heat, then add mustard seeds and toast, shaking constantly to prevent sticking, for about a minute. Be careful, they burn easily.
Remove seeds from pan and allow to cool completely, then add mustard seeds and ground cumin to raita and mix well.
Taste for salt and serve.