Beet And Labneh Dip With Feta And Pistachios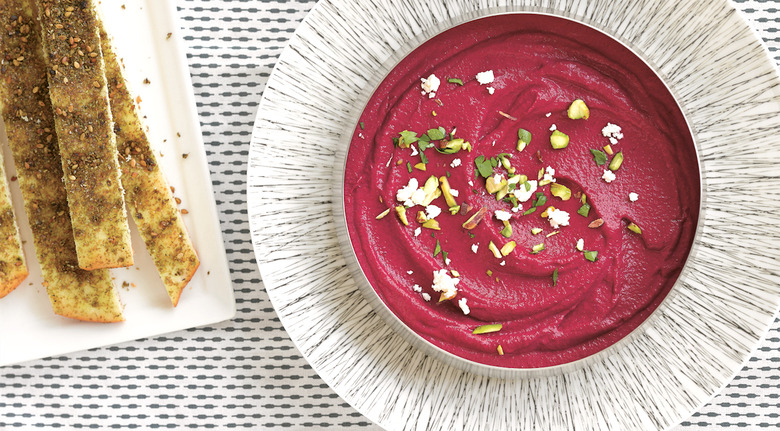 We may receive a commission on purchases made from links.
Food writer and recipe developer Dawn Yanagihara figured out something awesome: Those brightly colored vegetables you're supposed to be eating regularly make beautiful, vibrant-hued dips and spreads. Better still: Those dips and spreads are perfect for blending up the nuts, seeds and other superfoods you're supposed to be eating regularly, too. The combination of tangy labneh, thick strained yogurt, and sweet, earthy beets makes for a silky, perfectly balanced dip that will brighten up vegetable crudité or chips of any kind. We're thinking homemade pita chips.
Note: The dip may separate slightly upon standing; stirring will bring it back together.
Beet And Labneh Dip With Feta And Pistachios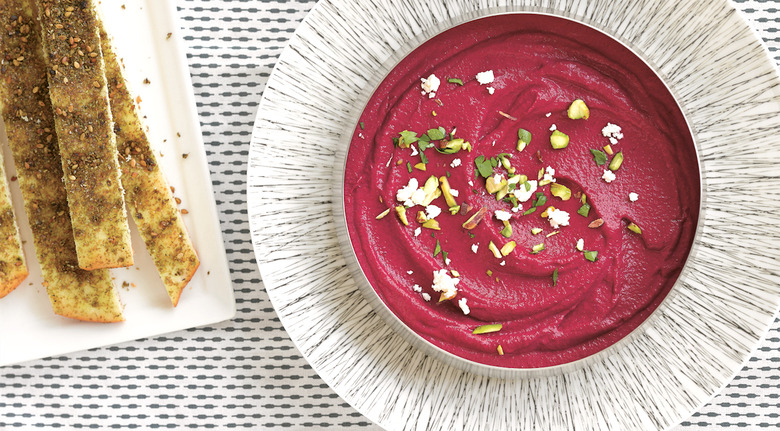 Ingredients
1 pound red beets (without greens)
1/2 cup labneh
1 medium garlic clove
2 tablespoons extra-virgin olive oil
1 1/2 teaspoons pomegranate molasses
1/4 teaspoon ground coriander
Fine sea salt and freshly ground black pepper
1 1/2 ounces Feta cheese
2 tablespoons salted roasted pistachios
1 to 2 tablespoons chopped fresh flat-leaf parsley (optional)
Directions
Preheat the oven to 350°F.
Put the beets in a small baking dish. Add 1/4 cup water and cover tightly with foil. Roast until a metal skewer inserted into the largest beet meets absolutely no resistance, 1 to 1 1/2 hours, depending on the size of the beets. Uncover and let cool to room temperature.
Slip the skins off the beets, using a paring knife to scrape off any areas that cling. Cut the beets into rough 1-inch chunks and put them in a food processor. Add the labneh, garlic, olive oil, pomegranate molasses, coriander, 3/4 teaspoon salt, and 1/2 teaspoon pepper. Process until the mixture is as smooth as it can be, about 1 minute, scraping down the bowl two or three times. Taste and adjust the seasoning with more salt and pepper, if needed.
Transfer the dip to a wide, shallow bowl for serving. Cover and let stand at room temperature for about 30 minutes to allow the flavors to meld.
Use the back of a spoon to swirl the surface of the dip. Sprinkle with the feta, pistachios and parsley (if using) and serve.