Watch Michael Solomonov Make Brussels Sprouts Two Ways (Recipe Included)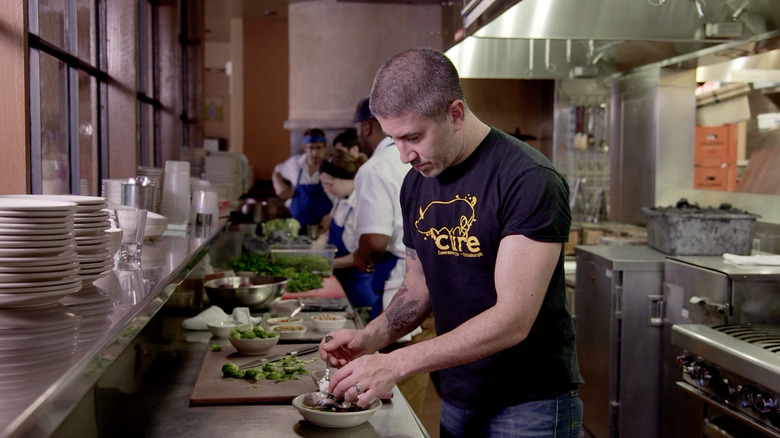 Michael Solomonov is on a roll in 2016. The Philadelphia chef and restaurateur behind Zahav and other fine establishments is about to open his first New York City effort — a branch of his beloved hummusiya in Chelsea Market. He was just nominated for a James Beard Award for Outstanding Chef (one of five candidates from the entire country). And now he's the latest chef we're featuring in our Plate Deconstruction video series. Watch as Solomonov has his way with Brussels sprouts. Two ways, actually. (Oh, and we've included the recipe below.)
Brussels Sprouts Two Ways
By Michael Solomonov
Serves 4 to 6
BRUSSELS SPROUTS
2 pounds Brussels sprouts, root removed and halved
¼ cup white wine vinegar
⅓ cup Basic Tehina Sauce (recipe below)
2 tablespoons lemon juice
3 tablespoons kosher salt
Canola oil
VINAIGRETTE
¼ cup white anchovies, minced
1 tablespoon white wine vinegar
3 tablespoons olive oil
¼ cup chopped parsley
¼ cup chopped dill
Kosher salt
TOPPING
1½ cups hazelnuts, toasted
3 tablespoons harissa
½ cup feta cheese, crumbled
2 tablespoons water
BASIC TEHINA SAUCE
Serves 10, makes about 4 cups
1 head garlic
¾ cup lemon juice (from 3 lemons)
1½ teaspoons kosher salt
2 generous cups tehina
½ teaspoon ground cumin
FOR THE TEHINA
Break up the garlic and let it fall into the blender. Add lemon juice and ½ teaspoon of salt. Blend on high for a few seconds until you have a coarse puree. Let the mixture stand for 10 minutes to let the garlic mellow.
Pour the mixture through a fine mesh strainer set over a large mixing bowl, pressing on the solids to extract as much liquid as possible. Discard the solids. Add the tehina to the strained lemon juice in the bowl, along with the cumin and 1 teaspoon of salt.
Whisk the mixture together until smooth (or use a food processor), adding ice water, a few tablespoons at a time, to thin it out. The sauce will lighten in color as you whisk. When the tehina seizes up or tightens, add ice water until it is smooth, creamy and thick.
FOR THE BRUSSELS SPROUTS
In a small mixing bowl, toss the Brussels sprouts with 2 tablespoons of oil and season with salt. Reserve 1 cup of the Brussels sprouts for the baba ganoush in the next step.
On high heat, add 2 tablespoons of canola oil to a large sauté pan. Sear the Brussels sprouts cut-side down in a single layer until charred – approximately 6 minutes. You will need to repeat this step until all of the Brussels sprouts are roasted. Be sure to wipe out the pan and use fresh oil for each batch.
On the final batch, pour the white wine vinegar into the pan to deglaze, releasing the charred bits from the bottom. Transfer the Brussels sprouts from the pan to a bowl and set aside.
FOR THE BABA GANOUSH
Sauté the cup of reserved Brussels sprouts in a hot, dry pan to create a slow, deeply blackened char – about 15-20 minutes. Once the sprouts are blackened on all sides, remove them from the pan and set aside in a small bowl to cool.
Transfer the Brussels sprouts to a food processor and blend with tehina, lemon juice, and one teaspoon of salt. Add ice water, 1 tablespoon at a time, as necessary until the baba ganoush is a coarse puree.
FOR THE VINAIGRETTE
Add the anchovies, parsley, dill, white wine vinegar, and olive oil to a small bowl and season with salt.
Whisk to emulsify and season to taste with salt and vinegar.
FOR THE TOPPING
In a small bowl, combine the hazelnuts with the harissa and a bit of water, and toss to coat.
To serve, spread the baba ganoush on a small plate with the back of a spoon. Toss the Brussels sprouts with the vinaigrette and spoon an even layer across the baba ganoush. Top with crumbled feta and the toasted hazelnuts. Garnish with additional chopped parsley.