Are You A Culinary Expert? How Many Of These 68 Terms Do You Know?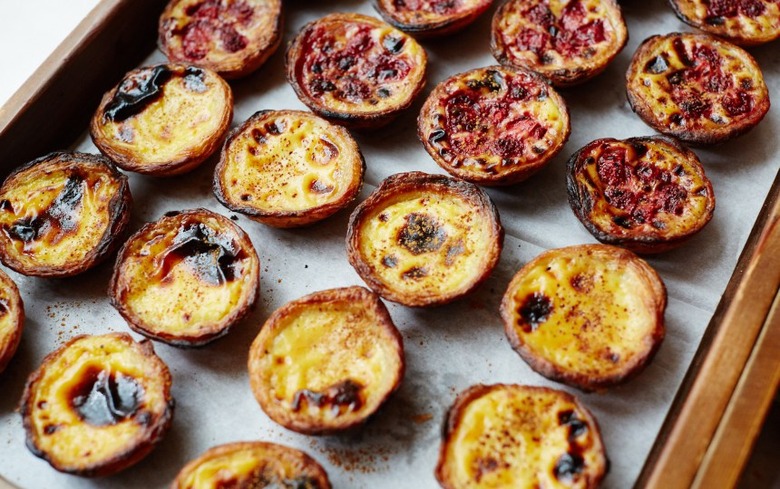 We learned a lot in 2016, including what these delightful Portuguese tarts are. (Photo courtesy of Bica.
We may receive a commission on purchases made from links.
Food knowledge is increasingly crucial. You don't wanna go on a first date to a Moroccan restaurant and have to ask what Mahia is, or travel to Cambodia without knowing anything about amok. Some of you may be familiar with all of these 68 culinary terms, and if you are, you're a true expert. But for those who want to take their food expertise to the next level, read through the below, and click on the linked words for an even deeper dive.
If you're looking for a new pastry to add to your baking repertoire, there's no better challenge to master than these perfect Portuguese custard tarts.
2. Mastic
Mastika, or as we know it, mastic, is a resin derived from the Pistacia lentiscus tree. Nuggets of this dried resin are among the first recorded substances chewed by humans for its refreshing flavor, an early predecessor of modern-day chewing gum.
3. High tea
High tea is the British tradition of drinking tea while sitting in high-backed chairs at a table full of plated items such as cold meats, vegetables, pickled fish, potatoes, salads, pies, tarts, homemade bread or crackers with butter, teacakes and fruitcakes.
4. Tepache
Tepache is a pedestrian drink in Mexico made by fermenting pineapple rinds with water, sugar, and spices, often a combination of cloves, cinnamon and allspice.
5. Mahia
Traditionally distilled as an eau de vie by the Jewish population of Morocco (the Muslim population is not permitted to do so), mahia can be made from either figs or dates and aniseed.
6. Furikake
When dining at a Japanese restaurant, you may have wondered what that "ground-up sushi stuff" on top of your rice is. Fact: It is ground-up sushi stuff, but its proper name is furikake, and once you get to know it, you may have trouble downing a bowl of rice without it.
7. White tuna
This common fish is actually known by a different name, and may not be safe to eat.
8. Firefly squid
This miniature squid lights up like a firefly, hence its name.
9. Pulque
Before mezcal, before tequila, there was pulque — believed to be the oldest alcoholic beverage in North America.
10. Shiso
The ornamental green (or, less commonly, red-purple) leaves are in the mint family and are often used to provide a refreshing garnish to fish, rice, tempura, soup and vegetable dishes in Japanese cooking.
11. Bao
Also known as steamed buns or baozi (包子), bao is a complete meal conveniently packed away in a soft white bun.
12. Boba tea
Also known as bubble tea, tapioca tea or pearl tea, the drink, traditionally a milk tea served with chewy, black tapioca balls, originated in Taiwan in the 1980s.
13. Rémoulade
It's a rich, tangy, creamy egg- and oil-based emulsion used as a binder, dipping sauce and salad dressing. You can call it "fancy mayo" if you like, but its French name is rémoulade — and you might as well use it!
14. Verrine
A verrine is an amuse-bouche or hors d'oeuvre that's as elegant as it is easy to prepare.
15. Sambal oelek
Sambal oelek has roots in Malaysian and Indonesian cooking. While there are actually hundreds of types of sambal, each with its own blend of chilis and seasonings, in the U.S., sambal oelek is the most common.
16. Powdered soy sauce
Powdered soy sauce is soy sauce combined with maltodextrin powder, a flavorless starch commonly used in food preservation.
18. Natto
According to Tomonori Takada, the president of Ootoya America (a restaurant serving Japanese comfort food, currently with three locations in New York City), the most common way to eat natto is on top of white rice after mixing it with soy sauce.
19. Lobster mince
Lobster mince is what it sounds like: finely processed meat pulled from the tiny crevices of the lobster body between the bones and knobby joints.
20. Braggot
Braggots are meads made with a hefty proportion of beer, or beers made with a hefty proportion of mead.
21. South Carolina hash
What is hash? Well, first, it seems to be a very colloquial South Carolina product.
22. Rocky Mountain cuisine
We asked a chef from the small Colorado mountain town of Steamboat Springs what exactly the cuisine of these mountains is.
23. Lap cheong
Traditionally steamed with rice, the coarse, rich and slightly sweet sausage is typically made in links of two with lean meat and identifiable chunks of soft fat, and it does not gather mold like its European cousins.
24. Organic beer
Most organically labeled beers in the U.S. are comprised of ingredients that are at least 95 percent organic.
25. Sorrel
Sorrel sounds romantic, like a secret mushroom, special tincture or magical word used to conjure fawns to appear by your side. However, sorrel is none of these things — it's a simple perennial herb that sprouts eagerly from the ground each spring.
26. Huitlacoche
In simple terms, it's a plant disease that grows on ears of corn around the kernels in puffy, gray clouds that look kind of like river stones. But when you take this strange fungus into the culinary world, huitlacoche becomes a delicacy used in all sorts of dishes from soups to enchiladas to sauces.
27. Sal de gusano (a.k.a. worm salt)
The gusano, or worm, at the bottom of a bottle of cheap mezcal is actually moth larva.
28. Saba
When chef Sarah Grueneberg was opening Monteverde earlier this year and knew she wanted to feature a soda on the menu, she quickly dismissed cola and sugarcane for another soft drink base: saba, otherwise known as mosto cotto or cooked grape juice.
29. Denver cut
The Denver cut: You know it? Probably not. To be fair — and depending on who you ask — it didn't really exist until a handful of years ago.
30. Bitter melon
Instead of being round and sweet-fleshed, bitter melon — also known as bitter squash, balsam-pear, karela and goya in various parts of the world — resembles a cucumber (though flavor-wise you would never compare them).
31. Braai
If you've never visited South Africa, either on some gourmet safari or otherwise, then you're probably unfamiliar with braai, the country's regional style of barbecue.
32. Cambodian amok
Cambodia's most famous dish is fish amok. This slightly sweet curry is always presented in a banana leaf bowl, and it has more of a custard consistency thanks to a signature steaming step in preparation.
33. Jackfruit
In its green form, it's a vegetarian's dream, and the ripe, yellow fruit is delicious solo or in desserts. Play with jackfruit in the kitchen and surprise your guests with the fruit's subtly sweet flavor that smacks of banana, peach, tangerine and mango.
34. Porgy
In Montauk, porgy is often what you get when you're trying to catch fluke or bass — and you fail. It's a relatively slow swimmer, easy to catch, and thus has long played second fiddle to its better-known ocean brethren.
36. Neurogastronomy
According to neurogastronomy, taste and flavor are two very different things.
37. Fish sauce caramel
What happens when you add fish sauce to some melting sugar? You get something called fish sauce caramel — naam plaa waan in Thai or nuoc mau in Vietnamese — and it can be drizzled over almost anything, according to three New York chefs.
38. Charcoal-activated cocktails
Activated charcoal is a cocktail microtrend (according to Jim Kearns, you don't really need more than one on your menu), but before that it was used for millennia in Chinese and Ayurvedic medicine as a detoxifying agent and to boost digestive health.
39. Tejuino
Follow legendary food writer Betty Fussell as she finds out how this low-ABV fermented corn flour is made.
40. Hard seltzer
Spiked sparkling water, or "hard seltzer," clocks in at a respectable 5 to 6 percent ABV per bottle, around 100 calories per 12-ounce bottle and just a gram or two of sugar.
41. Bloody Mary made with mezcal
What do you call a Bloody Mary made with mezcal?
42. Drinkable butter
Described as a "dessert latte" that blends the rich taste of gourmet Normandy butter and fresh milk, the concoction includes a pinch of French salt to draw out further sweetness.
43. Wormwood
The first thing most people think about when you mention wormwood is absinthe, the magical green booze with the legendary hallucinatory effects. As it turns out, wormwood has more to do with flavor and less with this temporary (but unproven) madness.
44. Maple water
Even the most devout pancake lover might not know one essential thing about maple sap: When it comes out of a tree on a cold spring morning, it is not at all viscous. Rather, fresh sap is roughly the consistency of water, rich in free-radical-fighting manganese, a source of refreshing electrolytes, and just a touch sweet.
45. Bock beer
Why is this style of beer also advertised with a goat?
47. Detroit-style pizza
It's baked in a square/rectangular pan, there's a frico crust, a crispy bottom, an airy middle and stripes of sauce on top.
48. Nigella seeds
Nigella seeds are probably one of the most confusing spices.
49. Seasoning meat
Using meat as a seasoning is the Southern way.
50. Salsify
Salsify, a vegetable that resembles, well, a twig from a tree, hails from the sunflower family (though the plants share little in common with each other). For starters, salsify tastes nothing like a sunflower seed.
51. Onigirazu
Onigirazu is the love child of an onigiri and tonkatsu sandwich.
52. Crosnes
At first glance, this small, lumpy white tuber looks a bit like a fat grub. But fear not: There is nothing insectivorous about the crosne (pronounced "crone").
53. Mooncakes
These round-shaped pastries, stuffed with a variety of fillings, are the official go-to snack of the traditional Chinese Mid-Autumn Festival.
54. Ketchup Leather
Ketchup Leather is trademarked, and while it may look like the fruit-based cellophane rolls of your childhood, it's a decidedly grown-up concept.
55. Plant-based protein burgers
Alternatives to meat burgers are plentiful today, from portobello mushrooms to black bean and grain-based, hockey puck–like veggie patties. But none of them truly taste as great as the beef burger. This is where plant-based protein burgers step in.
56. Honey butter chips
Honey butter potato chips have become so ingrained in South Korea's popular culture that the craze has its own Wikipedia page.
57. Seafood charcuterie
What happens when you smoke and cure mullet and alligator? You end up with the vastly untapped world of seafood charcuterie.
58. Pea milk
The new plant-based milk is made from protein-rich organic yellow split peas, but Ripple's patent-pending formula can be used to extract nutrition from most legumes.
59. Baharat
Like India's ubiquitous garam masala (translated as "hot spice," although traditionally there's no chili powder included), baharat's name doesn't indicate what might be in the mix — it's simply Arabic for "spices."
60. Retail-host restaurants
It's one of the fastest-growing segments of the U.S. food industry, generating some $40 billion in sales last year. Yet for some inexplicable reason, it's been given one of the clunkiest names of any kind of eating establishment. We're talking about the "retail-host" restaurant.
61. Patatas bravas
Legend has it that patatas bravas came about at Barcelona's Bar Tomás, a place that still offers only half a dozen other items besides the fried potatoes bathed in paprika and oil and topped with aioli.
62. Calçots
High season for calçots, the Catalan green onion, comes during Lent. But purposefully sloppy, social, and even kind of sexy, the eating of calçots habitually results in the kind of ritual abandon that feels like Carnival.
63. Lupini beans
Slightly spicy and tangy but also buttery like a gigante bean, lupini beans are a refreshing alternative to the omnipresent garbanzo and cannellini.
64. Dutch-process cocoa
Although chocolate has long been a darling of the collective human palate, it took the invention of one Dutch chemist in 1825 (or 1828, depending on which source you check) to change the way chocolate was made and consumed.
65. Oeufs miroir
Oeufs au miroir or, simply, oeufs miroir, translated as "mirror eggs," are fried, baked or broiled to form a barely perceptible film or "crown" of white over each yolk.
66. Bluff oysters
The most prized of these mollusks — briny, sweet and with a tangy metallic finish — grow in the bone-chilling waters of New Zealand's Foveaux Strait just off the modest seaport of Bluff, the tiny nation's southernmost town.
67. Bonut
A biscuit and doughnut walk into New York City's Root & Bone, out walks a Bonut.
68. B-Hole
Cream cheese-filled bagel holes are the breakfast waiting for your discovery.
This post has been updated from an earlier post with a new introduction and headline.