Unless you've been lucky enough to jump on the back of a Land Rover and hightail it into the African bush whenever you've felt the urge, it's likely that going on a South African safari will be about one thing and one thing only — getting up close and personal with Africa's big five: rhino, elephant, leopard, buffalo and lion.

But there's a slightly different type of safari being enjoyed in the South African hinterland — from Amarula liqueur coffees at sunrise to the lantern-lit fireside feasts served up under the star-strewn African night skies. Welcome to a world-class culinary adventure that's every bit as magical as the magnificent wildlife you've come to watch.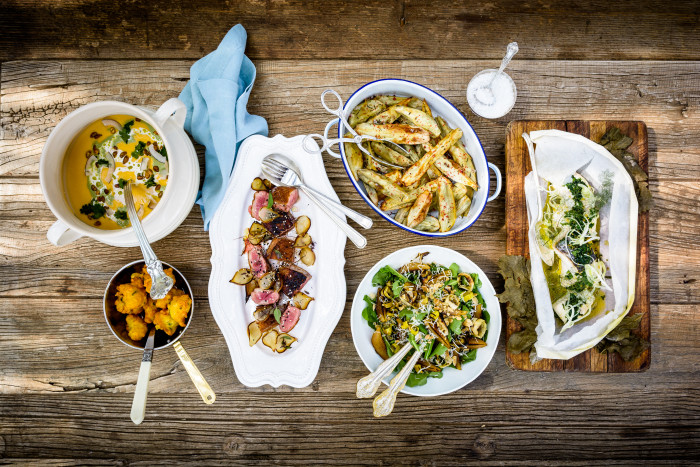 Singita
If you've got a penchant for poring over the pages of glossy travel magazines, you've probably already succumbed to the aesthetic seductions of at least one of Singita's print-worthy retreats. Revered by travel journalists and judges alike, and scoring full stars on review sites across the board, the name Singita has been synonymous with superlative safaris for more than two decades.
With sublime confidence in its own abilities, Singita doesn't bother recruiting great chefs. Instead, the company trains aspiring cooks in its very own private cookery school, which accepts just nine of 150 or so applicants each year.
"Sustainability" is the byword with Singita's produce. The travel company grows most of its own and sources game and fish locally. Superfoods such as wheatgrass and kombucha feature prominently, and Singita's kitchen, which caters to all kinds of dietary requirements, even has its own gluten-free menu.
Wine is a passion here, as evidenced by the 222-strong, award-winning wine list, which will spoil you for choice with everything from exclusive South African tipples to international classics. Wine tastings and pairing menus can also be arranged on request. singita.com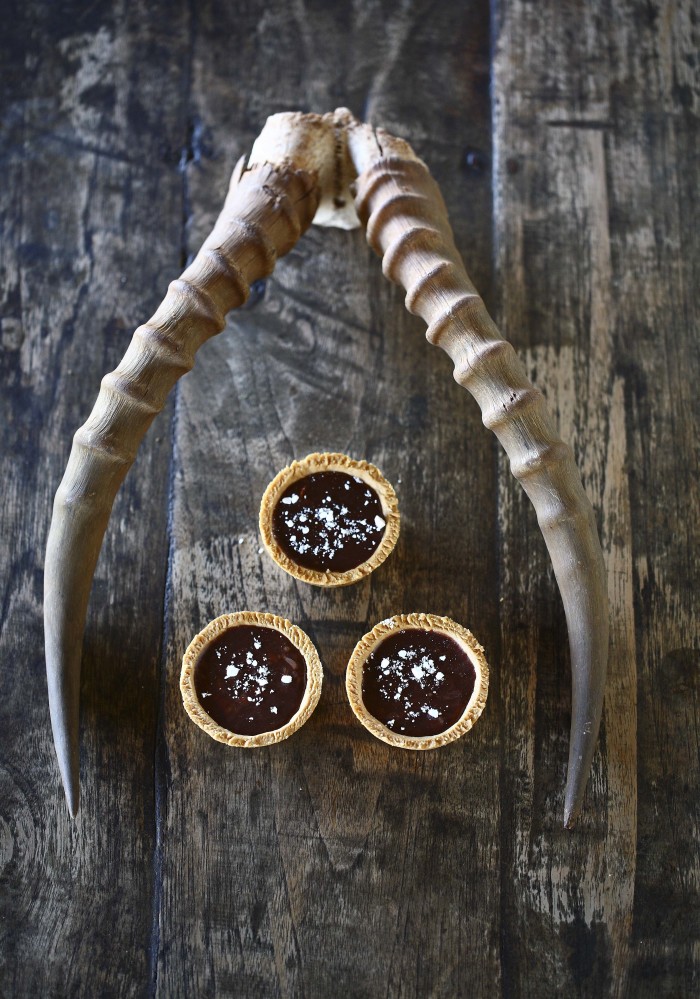 &Beyond
This travel company sums up its menus perfectly, as a "mixed masala of spicy, smoky, exotic aromas and flavours." While each lodge brings its own unique flavors to the feast, you can expect to find some Mozambican influence in fiery peri-peri marinades and South African specialties such as boerewors (South African sausage) and sweet treats like koeksisters (syrup-coated donuts).
What you can always count on at the company's lodges is a sense of authenticity and an element of surprise. From gin tasting in the bush to an impromptu braai (barbecue) — introduced by the chef describing his menu from a tree bough overhead — even the theatrics here feel genuine. It's no surprise to discover that &Beyond recruits from the local community and is deeply involved in the sustainability of its surroundings. andbeyond.com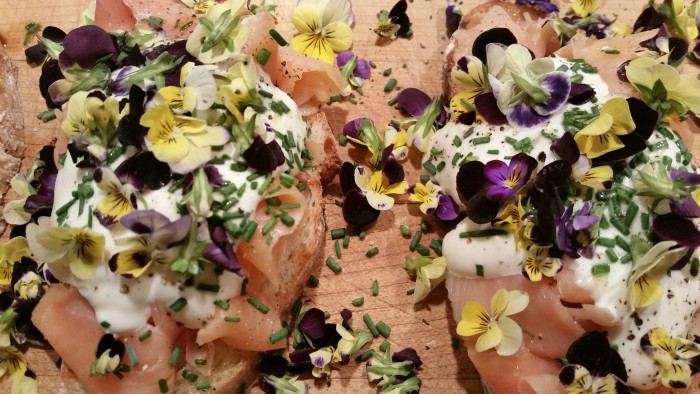 UmSisi House
If an über-fancy bush lodge (with prices to match) feels too much for the purse strings, you won't find better value or more glorious home cooking than under the gleaming red roof of UmSisi House. Tailored to groups and families, this is colonial living at its finest.
Just a 15-minute drive south of the Kruger Park's Numbi Gate, hosts Amanda and Paddy will send you on your way, gourmet picnic in hand, for daylong safaris in South Africa's most famous (and largest) safari park. After a day in the wilds, you'll be welcomed home to your very own Out of Africa homestead, where the lavish colonial experience begins with gourmet gin-and-tonics and biltong (cured beef) on the terrace, swiftly followed by an evening's gourmet safari to match your daytime sightings.
Paddy and Amanda will host as little or as much as you like — but don't miss out on their amazing bush stories, which are every bit as exciting as their menus.
Shaken and stirred by the luxurious living, sparkling views, fabulous home cooking and great value for money, visitors come back here year after year, so be sure to book ahead. Avid cooks who would rather fend for themselves should ask about the self-catering cottage. Farm D2, Peebles, White River, 1240, South Africa; +27 13 750 1520; umsisihouse.com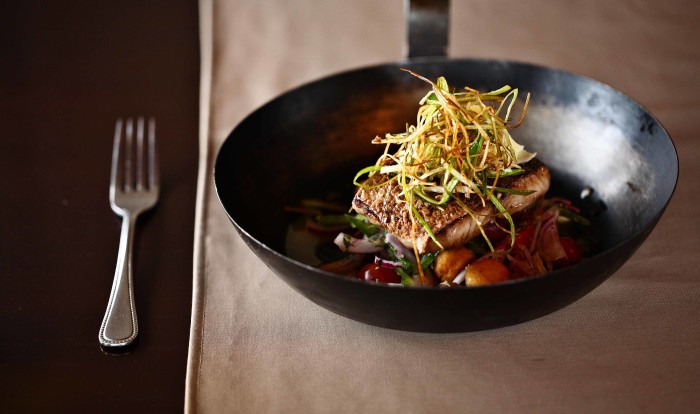 Kwandwe
The winner of the Safari Award for best safari cuisine in 2016, Kwandwe takes the culinary safari experience to the next level. Adding hot bloody Marys to the traditional morning coffee break, and soup and sherry alongside gin-and-tonics at sundown, Kwandwe puts its own creative spin on just about everything. Ask about the interactive open kitchen where kids get to bake their own "Big 5 biscuits," and don't miss out on the trademark bush banquets to enjoy high tea (served on an A-frame ladder) and salt bean-bags magically appearing in the wilderness to invite you to your own impromptu picnic.
All of this is created under the watchful eye of executive chef Quintin Van Rensburg, a member of both the prestigious Confrérie de la Chaîne des Rôtisseurs and Ordre Mondial des Gourmets Dégustateurs. The African/French à la carte options are just as inventive, with treats such as pan-fried line-caught fish on warm nicoise salad, Parmesan cream sauce and leek angel hair, which is sold in store.
For the adventurous, there's even a campfire-cooking course, where you can learn the secrets of the traditional African braai complete with sosaties (meat kebabs) and boerewors (sausages). Grahamstown, 3614, South Africa; +27 46 603 3400; kwandwe.com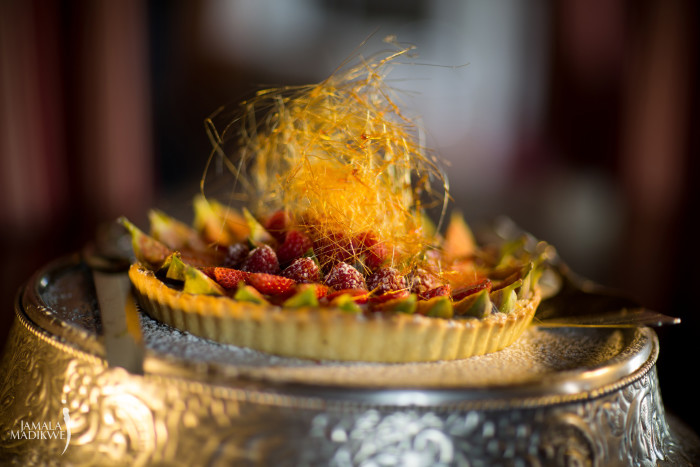 Jamala Madikwe
The Jamala Madikwe philosophy is about lavishing as much care and attention on the cuisine as it does on game drives and lodges. And with the Safari Award for best cuisine 2014 and 2015 in the bag, it's a formula that seems to be working.
The magic in the kitchen belongs to executive chef Nico Verster and his team. After training under South African Chefs Association president Stephen Billingham, Verster traveled all over the world, cooking in Europe and the Middle East before finally returning to Africa to release his award-winning cookbook Fine Cuisine Under an African Sky and hang his hat at Jamala Madikwe.
Guests can indulge their inner gourmet by discovering how Verster blends African and international influences with his tasting menu and wine pairings. Alternatively, the à la carte serves up the chef's evening specials on the starlit deck or around the boma fire pit. Anyone for dukkah-dusted kudu fillet with spring onion mash and chili broccoli, or pan-fried salmon with harissa-spiced couscous and citrus hollandaise? Afterward, share Verster's penchant for French desserts with incongruent delights such as white chocolate creme brûlée served in the heart of the African bushveld. Madikwe Game Reserve, 2874, South Africa; +27 82 927 3129; jamalamadikwe.com/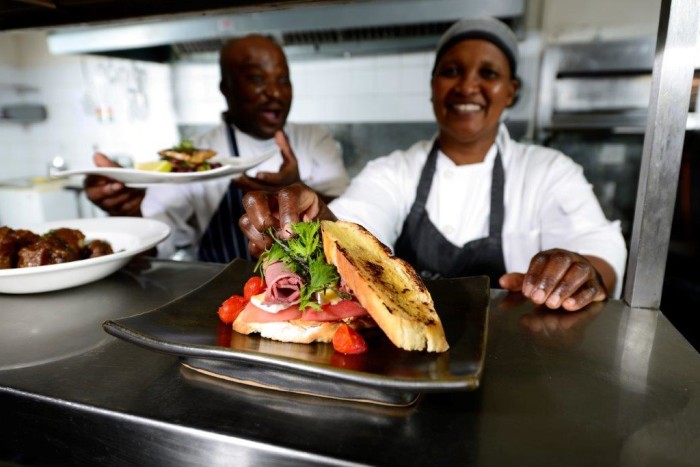 Sabi Sabi
Having been voted one of the best all-inclusive resorts by Saveur magazine in 2014, Sabi Sabi's self-portrait of "home-cooked South African food" is graciously modest.
Dishes run the gamut from traditional oxtail potjie (slow-cooked oxtail stew with creamy mashed potatoes) to international dishes such as pan-fried sea bass with coconut rice and green curry puree. And the range is just as prolific when it comes to wine: Earth Lodge houses more than 6,000 bottles to try in its cellar, including a selection bottled exclusively for the house.
But it's not just gastronomes that are pandered to here. Sabi Sabi has put as much thought into how you dine as to what you eat, be it a surprise picnic in the bushveld or lunch with your feet cooling in the ankle-deep pool at Earth Lodge's Water Dining Day Bar. At night, enjoy a predinner tasting in the candlelit wine cellar before the boma campfire beckons. sabisabi.com
Royal Malewane
With a coveted Chaîne des Rôtisseurs award in its trophy case, as well as its very own kosher kitchen, it's clear that the Royal Melewane takes its food fairly seriously.
But there's nothing stuffy about the dawn-till-dusk culinary experience here. Surprise bush breakfasts are a great way to start the day: Hot muffins and golden scones served with scented Lowveld honey are passed around while coffee brews on the campfire.
Lunch is served on the Palau Indonesian hardwood deck among the giant jackalberry trees, and dinner in a traditional boma bush setting. Expect to find sweet Mozambique crab and Karoo lamb on the menu, or tender venison fillet cooked with chef John Jackson's homemade berry preserves.
Come bedtime, you'll find a single exotic fruit and a handwritten note and poem on your pillow to send you off to safari slumber. Avoca Road, Off Orpen Gate Road, Hoedspruit; +27 (0) 15 793 0150; theroyalportfolio.com