Why Linton Hopkins Wanted In On The Steakhouse Biz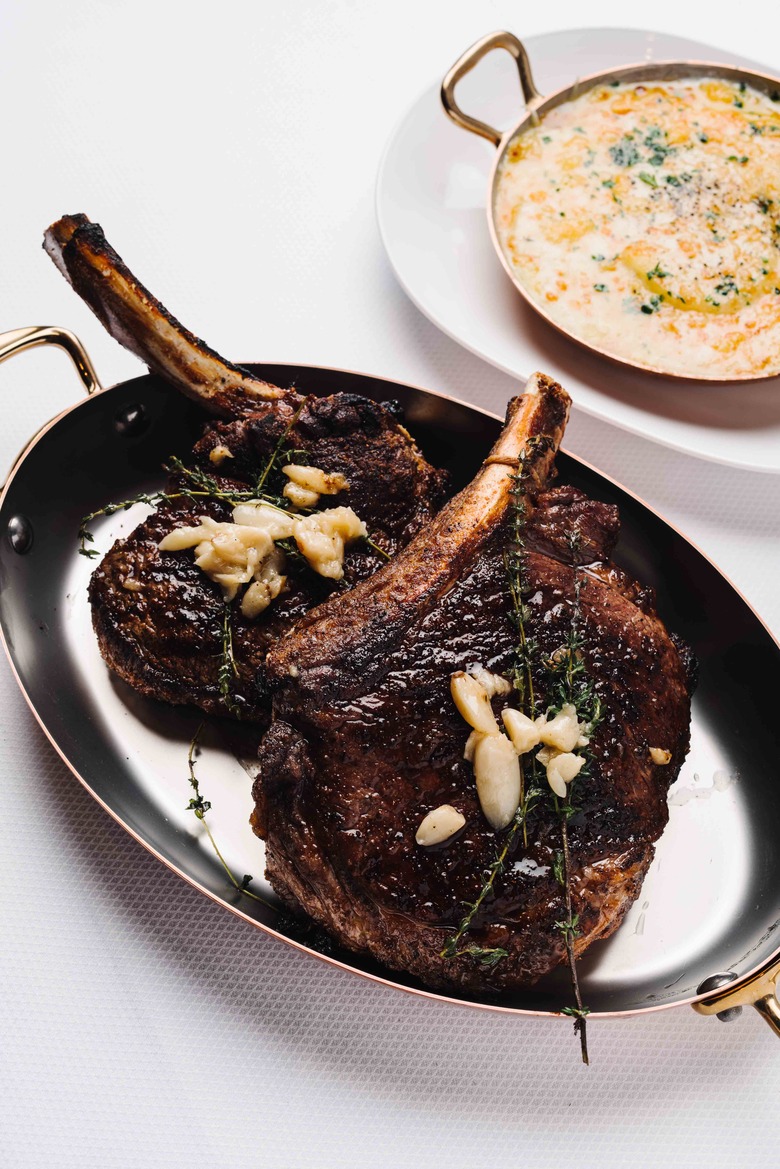 Linton Hopkins had a few questions that he asked himself before opening C. Ellet's, the Atlanta chef and restaurateur's first steakhouse, earlier this year. These inquiries, he tells me during a recent visit to New York City, included, "Who am I as a lover of steakhouses? Who am I as a cook? What is the food of a great American steakhouse? And why am I opening a steakhouse in the first place?"
Let's start with that last question: Why would Hopkins, a cerebral chef whose Restaurant Eugene was one of the first in Atlanta to integrate seasonality and Southern foodways into its menu in a meaningful way, delve into the food world's equivalent of a rock band's fallback, the greatest hits album?
It's clear that there were scalability considerations, as there are with so many restaurant group expansions these days, as well as the ambitious restaurateur's other modern-day must-have: a friendly and eager landlord. In the case of C. Ellet's, Hopkins saw a way to add efficiency to his "supply chain," as he puts it. And the steakhouse idea itself evolved from his discussions with his partners in the project, the Atlanta Braves, the Major League Baseball team that moved to Atlanta's Cobb County to take up home in the massive Battery mixed-use project.
Hopkins had already worked with the Braves on his H&F Burger at Turner Field (there are two locations at the new SunTrust Park), so he says that when the team asked him what kind of restaurant he'd like to put outside the ballpark, his response was "the great American steakhouse." The regular sporting events and concerts would attract a mass audience, he reasoned; "This is not a place for a Restaurant Eugene with a hyper-locavore tasting menu," Hopkins says. "I felt they needed something more approachable. And they were like, we'd like you to build that."
As for the supply chain issue, Hopkins tells me that it's an idea spurred by a flood that closed his flagship Eugene for three months, when he realized how "fragile" a small business can be. This explains why he and his wife/partner/sommelier Gina have built up the Resurgens Hospitality Group, which includes Holeman & Finch Public House, the burger joints, Hop's Chicken, a bottle shop and C. Ellet's, named after Hopkins' great-grandfather, Charles Ellet. The group recently imported New York City chefs Damon Wise and Jennifer Yee, both of whom moved to Atlanta to work with Hopkins full time. (The three talk about joining forces on this episode of Food Republic Today.)
"In the restaurant business you're upside down the minute you start planning, with money going out, but also the whole financial structure of it. So I needed more of a network supporting it," he says. "That's why we built a supply chain business that cooks and bakes fresh bread for all our companies, so they earn income back and forth. We have a commissary so that if we make pickles—my mother's recipes for pickles—I can make larger batches and put pickles on the menu at different restaurants." And the increased focus on beef, he says, allows him to purchase a whole steer.
All of which seems perfectly reasonable, but steakhouses, popular as they may be, are still considered cliché. Take Joe Carroll discussing his upcoming St. Anselm steakhouse with Stephen Starr in Washington D.C.: "It's come full circle, from being cliché to 'we have to do it because it's so cliché,'" Carroll told Washingtonian. "The point is to prove that we can do something so much cooler, and more fun, and more interesting, and bring something radically different in the steakhouse mold."
Hopkins took a similar approach to C. Ellet's, first visiting old-school favorites like Atlanta's Bones and NYC's Peter Luger as well as updated steakhouse versions like Bavette and Maple & Ash in Chicago, to generate ideas for his concept. He and Gina brought in Atlanta designers Square Feet Studio and commissioned artists to help create a contemporary feel that design magazine Wallpaper has dubbed, "vast and stunning." And of course he called on his own intellectual curiosity to envision a menu. Hopkins tells me that one of the inspirations for what C. Ellet's serves is Mark Twain's A Tramp Abroad. The travelogue featured Twain's lamenting the lack of flavor of the food in Europe, and his longing for the steaks, potatoes, oysters, grits and corn cakes at home. "It was all these great American foods, and I was like, That's our menu!" Hopkins says.
Of course, he's speaking figuratively. In practice, C. Ellet's does have steak, potatoes and a plethora of shellfish options, but it also features Hopkins' brainiac spin on steak cuts, which range from the 36 oz. Tomahawk Chop (an ode to Braves fans' rallying cry) to a Delmonico chuck, which is a less expensive alternative to the pricy rib. (While early reviews of the steakhouse are generally positive, there's been some online griping about prices, to which Hopkins seems a bit sensitive.) Gina's wine list skews New World, focusing on big California Cabs and fuller-bodied options from Oregon and Washington, and there's an extensive cocktail program with a focus on bourbons and ryes, as well as local beers.
In essence, steakhouse stuff, but with a Hopkins-esque twist. And while some might find the idea of another steakhouse less than inspired, Hopkins is genuinely committed to C. Ellet's making people rethink not only the steakhouse but the cuts of steak they prefer. "People want trust when they go to a restaurant. The reason the 6 oz. filet is the number one steak in America is because [people] know what they're gonna get." So will people eventually switch to some of the more unorthodox cuts on offer at C. Ellet's? "It's gonna take time," he says. "We're only six months in." By the twinkle in his eye though, you can tell that he's optimistic.