Listen To Some Of The South's Best Chefs On Food Republic Today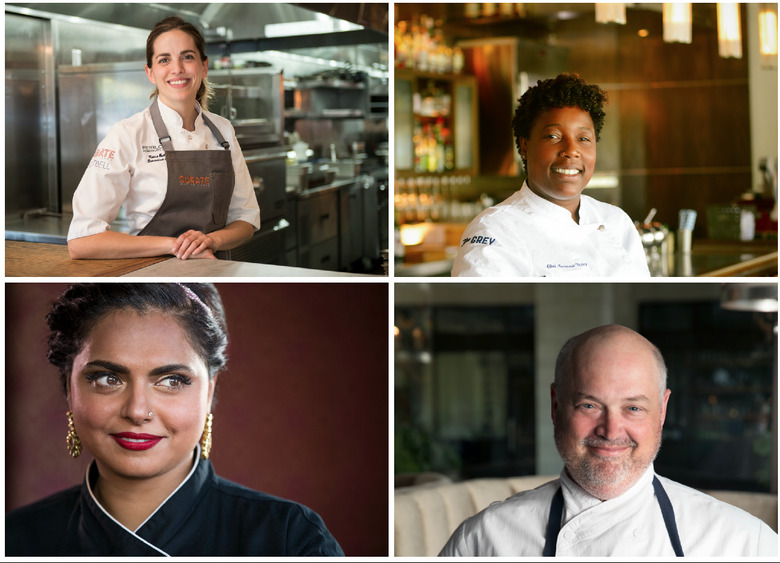 Be sure to subscribe to Food Republic Today on Apple Podcasts or wherever you get your podcasts. And please rate the podcast and leave comments!
Subscribe: Apple | Stitcher | Spotify | TuneIn | Soundcloud
Host Richard Martin headed down to the Charleston Wine And Food Festival a couple weeks ago and scored on-the-fly interviews with some of the South's best chefs: Maneet Chauhan, Katie Button, Mashama Bailey (joined by business partner and restaurateur Johno Morisano) and Linton Hopkins (joined by chefs Damon Wise and Jennifer Yee). We asked them about their recent and upcoming projects, and discussed the dining scene of Charleston. We wrap up in Post Bites with comedian Brian Park telling us about the time he found out what his favorite childhood snack actually was. But first, the news:
Today's News:
After a four-year-long drought, California's almond production back and better than ever.
New York bodegas are facing a Frito-Lay snack shortage thanks to pay cuts given to delivery truck drivers.
A study found that 93% of 259 bottles of branded water contained small pieces of plastic.
Food delivery service DoorDash raised a whole bunch of money in the most recent round of funding.
Further Reading:
Food Republic Today is hosted by our Editorial Director, Richard Martin, with co-host Krista Ruane, Zero Point Zero culinary creative director, and produced by Zero Point Zero Production. Our producer is Katie Guhl with assistance from Tiffany Do and additional editing by Manuel Sander. The episode features music by Ghostly International artists including Michna, whose "Metal Baile Joint" is the theme song.