What Is CBD, And What's It Doing In This Candy?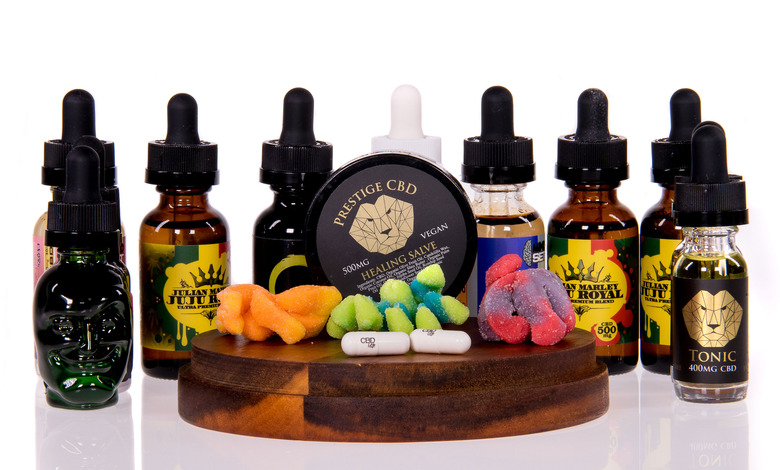 (vaping360/Flickr
THC is the psychoactive ingredient in marijuana, and CBD is its lesser-known, mild-mannered compound in crime. Well, decriminalized crime. But what is CBD, exactly? And what's in doing in those gummy bears your friends in California, where it's legal, rave about? CBD, or cannabidiol, is one of more than a hundred active substances found in marijuana. Its effects skew far more towards relaxation, mild to moderate pain relief and increased quality of sleep rather than its counterpart — the feeling you get from smoking or ingesting the plant's flowers.
For most who use CBD, it's about finding the right ratio and dosage: numbers that are different for every patient. Some like their CBD straight for a medical-grade relaxant with none of the euphoric or anxious feelings associated with THC, and some like it blended alongside THC for longevity, flavor and varying levels of high. Others, like epilepsy patients, take elevated doses of CBD (300 milligrams daily or more) in order to activate its therapeutic effects on the brain. Why is CBD gaining fame as an effective treatment for seizures? One of the tasks of the body's endocannabinoid system is to regulate the central nervous system and prevent the convulsive activity epilepsy patients experience, which is just part of why the compound has proven so uniquely helpful in treating it.
Perhaps the most important distinction is that it's far less likely, bordering on impossible, that consuming an excess of CBD-infused products will land you in the ER with a panic attack over the difference between a mole and a vole (plus, what was that movie with Josh Hartnett...Josh Hartnett was a thing, right?) and so on and so forth. Catch the drift? A prescribed dose of CBD — between 10-45 milligrams for an adult of average weight, according to Honest Marijuana — will impart little more than the desired pain relief, plus a sense of calm equal to a large mug of strong chamomile tea. Loose-leaf, none of that weak pre-bagged stuff.
For these reasons and others, CBD edibles and transdermal skincare products are actively finding their way into the hospitality sector. Los Angeles' Standard Hotels began offering CBD-infused gumdrops and body lotion in guest rooms, with others in the California-based hospitality world following suit every day. Vegetarian West Hollywood Mexican restaurant Gracias Madre will spike your cocktail or sno-cone with CBD for a supplementary fee.
A post shared by Gracias Madre (@gmweho) on
CBD as a medical product has become so in-demand that some growers are raising strains of low-THC, high-CBD marijuana in what can only be assumed is an industry first. So whether you're looking for a natural way to treat aches and pains, sleep better or simply switch up your mild buzz game, CBD products are portable, discreet, safe and could easily be your new jam. Or chocolate. Anything you like, really. Here are some of the more innovative offerings we found on Instagram:
Building an army one bite at a time... #BionicGummies #Cheeeyow #Hedibles
A post shared by True Bionic Treats (@truebionictreats) on
Fresh batch of Grape x StrawNana✨🍇🍓🍌
A post shared by Capitol Confections (@capitolconfections) on
Starting the afternoon right @cbdlivingwater
A post shared by Brandon Ray (@tnsvapes) on
Ace bomb • brown sugar & fig scented and infused with CBD💚 this green bomb is out of this world and makes the water even prettier 😍💚 #cbd #cbdisolate #cannabomb #green #relax #spa #bath #cbdbathbomb #bathbomb #lush #dispensary #vegasbaby #lasvegas #launching #cannacup #cultivate #reef
A post shared by Bomb Babe LV (@bombbabelv) on
Avocado lime protein purée, Judy's crispy bacon, mango & kiwi, pickled beet stems, dah best coconut oil drizzled on top, dressed up with a perfect parsley leaf 🥑🥝🥓🥥🍈
A post shared by Haley Pollock (@theholistictrick) on
#GetBetta ... PC: @highlanders_distribution
A post shared by Milo Confections (@miloconfections) on