Where To Drink In Brooklyn's Crown Heights And Bed-Stuy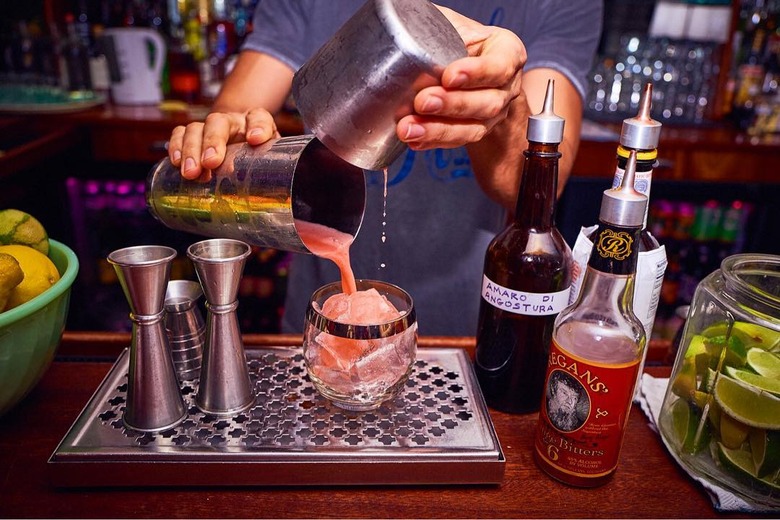 (Photo: King Tai/Facebook
The Crown Heights and Bedford-Stuyvesant neighborhoods in Brooklyn are filled with well-curated bar menus. Sure, the area's got its beach-y, tiki-esque drinking holes complete with plush vinyl booths and tropical wallpaper, but each of those bars diverge enough for one to differentiate a Diamond Reef night from a Super Power night. That said, there are plenty of dives, pubs and other bars to complete the list. If you're hanging out in Crown Heights, make a night out of it and bar-hop through the neighborhood. Most of these bars are within walking distance of each other. Here are 10 of our favorite bars in Crown Heights and Bed-Stuy.
Super Power
From the folks behind The Bearded Lady in Prospect Heights, Super Power leans more tiki in vibes and drinks and just celebrated its two-year anniversary. Guests are first greeted by a neon volcano with a face that says "You're in for a chill time." Super Power's tiki drinks aren't as saccharine as the typical rum, orange juice, grenadine mixtures, and the Super Fashioned is the perfect example. As far as food goes, Super Power dishes up mean banh mi hot dogs and nachos, both which pair great with any of their beautifully-presented drinks. If it isn't too crowded, opt for the Slow Reveal and find out how it got its name.
722 Nostrand Ave., Brooklyn, NY 11216; 718-484-0020; superpowerbrooklyn.com
Nostrand Avenue Pub
Nostrand Avenue Pub—or NAP as my friends and I fondly call it—offers an extensive rotating beer list and a warm pub-ish atmosphere. NAP is everything you love about a neighborhood dive without the sticky tables and shitty well drinks. The bartenders are incredibly friendly, the bar is outside-food friendly and the decorations, like the year-round light-up Santa and baby doll heads, will keep you interested. The playlist is always top-notch, to boot.
658 Nostrand Ave., Brooklyn, NY 11216; 718-483-9699
King Tai
Located right next to a community garden with a year-round Christmas tree, King Tai will transport you to Miami circa 1973. The bartenders here keep the menu small: five drinks that rotate seasonally. It's the kind of place where you learn the differences between rum and rhum, which could make for interesting conversation on a first date. Go for whatever the mezcal drink of the season is—it's usually the best-crafted.
1095 Bergen St., Brooklyn, NY 11216; 718-513-1025; kingtaibar.com
Sweet Brooklyn Bar
Steampunk intermixes with funky—and sometimes jazzy—beats at Sweet Brooklyn Bar. This is the type of place to go for the drinks, like the warming George Jefferson (whiskey, ginger, pear, fig molasses, lemon, lime), and stay for the live band, open mic, comedy or DJ set. It's literally always a party. Plus, it's open for weekend brunch.
608 Nostrand Ave, Brooklyn, NY 11216; 347-425-0111; sweetbkbar.com
Butter and Scotch
You may remember Butter and Scotch from its early Smorgasburg days. Its whole deal is supporting women, LGBTQ folks and minorities, and it's a very small but cutely decorated space. Not only do they offer drink specials that help raise funds for great organizations and causes, $1 from every special cocktail on their regular menu goes to Planned Parenthood. Altruism aside, cocktails at Butter and Scotch are complex, never overly sweet (unless you opt for one of their great milkshakes) and always delicious. Pair with any of the baked goods and you're set for the night. I highly recommend the Hotline Bling Cake.
818 Franklin Ave., Brooklyn, NY 11225; 347-350-8899; butterandscotch.com
Glady's
This is a bit of a cheat, because Glady's operates mostly as a restaurant, and a Caribbean one at that, but the bar program cannot be ignored. Beverage director Shannon Mustipher (catch her behind the bar on Tiki Tuesdays and at Hart's on Sundays!) is the mastermind behind all the wonderful cocktails that pair perfectly with the jerk chicken, curry goat, spicy slaw and everything else on the menu. For coconut enthusiasts, a frosty Painkiller is the one to choose, especially after a day of baking in the sun at Prospect Park. Glady's can get very crowded on any given night, but that's okay because you can bide your time with a frosty glass of liquid goodness.
788 Franklin Ave., Brooklyn, NY 11238; 718-622-0249; gladysnyc.com
Diamond Reef
Helmed by the Attaboy team, Diamond Reef feels like just the place Don Draper would hole up on vacation, away from his work and family. You too can experience all of that at this Bed-Stuy bar that just celebrated its first anniversary. For the uninitiated, Attaboy in New York's Chinatown is hidden, doesn't have a menu and expertly mixes drinks based on your tastes. Think of Diamond Reef as Attaboy's more relaxed and fun, but equally as talented younger sibling. The Fire Drill tastes like a smoky Jolly Rancher in the best way possible while the Penichillin is a great play on the classic.
1057 Atlantic Ave., Brooklyn, NY 11238; diamondreefnyc.com
Swell Dive
Go for the Filipino-inspired tacos (the chicken fried SPAM is one for indulgence) and stay for the fruity drinks. Swell Dive is exactly what it sounds like—it's a swell dive bar. If it's beer you're looking for, Swell Dive's got everything from Stillwater to Evil Twin. Complete with a PC version of "Street Fighter" and a foosball table, it's a great weeknight hangout.
1013 Bedford Ave., Brooklyn, NY 11205; 917-652-4779; swelldive.nyc
Lover's Rock
On your way from Peaches Hot House, make a stop at Lover's Rock. Any of their mezcal and rum drinks will help soothe the burn you undoubtedly endured for that hot chicken. The reggae tunes will also help ease that pain. For everyone else, Lover's Rock is the perfect place to end the night.
419 Tompkins Ave., Brooklyn, NY 11216; 347-915-0325; loversrocknyc.com
Doris
Don't worry, Doris isn't just another rum-pouring tropical paradise. Instead, the bar calls itself a "Steely Dan/San Antonio Spurs" type of place where simple cocktails are king. Go early to grab a booth and settle into whatever Fleetwood Mac song they're likely playing. Grilled cheeses are slung late into the night.
1088 Fulton St., Brooklyn, NY 11238; 347-240-3350