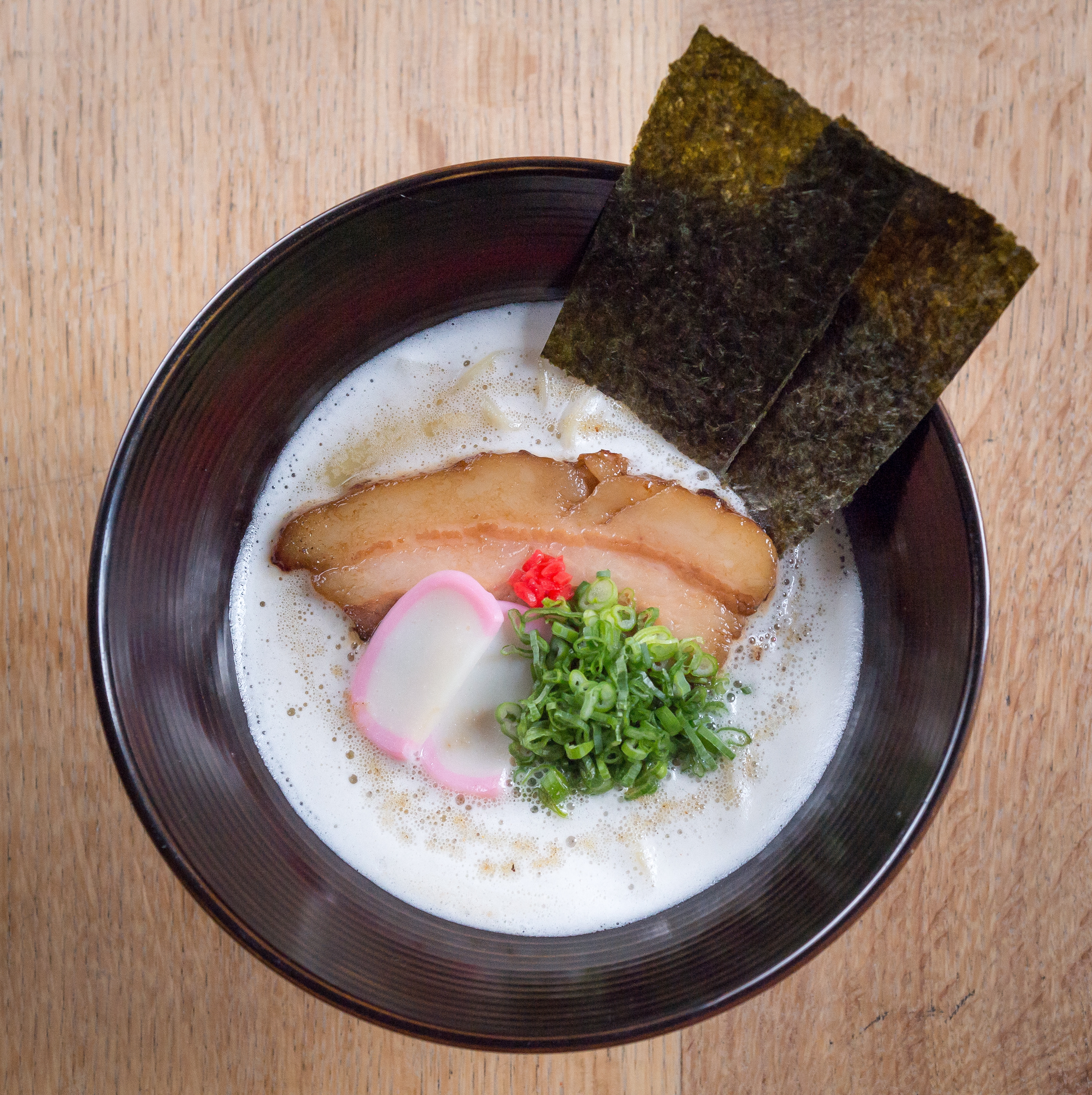 One of the best parts of beverage-making is coming up with clever, useful and delicious applications for brewing and distilling by-products. New York's first sake brewery, Brooklyn Kura, has something up its sleeves when it comes to sake kasu, or sake lees ("leftover bits").
Kasu is what's left after sake has fermented and the moromi mixture is pressed. According to Brian Polen, the president and co-founder of Brooklyn Kura, sake kasu comes up as small, solid, flat squares.
From now until March 24, Brooklyn Kura is collaborating with Sun Noodle's restaurant incubator, Ramen Lab in New York. Chef Akira Hiratsuka is highlighting three dishes made with Brooklyn Kura's sake kasu: Sakekasu Tonkotsu Ramen, Okinawa Soba and Sake Foam Vegan Ramen. He mixes sake kasu with the pork bone tonkotsu and vegan broths, resulting in a foamy soup. As for the soba, he infuses sake kasu into an omelet, which tops off the bowl.
Sake kasu looks and has a texture similar to cottage cheese. According to Kenshiro Uki, the vice president of operations of Sun Noodle, the kasu is rich in sake flavor with a hint of bitterness, which will lend itself nicely to hearty bowls of noodle soup.
Polen says this is the brewery's first food collaboration that actually incorporates the sake into the dishes. Before Brooklyn Kura's taproom officially opened, its sake was paired with chef Winston Chiu's Chinese pub-style menu at the Chef's Lab series this past January.
"We experiment with serving sake at all stages of production in our taproom, so we loved the idea to incorporate sake kasu as an ingredient," Polen says. "It's a level up from simply serving our sake to drink with the meal, and demonstrates just how versatile sake and sake by-products can be."
According to Uki, the sake by-product is often used in Japanese cuisine to flavor dishes, drinks and pastries.
"It is part of the Japanese culture to use byproducts in our cuisine," Uki says. "Many Japanese people consider sake lees an ingredient. [Chef Hiratsuka] has used sake lees for his original ramen recipe for more than five years."
Whether it's your first or 100th encounter with sake kasu, experience the infused ramen yourself this week.
Ramen-Lab, 70 Kenmare Street, New York, NY 10012, 646-613-7522, ramen-lab.com
Brooklyn Kura, 68 34th Street, Brooklyn, NY 11232, 347-766-1601, brooklynkura.com