Four Pillars Wastes No Part Of The Orange When Distilling Gin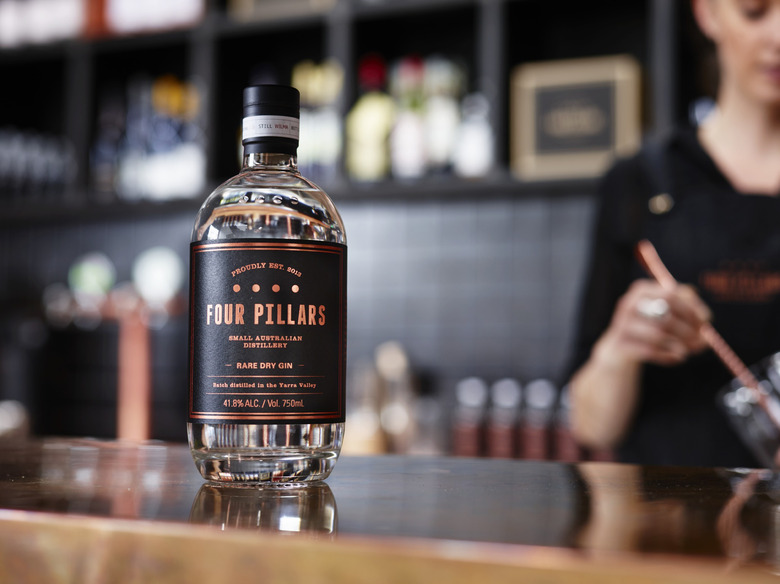 This Australian distillery uses its oranges to make gin, marmalades and even flourless cakes. (Photos: Anson Smart.
Four Pillars, a small distillery in Melbourne, Australia seems to have gotten its mission from its geography: When the world gives you oranges, you make gin. But the founders of the company didn't stop there. After distillation, the oranges that have been used for gin are given another chance at life in the form of clever items such as Breakfast Negroni marmalades.
Cameron MacKenzie, distiller and one of the founders of Four Pillars, tells us that that's not the only element of the gin making process that gets revived in a way. The spent botanical ingredients that go into the gin are fed to neighboring pigs at Yarra Valley Piggery, which are then served at ticketed dinners hosted by Four Pillars. MacKenzie also says beer and cheeses are other products that use spent ingredients. Here's MacKenzie on these and other topics related to Four Pillars' inventive zero-waste initiatives.
Why do you distill your gin with oranges?
During our very early gin experimentation stages, we had a weeklong visit from someone of the teams at CARL in Germany, the folks who make our wonderful copper pot stills. He remarked on how unique it is for a country to have a year-round orange supply. By cutting whole organic oranges in half and adding them into the distillation, the gin took on a beautiful Mediterranean character, with the warm citrus aromatics supporting the spicier botanicals like cardamom and star anise. So, it's a nod towards the great year-round citrus our climate affords us here, and to the Mediterranean influence that's woven through our modern-day Melbourne culture.
Where did the idea to make marmalade from the oranges you distill with come from?
When we first started making our Rare Dry Gin, I was continuously left with these batches of gin-steamed fruit — luscious local oranges that were exploding with citrus — and all the botanical flavors from the pot. Only a madman would waste that! After playing around with homemade jam in my own kitchen, I asked my mate Caroline to whip us into one of her creations. And so our Four Pillars Gin Marmalade and Breakfast Negroni (marmalade with a splash of Campari added) came to be, and we've been in high demand for the stuff ever since!
Was reducing waste and sustainability always a mission of Four Pillars?
It's really our innate curiosity about distilling gin, and the fact that we're lucky enough to live in one of Australia's most amazing producer communities, that leads to a waste-minimized process where we make use of everything we can. After each distillation, we're left with a lot of different products aside from really awesome gin: oranges, spent botanicals, stillage (the dark aromatic tea-like liquid that's left over). And we're always excited about new interesting, delicious projects that can extend the life of the incredible produce and water that we put so much effort into sourcing in the first place.
Do you treat other ingredients in similar ways in terms of reusing and recycling?
Absolutely. Our mate Brett from the Yarra Valley Piggery feeds some of our spent botanicals to his free-range Berkshires, and we hold regular Gin Pig dinners that sell out in two days or less. Whatever the piggies don't want we chuck into our happy little worm farm at the distillery and turn into mulch.
Jack Holman from local cheesemakers Stone & Crow uses the stillage to make a gin cheese that we serve at our bar. A few great beers have been made using combinations of both products — a witbier by 2 Brothers and a gose by Hargreaves Hill. And when we've got too many oranges from distillations, Cam and the rest of the distillery crew have been known to take them home and make some of the world's yummiest flourless orange cakes.
Could you tell us about the pig dinners and the pigs themselves?
The pork that comes from Brett's farm is amazing. Not only does it take on some of the characters of the gin botanicals fed to the pigs, but it then goes into the hands of seriously talented kitchen teams that we partner with for each dinner: Three Blue Ducks in Sydney, Pope Joan in Melbourne, Oakridge just around the corner from our place in the Yarra Valley. Matt Stone's partner turned pig fat into salted caramel doughnuts, need we say more? On top of that, you've got wine partners from our neck of the woods, and of course great gin cocktails. All in all, they're pretty indulgent (and hilarious) evenings that celebrate our rich producer community.