Why You Should Be Eating In NYC's Hell's Kitchen Right Now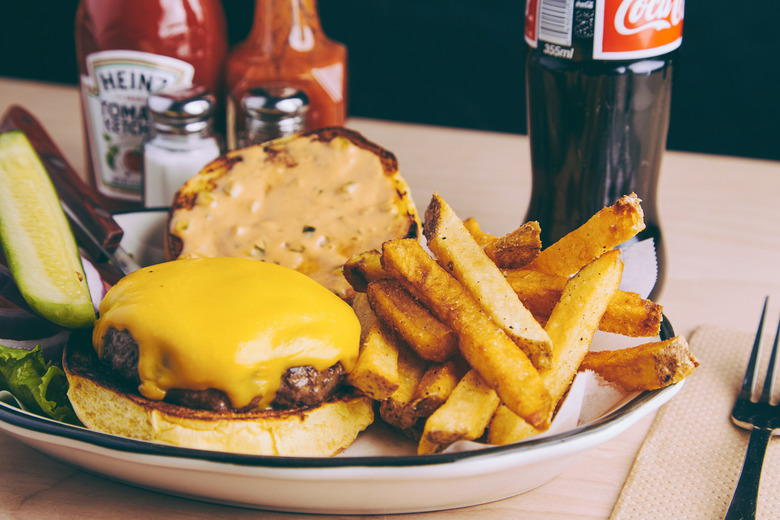 If you find yourself hungry on the far west side of midtown Manhattan, there are 10 killer Hell's Kitchen restaurants that should be on your radar. Hell's Kitchen has made great strides since its relatively recent days of infamy. Besides the drug and gang activity, you might get run over by a horse-drawn carriage on its way home from Central Park, a decidedly antiquated way to perish.
Above Chelsea, below the Upper West Side and Hudson Yards-adjacent, you'll find one of the most diverse and dense food scenes in the city, with dozens of ethnic cuisines to sample in one humble square half-mile. The Thai food is on-point — you don't need a recommendation, just sit down at any Thai place you find. Some of the town's most beloved casual staples, like The Meatball Shop and La Esquina, have set up shop in the last year. Hidden taco counters, dollar slice joints and ramen spots abound. But enough small talk: let's eat. Left off this list are straight-up expensive places — Hell's Kitchen isn't so rapidly gentrifying yet that we're rolling out the red carpet — and longstanding neighborhood mainstays that have already been covered to death.
(Not real death like in the old Hell's Kitchen days, just figuratively).
Kashkaval Garden
This French-Turkish café specializes in all things melted cheese, from traditional Raclette to modern-day poutine. They'll also make several kinds of fondue for a group of any size (including one). That's right, they will gladly make you a personal cast-iron pot of fondue, and not judge you one iota. The sharp cheddar with caramelized onions and McKenzie's hard apple cider is particularly good, and the signature Kashkaval fondue of silky molten Bulgarian sheep cheese will change your perception of feta forever.
You'll find all manners of salads, Mediterranean tapas and chargrilled kebabs: crunchy, fatty pork belly, charred octopus and garlicky kofta are all delicious. The brunch menu is excellent, too — try the vegetarian strata with fried artichoke, roasted red pepper, egg and cheddar or a skewer sampler alongside your bottomless Bloody Mary or ginger-cranberry healing elixir.
852 9th Ave, New York, NY 10019; 212-245-1758
Gardenia Terrace
This newcomer opened to excellent reviews and is packed just about every night. Thankfully, it's also on OpenTable, so make a reservation and prepare to pass a couple of leisurely hours. Gardenia Terrace's menu has many strengths, but the mezze lineup and fresh salads stand apart for their excellent balance and thoughtful presentation — the watermelon and feta salad comes artfully stacked in cubes. Nobody will need to forgo the flatbreads, because they're all gluten-free (and you'd never be able to tell). The restaurant also has one of the only outdoor seating areas on 10th Avenue, where you're welcome to enjoy a dozen standard flavors of hookah, plus fresh fruit infusions and thoughtfully crafted house blends under Edison-style string lights.
Not to be missed are the spiced yogurt-marinated chargrilled chicken wings, lemon-spiked creamy barley risotto with octopus and hand-rolled stuffed grape leaves. Service can be a little slow, but hey, you've got time — they're open til 2 a.m.
826 10th Ave, New York, NY 10019; 212-334-0489
Hell's Chicken
When my husband and I visited his adopted hometown of Seoul, South Korea, one of my goals was to find Korean fried chicken better than this. I didn't.
This tiny restaurant and bar is tucked in between a notorious craft beer bar and big thumpin' gay club, which makes the fact that it's often overlooked truly baffling. Looking for something to soak up the suds? Need to refuel for dance party round four? The service is phenomenal and the price is right. I've never spent more than $35, beer included, and am so stuffed that I leave with a take-out box of brined, twice-fried, double-sauced Pennsylvania Amish-sourced chicken that's so juicy it even reheats beautifully the next day.
In addition to the original (pictured above), try it tossed in mild or spicy Hell's Sauce: a salty-sweet-umami bomb lightly sprinkled with crushed cashews. I love this chicken. I love it so much I want to marry it. I also believe my husband would leave me for this chicken if he could, and I'd wish them well.
641 10th Ave, New York, NY 10036; 212-757-1120
Queen of Sheba
Who likes Ethiopian food? Anyone who likes food from Mexico, Africa, the West Indies or the Indian Subcontinent, pretty much automatically. Is that you? Well tear off a big 'ol sheet of injera, because Queen of Sheba is a no-frills straight shot to some of the most hearty, flavorful and well-spiced stews and braises on the planet. They've also got traditional salads, Ethiopian beer and plentiful vegetarian and vegan options. The interior may present as a little dim, but it's all about what comes out of the kitchen.
The tomato, onion and jalapeño salad (timatim fitfit) is a delicious starter, served over injera and drizzled generously with peppery olive oil. Order one of the sampler platters to share, a huge dish covered with that wonderful spongy flatbread, topped with liberal helpings of "the hits": awaze tibs (lamb stew) doro wat (braised chicken legs with hard-boiled egg), gomen wat (collard greens), misir wat (a lentil stew similar to Indian dal) and more.
650 10th Ave, New York, NY 10036; 212-397-0610
Empanada Mama
Anyone with access to a Colombian restaurant is a lucky duck. This former hole-in-the-wall was good before, and after a recent redesign and major expansion, it's better than ever. In addition to more than 25 different kinds of empanadas, made with either wheat or corn flour, the restaurant's dinner and brunch menus are extensive and exciting. The space is great for a big crowd or party, is kid-friendly and the French doors at the entrance open wide during warm weather to allow the smell of freshly fried empanadas to waft into the street.
Go for brunch or late-night eats no matter how late, because they're open 24 hours. The Colombian breakfast, a best-seller, is a great way to kick off your day, topped with spicy pork sausage and splashed liberally with homemade salsas. The traditional empanadas (pernil, shredded beef, chicken picante, chorizo, ground beef with olives) as well as the modern twists (Hawaiian, chicken-broccoli teriyaki, Greek spinach pie) and dessert options (figs, caramel and cheese) are all sublime. Even the ones that seem like duds (BBQ pulled pork and cheddar) are solid.
765 9th Ave, New York, NY 10019; 212-698-9008
Mee Noodle
New Yorkers tend to be more discerning of Chinese food than necessary, and that is because places like Mee Noodle exist all over the city. This one just happens to be perfectly situated in the heart of Hell's Kitchen, benefited from a full renovation last year and has the kind of reviews that would make China Garden blush.
In addition to everything you'd want from the traditional American-Chinese-but-more-Chinese-than-American fare (excellent cold sesame noodles, chicken with broccoli, sweet barbecue pork buns and General Tso's), Mee's humongous noodle soups topped with scallions and fried shallots are unbeatable. Customize yours any which way with seven kinds of noodles, plus handmade wontons, umami-packed roast meats (try the duck) and accoutrements. Then don your chopsticks and slurp away at the window bars while watching 9th Avenue strut by. Go a little early for a friendly little $4 beer and wine happy hour, or go late before you turn in — they'll be open.
795 9th Ave, New York, NY 10019, 212-765-2929
Inti
There are few dinners more satisfying in their simplicity than Peruvian roast chicken and traditional sides. Inti performs this ritual to perfection (to live music on weekends), serving their succulent whole spiced birds with plantains, tostones, French fries with sliced fried frankfurters, avocado-tomato salad, rice and beans and and homemade salsas. All for $32. The other fare is top-notch as well: killer ceviche over sweet potatoes, hearty chicken soups and several preparations of quinoa. But go for the chicken.
If you've never enjoyed the salty, crunchy delight that is cancha — Peruvian corn nuts — you'll find them on every table and are in for a treat. Order yourself a Pisco sour and prepare to become addicted to a truly great bar snack.
820 10th Ave, New York, NY 10019; 646-596-9216
Black Tap Craft Burgers
New York may have one of the bougiest burger scenes in the country, but Black Tap's mission is to make sure natives and visitors alike can sit down for a legitimate burger that comes with fries at an aesthetically pleasing restaurant without emptying their wallets. Owner Joe Isidori takes the game very seriously without taking an ounce of fun out of it, as you'll experience with his loaded-to-the-gills milkshakes. He's an American cheese loyalist, Burger Bash champion and flat-top griddle obsessive, and he's the man you want designing the best fancy but also not-fancy burger you've had in months.
136 W 55th St, New York, NY 10019; 212-315-4356
Yakitori Totto
This buzzing 2nd floor yakitori restaurant comes from the same restaurant group as the perpetual line-around-the-block Totto Ramen. A slightly more formal affair, chefs stand behind the bar fanning binchotan coal-fueled grills with paper fans, churning out generously portioned skewer after skewer of Himalayan pink salt-finished meat, fish, vegetables and rice balls.
Totto serves all the best bits front and center, attesting that Anthony Bourdain recommends the chicken skin on the homepage of their website. If you're traveling that path, order chicken cartilage and heart served with fiery mustard, plus the beef tongue and pork neck. There are plenty of other mainstream options for the less adventurous, as well. Try the Hokkaido scallop, chicken-stuffed shishito pepper and marinated short rib, all grilled to absolute perfection.
251 W 55th St, New York, NY 10019; 212-245-4555
Tacuba
Renowned NYC Mexican chef Julian Medina's latest restaurant is the spacious and beautifully decorated Tacuba. Medina's cuisine takes you far beyond the carne asada taco, though the carne asada tacos are great too (and try the fish tacos at home). It's a fantastic place to try something new, like a seafood coctele or aguachile instead of ceviche, or the meltingly tender whole roasted suckling pig carnitas. Looking for something really new? The crunchy, savory fried grasshopper omelet tacos will open your eyes to the glorious future of bug-eating, and is hands-down my favorite item on the menu. Vegetarians will delight at the zucchini flower quesadillas and quinoa chile relleno, and everyone can enjoy something from a tequila bar so well-stocked it may bring a tear to your eye (or perhaps that's just the tequila burn). Chef Medina even has his own signature bottle.
802 9th Ave, New York, NY 10019; 212-245-4500