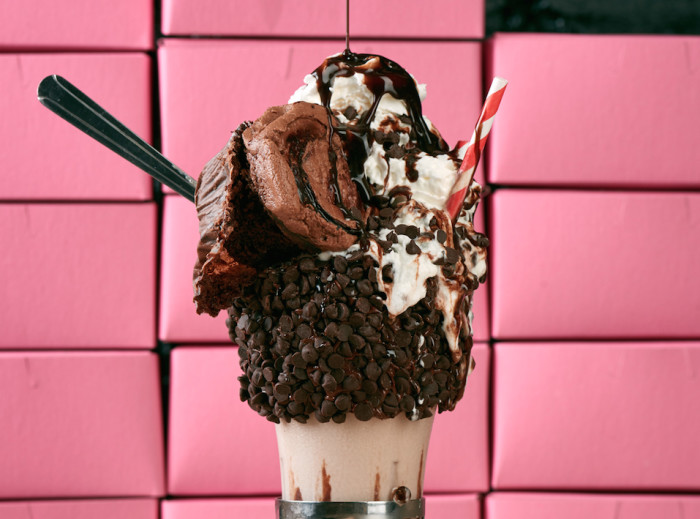 Joe Isidori is chef-owner of NYC burger haven Black Tap and author of a new cookbook packed with its recipes. The burgers are delicious, inventive and served "deluxe," and the milkshakes are the skyscrapers of the dessert game, loaded with every other dessert imaginable. Once you've had your burger and are ready for something sweet, set your sights on this stacked and loaded milkshake, inspired by the famous Brooklyn Blackout Cake.

Sal, the owner of Little Cupcake Bakeshop, where I get coffee every day, is from Brooklyn. I'm from the Bronx. Most mornings you can find us at a table with our heads together in the great tradition of two Italian-Americans having a sit-down on the margins of old Little Italy, but the only deals we ever make involve desserts. Sal's award-winning blackout cake was the perfect New York inspiration for this chocolate shake, developed to commemorate the opening of Black Tap Down, the basement dining room we built underneath our original Soho bar.

Reprinted with permission from Craft Burgers and Crazy Shakes From Black Tap
Ingredients
6

tablespoons

chocolate frosting

1

cup

mini chocolate chips, plus more for decorating

3/4

cup plus 2 tablespoons

whole milk

3 1/2

cups

vanilla ice cream

1/3

cup

chocolate syrup, plus extra for decorating

whipped cream

2

Brooklyn Blackout cupcakes or chocolate-frosted chocolate cupcakes
Directions
For the milkshake
Frost the top 1½ inches of two tall 16-ounce glasses with the chocolate frosting. Press the chocolate chips into the frosting all around the glasses.

Combine the milk, ice cream, and chocolate syrup in a blender and blend until creamy, about 1 minute.

Squeeze some chocolate syrup along the inside rim of each glass so it drips down the inside of the glass. Divide the shake between the two glasses.

Top each shake with whipped cream and more chocolate chips, and drizzle with chocolate syrup.

Peel off the cupcake paper and press the cupcake onto the rim of each glass (you can also insert a long-handled spoon or butter knife vertically through the center of the cupcake and then place the end of the spoon or knife in the shake to help the cupcake stay upright).

Add a straw and serve immediately.