Rib-Sticking Soups To Bridge That Winter-Spring Gap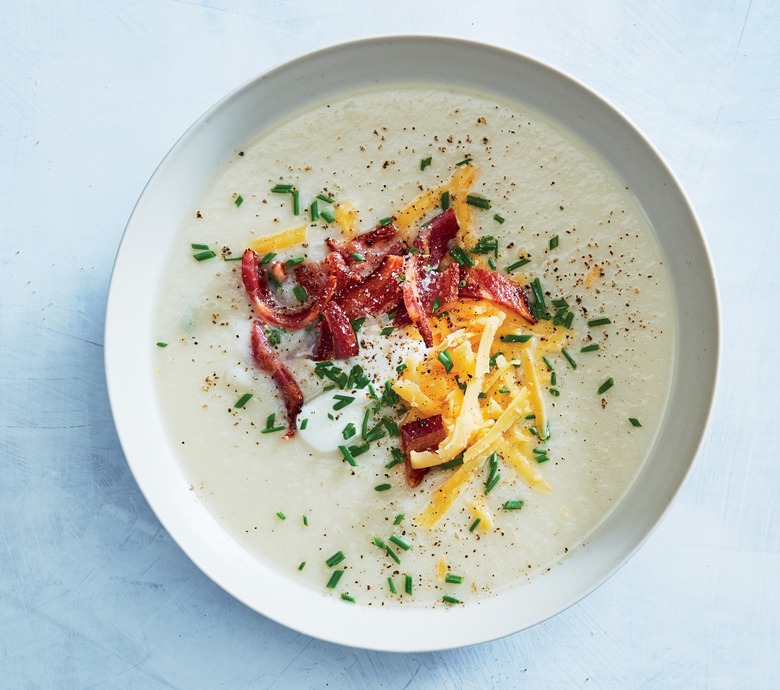 When you're on the fence about whether to hunker down with hearty winter meals forge on with spring fare, turn to a big hearty pot of soup. These rib-sticking soups are the perfect way to stay warm when it's cold without going full beef stroganoff on everyone. Better still, bake up a batch of fresh and fragrant bread bowls and serve these sumptuous soups the way nature intended: encased in an edible carbohydrate shell.
Recipe: Loaded Baked Potato And Cauliflower Soup
True or false? The best part of a baked potato is the toppings. If you agree, then this soup is perfect for you. Starting off with bacon fat means that the entire soup is infused with delicious, smoky flavor. And, instead of just using starch-heavy potatoes, a blend of potato and cauliflower makes for a creamier, lighter soup. All this as balance for the classic baked potato toppings, naturally.
Recipe: Kabocha Squash Soup With Toasted Pepitas
Every bite of this soup tastes like autumn. Kabocha squash is so satisfying because of its rich squash-i-ness — and I like that it's not as well known as butternut and acorn squashes. Plus, it's fun to say. You can use another fall squash for the soup, but whatever you use, puree only half and then mix the chunkier half with the smooth half. The pepita garnish is a little time-consuming but extremely tasty. Make it when the in-laws are on their way over and you want to impress. But if you're eating the soup in your sweatpants, just toast some pepitas instead!
Recipe: Winter Minestrone
There are dozens of recipes for minestrone, which means "big soup" ("maxistrone") in Italian. It can be made at any time of year, using whatever seasonal vegetables you have, and the only rule — if there can be said to be any at all — is that you also include some little hunks of starch in it. These could be pasta, potatoes, or pulses or a combination.
Recipe: Authentic Chinese Hot And Sour Soup
Every lover of Asian food (takeout, specifically) needs a Chinese hot and sour soup recipe in their life, so pick up a copy of the newest comprehensive guide to the world-renowned cuisine of China. We're talking all provinces, all dishes, for every meal of the day. Whether you're craving sweet and savory barbecued meats, wok-crisped vegetables, steaming bowls of noodles, fluffy stuffed buns or hard-to-find specialty and holiday dishes, China: The Cookbook is exactly what you need.
Recipe: Extra-Savory Broccoli & Blue Cheese Soup
A healthily indulgent combination of super vegetables and rich cheese. A quiche in a bowl. In a good way.
Recipe: Sun-Dried Tomato Soup With Couscous
This hearty dish is a perfect meal to enjoy when the first autumn days are creeping in and you need a little coziness, but you can also enjoy it cold. By using a combination of sun-dried and canned tomatoes, you'll add tons of umami notes to a totally vegan soup. The texture of the couscous topping provides a welcoming contrast to the smooth purée, while the olives lend a salty bite and the parsley adds a fresh note.
Recipe: Sweet Potato And Pomegranate Soup
Sometimes I find sweet potato soup a little too sweet, but not here — teamed with citrusy sumac, sour pomegranate, aromatic cilantro, and crunchy roasted peanuts, it is what a bowl of fun should look like!
Recipe: Cabbage, Bean And Bacon Soup
A good book of soup recipes is the cure for cold weather. Whatever delicious produce you find at the farmers' market, there's a great soup for that. Whether you're cooking with seasonal ingredients or simply foraging in the pantry, food writer and editor Anna Helm Baxter knows how to get a bowl of something hearty, healthy and easy to cook on the table, fast.
Recipe: Blue Crab Velouté With Celery Root
At La Pointe du Grouin, chef Thierry Breton (the guy behind the bar in a red wool knitted cap, summer or winter) makes a hearty seafood soup with small blue crabs. These are the same as the pricey soft shell crabs you eat whole in spring and summer but with their hard, cold-weather shells, they're a fraction of the price. They don't have much meat on them — you toss them after they're cooked — but they add intense seafood flavor to soups and sauces.
Recipe: Creamy Chanterelle Soup
Foraged mushrooms are a mainstay of Nordic cuisine, so grab the nearest mycologist or hit the farmers' market or specialty grocer for chanterelles. These savory yellow mushrooms make a hearty, creamy soup that will make you forget all about buttons, portobellos or anything else you can find at the supermarket. Whip up a batch for the first course of your next dinner party in less than an hour, and wow your guests with this simple Scandinavian favorite.