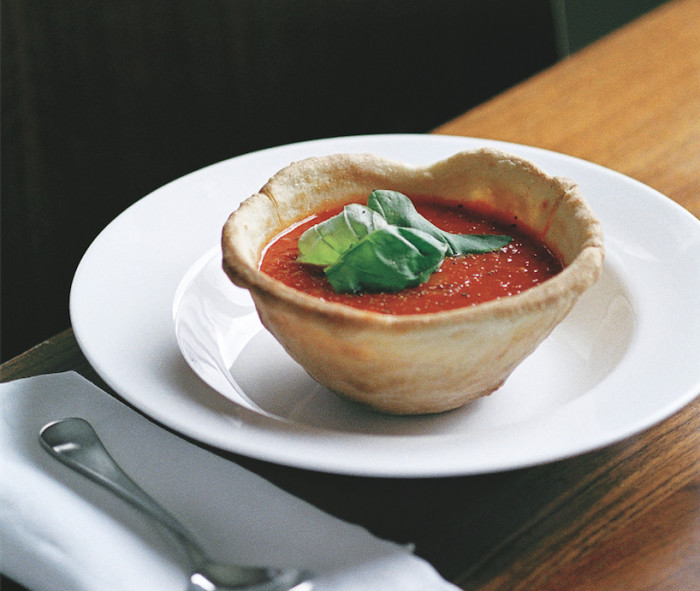 We love award-winning chef and cookbook author Richard Bertinet's new collection of recipes, Dough. Divided by chapters into white, olive, brown, rye, and sweetened breads, it's a baker's bible with more than a few fun twists. Learn how to make a bread bowl for soup — no hollowing out required!

I first thought of this after ordering an Indian take-out meal. The food was tasty, but it looked so boring in its little plastic trays. I thought how much more fun it would be to serve it in bowls made from bread, which you could flavor with a little chili or spice and then eat, as the sauces softened the bread. From the idea of a curry bowl it was only a short step to thinking about also using the bread containers as soup bowls — a nice play on soup with bread or croutons.

To prepare: Turn 8 oven-proof bowls (about 5 inches in diameter) upside down and lightly oil the outside. (I use a set of soup or breakfast bowls.)
Ingredients
Olive dough
About 3 3/4 - 3 7/8

cups

white bread flour

2

tablespoons

coarse semolina

1/2

ounce

fresh yeast (preferably) or 1/4-ounce envelope active dry yeast

2

teaspoons

fine-grain salt

5

tablespoons

good-quality extra-virgin olive oil

11 1/2

ounces

water
A little olive oil for greasing

White flour for dusting
Directions
For the dough
Mix the bread flour and semolina together and rub in the yeast, using your fingertips as if making a crumble. Add the salt, olive oil and water and knead until dough forms. Let rest for 30 minutes.
For the bowl
With the help of the rounded end of your scraper, turn the dough out onto a lightly floured counter and divide it into 4-ounce pieces. Again lightly flour the counter. Taking one piece at a time, roll out the dough into circles. Shake off any excess flour and shape over the upturned bowls. Press gently to ensure there are no air bubbles between the dough and the bowl. Rest for 10 minutes.

Put (bowls upturned) into the preheated oven and turn down the heat to 400°F and bake for 20-25 minutes until golden brown. (You will probably need to bake in 2 batches.) Remove them from the oven and let cool for a few minutes. Using a fine-bladed knife, gently loosen the bread from the bowls and ease it off. Cool on a wire rack.

For the freezer: The bowls freeze well for a few weeks. Stack them with a sheet of waxed paper between each one. Defrost for about 1 hour before warming them in the oven for 3 minutes at 350°F.