10 Awesome Sandwiches We'd Smuggle Into Space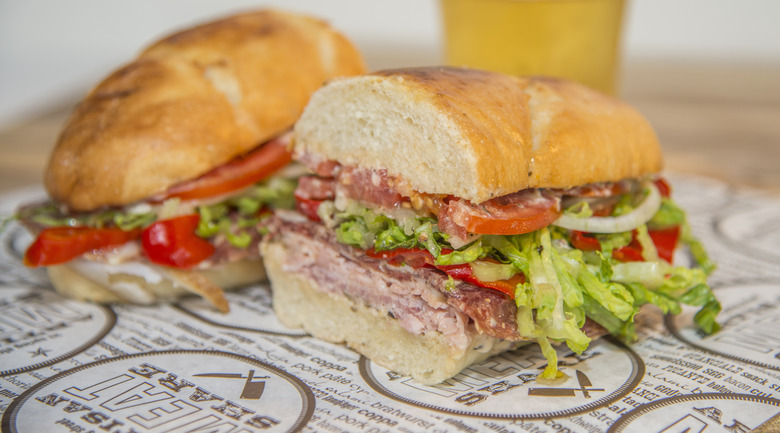 Renowned astronaut John Young passed away last Friday, NASA reports. Young was known mainly for achievements during the early years of space flight and throughout his four decades-long career. He's also remembered, as other outlets have reported in memoriam, for one wily sandwich-related prank that he never lived down. In honor of this epic space snack, we've selected ten sandwiches we'd smuggle into space (should it come down to that).
They're not too messy, not overly odiferous (sorry, tuna, you're not welcome on this space voyage) and beat the pants off the current space sandwich situation of peanut butter spread on tortillas. Plus there's just something life-affirming about the fresh crunch of pickled vegetables as you gaze upon the planet from afar. Click on the recipes to learn how to make them yourself, whether or not you're planning on joining Elon Musk's Mars mission.
Recipe: Craig Deihl's Loaded Italian Sub
Chef Craig Deihl is one of our many charcuterie heroes. Since diners didn't always order pork chops at his former restaurant, Cypress, in the exact same ratio as they consumed the salumis and sausages that Deihl was creating with the rest of the pig, the chef came up with the brilliant idea to start up Artisan Meat Share (sadly, now closed). Members would receive periodic seasonal deliveries of whatever products Deihl and chef de cuisine Bob Cook whipped up to fully utilize the extra meat leftover after butchering.
Recipe: Crispy Chicken Skin, Lettuce And Tomato Sandwich
There are people in this world who don't eat bacon or pork for one reason or another. Hopefully, those people happen to enjoy chicken. I created this sandwich for those people, because deep down I'm pretty sure they miss the bacon. If not, they can just enjoy a tomato and lettuce sandwich.
Recipe: Apple, Ham And Raclette Sandwich
For this sandwich, I prefer to use an old apple variety that's sour and juicy, like Belle de Boskoop. It's firm but softens slightly when sautéed in coriander-infused butter. The spiced fruit pairs so well with rustic ham, but we're not done yet. Aromatic grilled raclette sinks into every bite, and the whole thing is sandwiched on a crusty bun. Altogether, this seems like the best thing that could happen to ham and cheese.
Recipe: Brisket Patty Melt Made With Cornbread
Every once in a while we just have to pat ourselves on the back for doing something we haven't seen in other cookbooks. We aren't entirely sure we're the first to make a brisket patty melt using cornbread, but we are sure this is the best version out there. A vast improvement on the close-to-perfect patty melt is enough to make us feel pretty good about this recipe. When you start seeing this on the menu of every chain restaurant in America in five years, just remember who thought of it first.
Recipe: Dan Kluger's Chicken Salad Sandwich
You'd think James Beard Award–winning NYC chef Dan Kluger would be too busy opening his brand-new restaurant to loan a recipe to California roadside–style LES eatery Genuine Superette. When it comes to sharing sandwiches, however, there's always plenty of time. Other guest chefs who have inspired dishes at Genuine include Jamie Bissonnette, Michelle Bernstein and Paul Liebrandt. All you need to re-create this friendly-looking fully loaded lunch is some leftover chicken, a few fridge staples and ten minutes of your time.
Recipe: Bánh Mì With Tropical Marinated Flank Steak
Infinitely customizable, the bánh mì sandwich has just one rule: The bread shouldn't overshadow the flavors of its fillings. Generally, in Vietnam, bánh mì sandwiches are made with inexpensive cuts of pork, but here we've made it our own with thin slices of grilled steak marinated in tropical fruits, lemongrass, and our special satay sauce. My mother often uses pineapple and kiwi in her meat marinade. Not only are they natural tenderizers, but they also add some sweetness that is great for grilled meat. In fact, the flank steak here is so flavorful and tender that it can also be enjoyed on its own for a low-carb meal.
Recipe: The In-N-Out Grilled Cheese
We're going animal-style with these, obviously, so the key is in the onions. They're not caramelized; they're grilled. What does that mean? They're not going to cook as long, and that's about it. Make this at home, and impress your friends who don't live in California anymore but talk about their love of In-N-Out more than you'd care to hear.
Recipe: Heirloom Tomato Panini With Prosciutto And Mozzarella
You kind of can't go wrong with any combination of tomatoes, mozzarella, prosciutto, and basil — especially when it's in panini form. Feel free to use a large cast-iron skillet or nonstick griddle.
Recipe: Smoky Jalapeño Grilled Cheese With Tomatillos
Designing a grown-up grilled cheese is serious business. The first step lies in figuring out a cheese blend that gives you the perfect mix of gooey texture and complicated, layered flavors. However, cheese alone can only get you halfway: flavor-wise, it delivers a little bit of salt and a lot of umami, but it doesn't have much to offer in terms of sweet or sour. Without these flavors, even the best cheese mix can get a little bland and heavy. This time around, we're going to look at other options for enhancing the texture and flavor depth of your sandwich – and, in the process, taking your grilled cheese to a whole different level.
Recipe: Grilled Fig Sandwiches With Roasted Pistachio Pesto
Wow! Just wow. This sandwich is an unbelievably tasty combination of warm crusty bread, savory pistachio pesto, rich caramelized onion, peppery arugula and sweet and savory grilled figs. I hope you enjoy this magical meal as much as I do. Although there are multiple components to this recipe, it doesn't take too much time to make. Save it for a day when you're craving something spectacular, and turn an ordinary day into an extraordinary one with your first bite.