Rice is a friendly side dish or accompaniment that's easy to make and on the table quicker than almost anything else. Tonight, we're taking this much-loved grain for a spin around the neighborhood. Well, neighborhoods! We have lots of creative recipes for rice from all over the world, from Italy, Spain and the U.S. to the Middle East and of course Asia. Pick your grain — long, medium or short — and get cooking!
Every year, Food & Wine magazine releases a cookbook packed with the best recipes of the last 365 days. Hear that? Food & Wine. Best recipes of the year. Any page you turn to will sport a winner, but while the weather steadily cools off, consider a hearty Spanish rice packed with artichokes and garnished with crispy, salty Jamòn Ibèrico.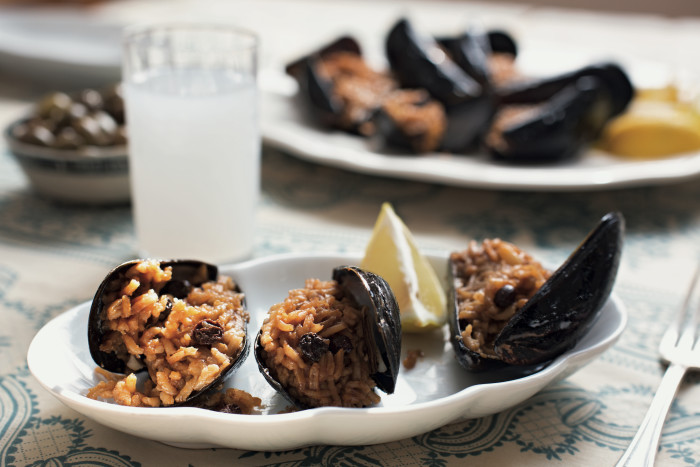 In this cold appetizer from the Armenian deli Tadal, mussels are stuffed with slowly caramelized onions, dried currants, and pine nuts. Caramelizing onions the traditional way, as is done at Tadal, takes a good hour or so of slow, watchful cooking over low heat. Instead I use a technique developed by Kenji López-Alt, described in his tome The Food Lab, that speeds up the process by starting the onions in melted sugar and adding baking soda with the oil to speed their softening. In the latter stages of caramelization, the onions are cooked over higher heat; adding water periodically keeps them from burning. The recipe is best done in stages. Start at least one day ahead by making the rice filling (the longer the rice is left to absorb the other flavors, the better it will taste). Then stuff the mussels (a task made easier if you have a helper to open the mussels as you fill them), steam them, and let cool completely, at least 9 hours.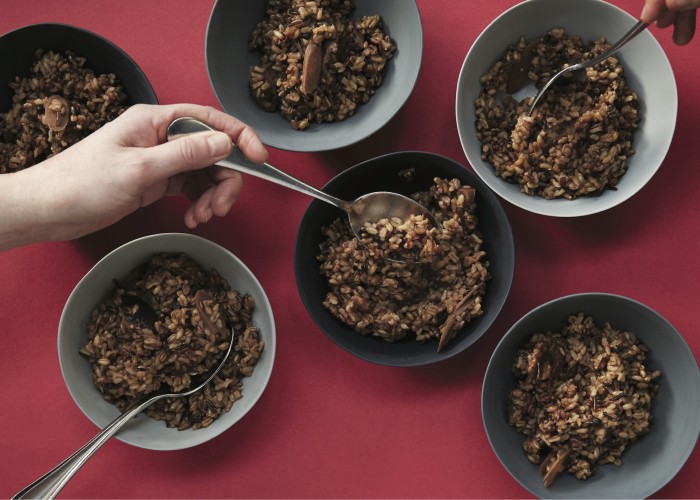 In Korea, there's a traditional special-occasion dish whose name translates to "healthy mix rice." It's served in a big stone pot, usually posed as a table centerpiece and decorated with, say, a circle of gingko nuts, or something else that makes it pretty. It always has grains, nuts, mushrooms, and dates, but beyond that, like so many traditions around the world, the recipe varies by household. This is my own version, which I make with Medjool dates (rather than Korean jujubes) because they break down and become almost jammy. It's the ultimate recharging dish in the winter, meant to be deeply satisfying but also nutritious when the juiciest produce isn't in season. Eat the rice alone as a meal in itself, for breakfast or lunch.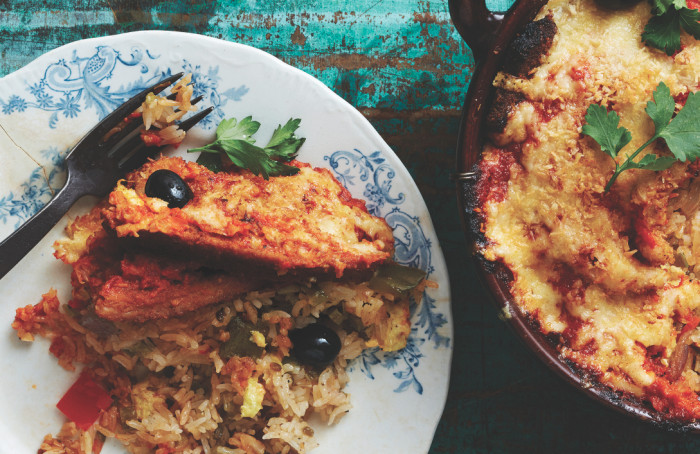 This dish seems so wrong and dirty in the most delicious way possible: a cookie-crusted, deep-fried pork chop over fried rice, covered in a rich sauce and melted cheese. It's a product of cha chaan teng (diner-like and tea restaurants) that were meant to appeal to the taste of visiting Westerners, offering Chinese-ified Western food (as opposed to the Americanized Chinese food found in the United States today).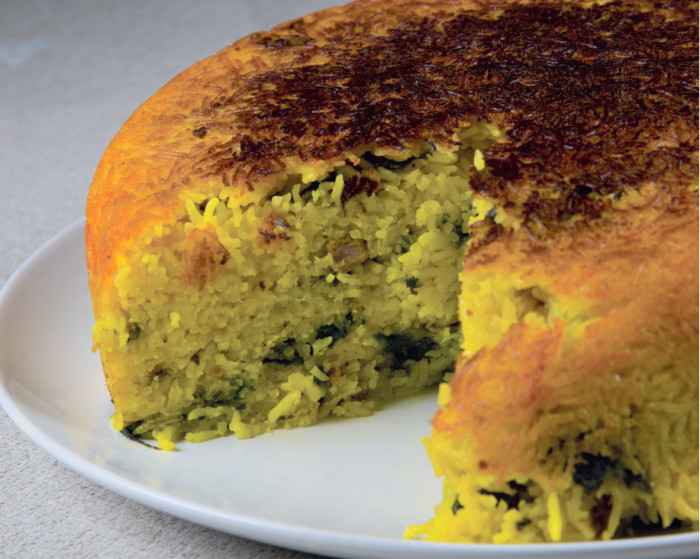 Tahchin means literally 'arranged at the bottom,' referring to the layering of meat and rice to form a thick tahdig (crust) at the bottom of the pan. It is a very popular rice dish which can be made with either lamb or chicken. Some versions contain spinach or aubergine. A good, thick tahdig is the distinctive feature of this rice; to obtain that, traditionally the rice is mixed with egg in addition to yogurt.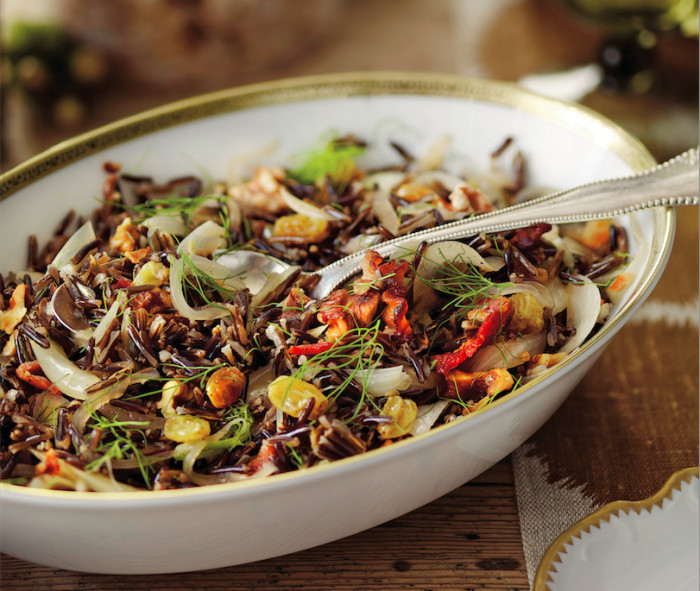 This earthy side dish pairs well with rustic pork roast and has just enough bacon to offset all the healthy fiber!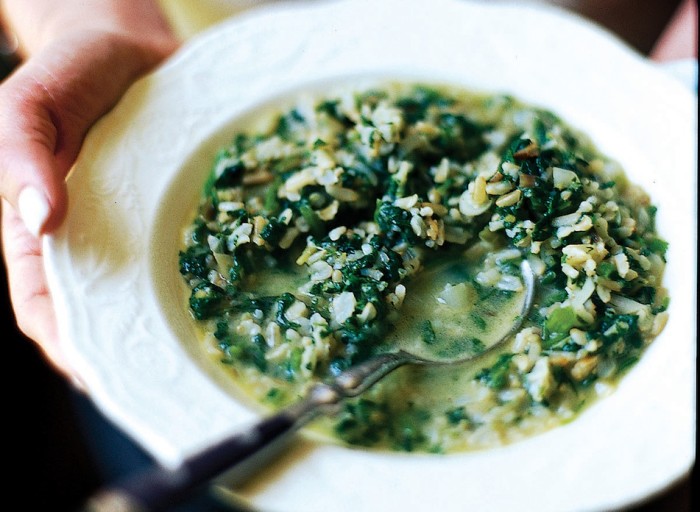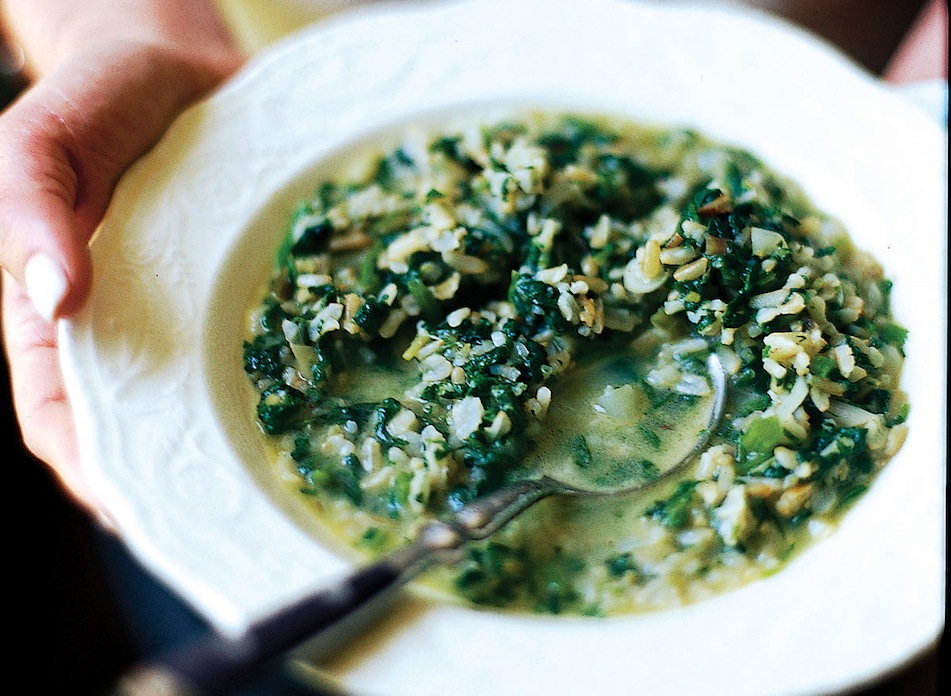 If someone served me this rice with a crisp white Sancerre or Pouilly-Fumé and nothing else, I'd be thoroughly happy. The cooking water from the mixed greens imbues the rice with the fresh flavors of spring.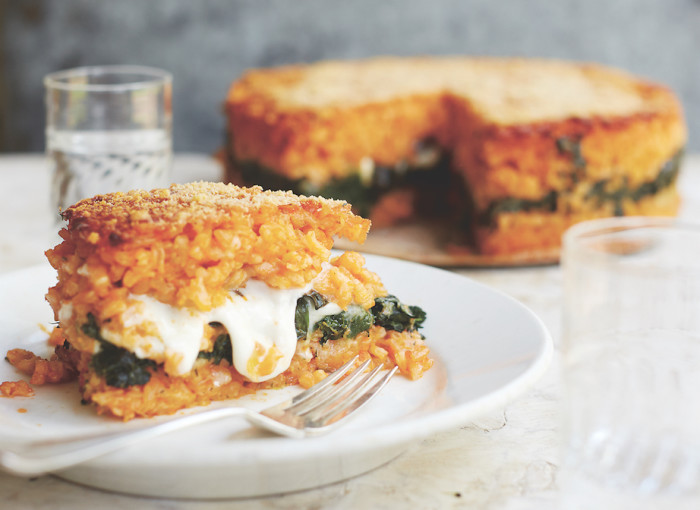 Rice timbale is an elaborate layered dish from eastern Sicily, which is said to derive from Catania during the time of the Arab occupation. There are probably hundreds of variations of timbale; some are made with penne, and I have seen ones made with spaghetti. In fact, it is a good way to use up leftover risotto or pasta. And do try layers of roasted aubergine (eggplant), flavoring the rice with saffron or adding cooked mushrooms, for a few ideas. I spent a day working with our chef Gregorio Piazza from Augusta, near Catania, and we invented our own version, taking into account our children's preferences and what we thought people would realistically make at home. It is gluten-free and can be adapted to a filling of your choice. Gregorio said proudly that it looks British but it tastes Sicilian! Our children love it and it is not complicated to make. You can leave it in an ovenproof dish or go for the 'wow' factor and cook the timbale in a cake tin, which can be removed after cooking.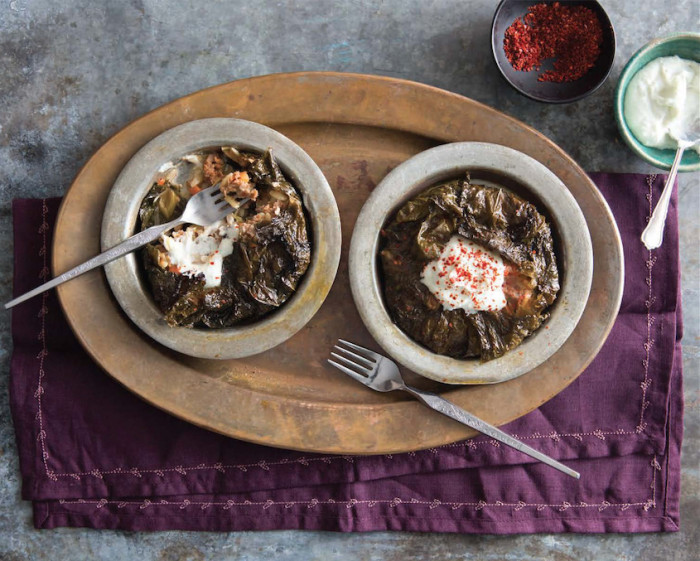 These lamb and grape leaf tarts were inspired by a traditional Greek yogurt and semolina custard that is baked in grape leaves. It is a version of dolma, which means "stuffed" in both Turkish and Greek and is often associated with grape leaves that are stuffed with rice and rolled like short cigars. I love this version because the grape leaves get crispy and a little caramelized, a nice combination with the briny flavor of the leaves.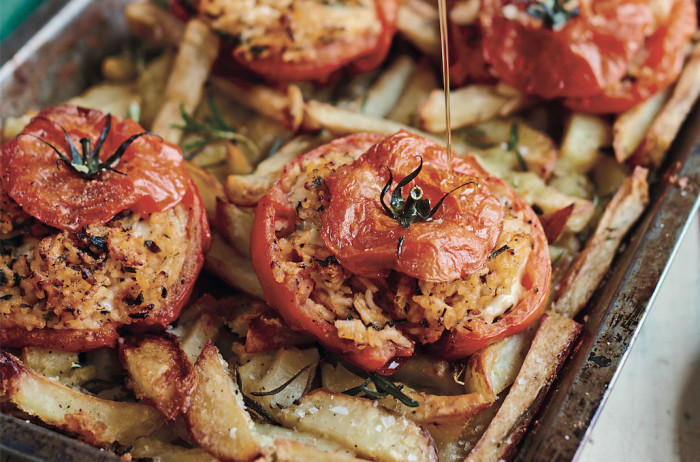 This is Roman street food par excellence, the sort of thing you would get in a rosticceria to take back home or to the office. I like to inject a little fun into the kitchen by taking what was once in vogue and bringing it up to date, and this retro dish is definitely ready for a comeback. I love the way such simple ingredients can turn into something so tasty. Eye-catching red parcels, perfect for a cozy meal in that most exclusive restaurant: your own kitchen.