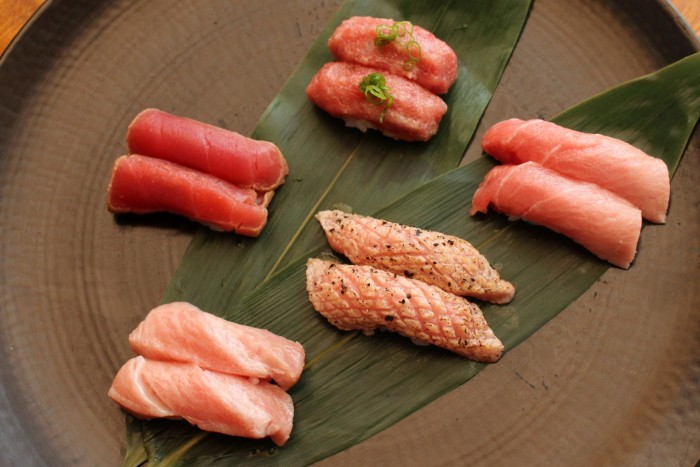 When it comes to eating sushi in New York City, there are certainly options aplenty. This is the city that never sleeps, after all. Return home from a late night out and craving, say, Korean food? You're just a few clicks away from having a piping-hot bowl of bibimbap and tender slices of galbi delivered to your doorstep in a matter of minutes. Gotta love the Big Apple.
With that said, it's a more daunting task than ever to choose a sushi restaurant. Price-points range drastically, from just a few bucks for a pharmacy-bought mock-crab California roll (more on that later) to potentially several hundreds of dollars for a serious omakase experience. It's important to remember that this is raw fish we're talking about here, and not exactly something to mess around with health-wise. You've undoubtedly heard of a friend — or five — who have come down with vicious cases of food poisoning after consuming "bad sushi." Our ultimate goal is to help you avoid that unpleasant experience.
As such, we've broken down the city's thriving sushi scene into five distinct tiers, hoping to clearly separate its many, many choices. Each tier represents an improvement in overall quality of fish over its predecessor, while likely raising the average check size in the process. Along with a basic description of each category, we've included a restaurant recommendation or two, though we've previously published a more thorough guide to the best Japanese eats around NYC — look for an up-to-date version in the coming weeks. In the meantime, keep our tiered system in mind before reaching for that spicy tuna roll at your neighborhood CVS.
Tiers of Sushi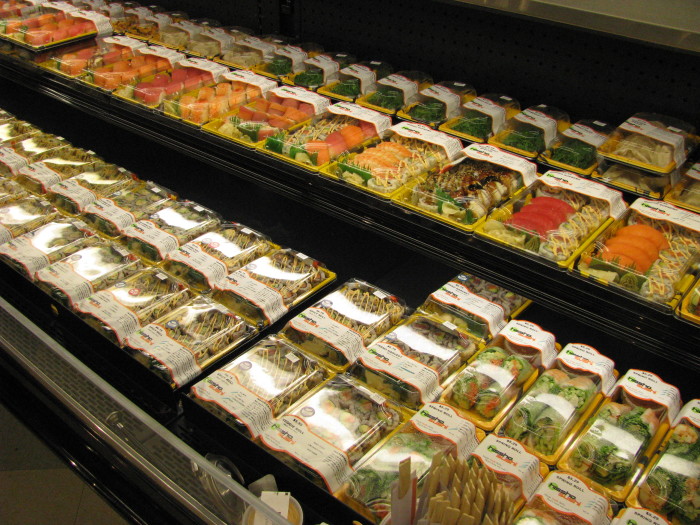 Tier 5
Caution: Stay away!
Pharmacies. Grocery stores. All-you-can-eat sushi joints. All three can serve valuable purposes in everyday life (we'll go out on a limb and vouch for any AYCE venue that touts an unlimited sake and/or beer option). They also share a dubious rule-of-thumb: Places from which you should never eat sushi. This one isn't that hard to figure out, folks: Head to your pharmacy to re-up on mouthwash, not mackerel. Don't be enticed by your local grocery store boasting of a "master sushi chef on premises." Summed up perfectly, in the wise words of a friend: "Be sure to eat dinner before group dinner tonight at the all-you-can-eat sushi place!"
Editor recommendation: None, silly!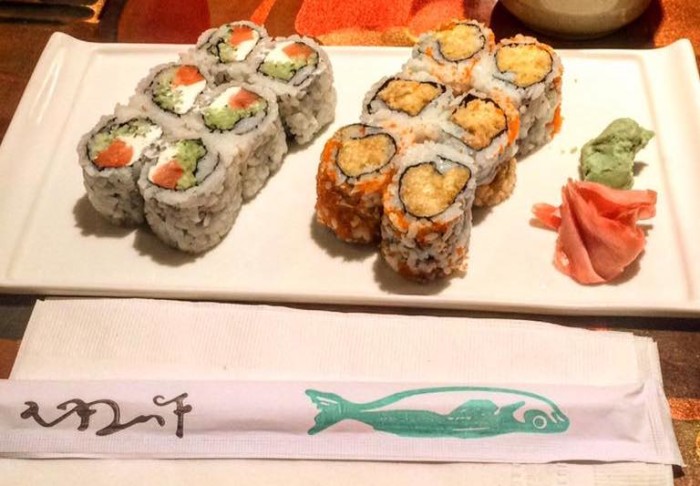 Tier 4
Neighborhood spots
So, you want to satisfy your sushi cravings without breaking the bank? You don't have to look that far to find options in the near vicinity. You'll find the standard "three maki rolls" and "sushi deluxe" platters — with specials for lunch — on just about every menu. Is the fish of superior quality? No. Is it safe to eat? Probably. But you can't expect much more when you're spending around $15-$20 on a full sushi meal while sitting in a venue that won't exactly be featured on Architectural Digest any time soon. Pro tip: The fish tends to be slightly better in the restaurant itself, rather than via delivery. And while we're on the topic of delivery, please do yourself a favor and avoid ordering in from any place beginning with multiple A's or any sort of odd punctuation — owners tack on these extra symbols so that their restaurants appear at the top of delivery websites alphabetically. Don't enable them! In many ways, finding a reliable "Tier 4" sushi spot is the most challenging (and rewarding) accomplishment in the world of NYC sushi.
Editor recommendation: Umi Sushi (118 East 31st Street)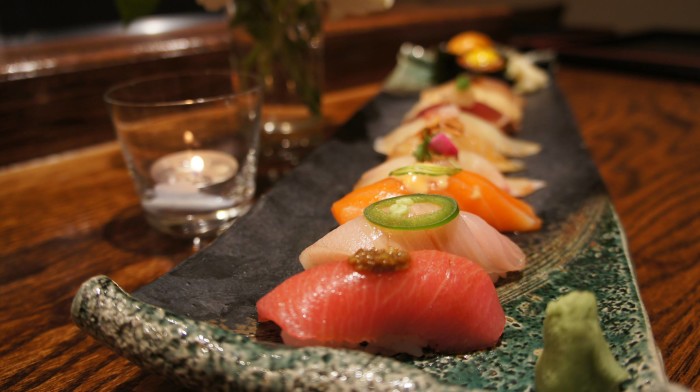 Tier 3
A step above

Congratulations on making it to Tier 3! You can breathe a deep sigh of relief, knowing that — at the very least — a meal at these types of restaurants is very unlikely to make you ill. That's a start, isn't it? They typically have more welcoming interiors and markedly fresher fish than the more common "neighborhood" spots. You can enjoy a casual lunch special or pop in for dinner without making a reservation (usually), and leave with the contents of your wallet mostly intact. Pro tip: Mini-chains Haru and Amber aspire to epitomize this category but fail to justify the slightly higher tabs, in this editor's humble opinion. The similarly priced and designed Momoya does fare better.
Editor recommendations: Sushi Yasaka (251 West 72nd Street), Hatsuhana (17 East 48th Street)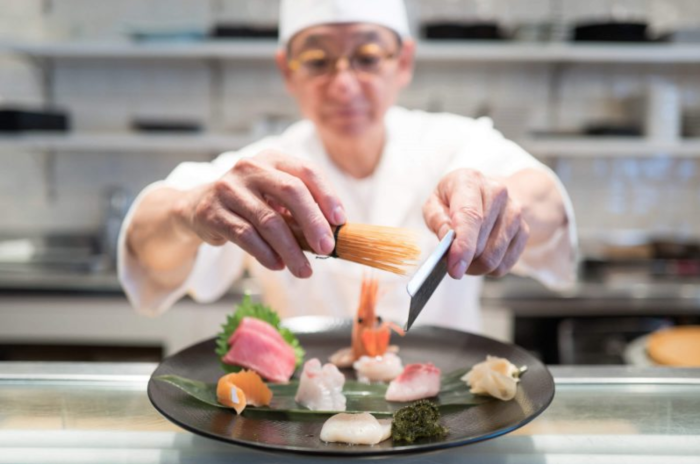 Tier 2
A carefully planned evening out
Things are getting real here. You're in charge of either date- or group-night out and your heart is set on sushi. There is definitely no shortage of places to consider here and you'll have to decide which factors matter most to you: food quality, ambiance, service, diversity of selections, etc. You can order from a menu here (even if there is an omakase option offered). But you'll also notice subtleties within the menu — for example, there is uni (sea urchin) offered from multiple locations around the world; it's not simply listed as a single option. Or maybe there is both freshwater and saltwater eel available. These places dish out consistently high-end cuisine that's still recognizable to the masses. You'll find your "sushi deluxe" set plates here, but with the inclusion of prized pieces such as chu-toro (medium fatty tuna) and ikura (salmon roe). The price-point is around double anything you'll find in "Tier 3" (think approximately $50-65 for the aforementioned set plates). Readers are probably most familiar with establishments like Sushi of Gari and Sushi Seki in this group.
Editor recommendations: Jewel Bako (239 East 5th Street), 15 East (15 East 15th Street)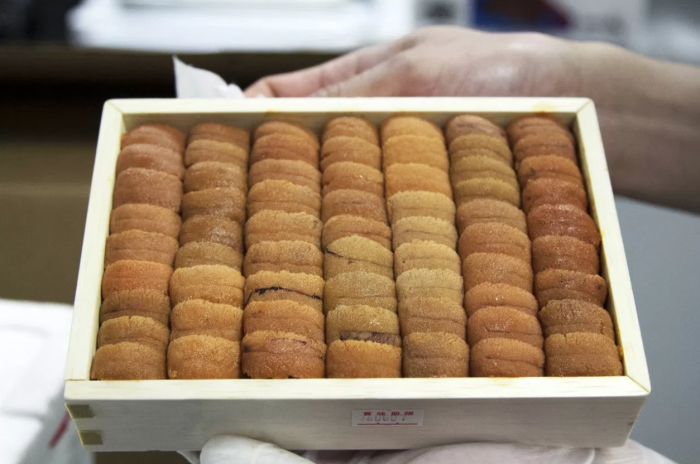 Tier 1
Omakase madness
Omakase has officially taken New York City by storm. The term, which roughly translates to "I'll leave it up to the chef," has gone mainstream and sushi bars offering this — and only this — delicacy have been opening around the city at unprecedented rates. It's worth mentioning the possibility of writing an entire article on separating these types of restaurants into their own tiers — "affordable" omakase (though somewhat of a paradox) is trending these days and should be differentiated from restaurants charging an arm and a leg to dine at a traditional wooden bar.
We might have called you crazy a few years back had you predicted that the notoriously extravagant Masa would have competition as the most expensive Japanese restaurant in the city, and yet that's very much the case today. It's been fascinating to witness the steady increase of people reserving far in advance to enjoy a short — as brief as 45 minutes — meal at these minimalistic venues, placing their full trust in a sushi maestro at the cost of hundreds of dollars. In some ways, it's so un-New York that it is so undeniably New York. In any case, we've spared you no expense in choosing the below venues as our recommendations.
Editor recommendations: Sushi Zo (88 West 3rd Street), Kurumazushi (7 East 47th Street)