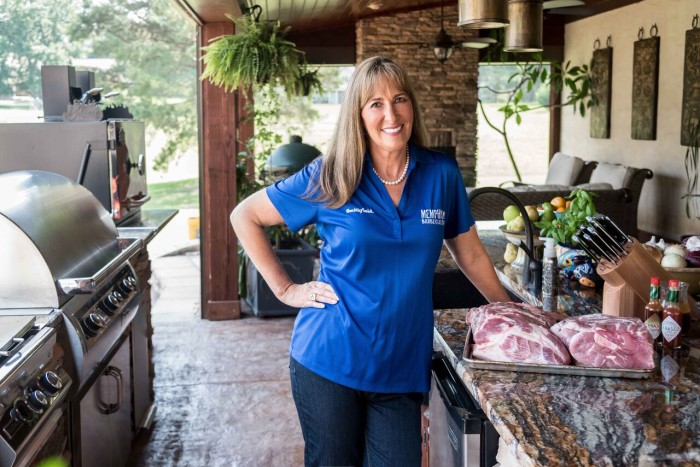 The business of barbecue, both competitive and in restaurants, is about as male-dominated of a genre as you'll find in the culinary world. Yet Melissa Cookston is making bank both as a multiple world champion at barbecue competitions and as the owner/operator of four restaurants, including three Memphis Barbecue Company locations and a steakhouse, spread around the Southeast. She is also a frequently seen on television, is an inductee into the Barbecue Hall of Fame and the author of a very successful cookbook that shares her story titled Smokin' in the Boys' Room.
Despite all of these accomplishments, she is nowhere near finished with competition and her quest for the perfect pig. Between 2010 and 2012, she won three consecutive championships for whole hog at the prestigious Memphis in May World Championship and was named Grand Champion twice. When her Yazoo's Delta Q competition team won again in 2014, it would have been easy to rest on her laurels.
"In 2014 I thought I had cooked the best hog ever," she recalls. "So I thought to myself, 'What can I do next?' The answer was to make a better hog!" She had already been instrumental in introducing the Berkshire breed into competitive whole hog cooking and had won two World Championships cooking the pigs that originated in the English county of Berkshire.
Together with her husband and cooking teammate, Pete, Cookston began to research heritage hog breeds on the internet. "I was looking for the ideal combination of intramuscular fat plus a great fat cap on the pig. These two factors combine to make the best animal for whole hog cooking." After speaking to geneticists and other scientists about what would offer up the proper characteristics, she imported pigs and crossed two breeds to create what she thinks is the ideal competition hog. Purchasing sires of an undisclosed breed and crossing them with Berkshires, Cookston has come up with a secret new überpig that she is keeping under wraps. "I'm not looking to sell them," she notes drolly. "I'm looking to win!"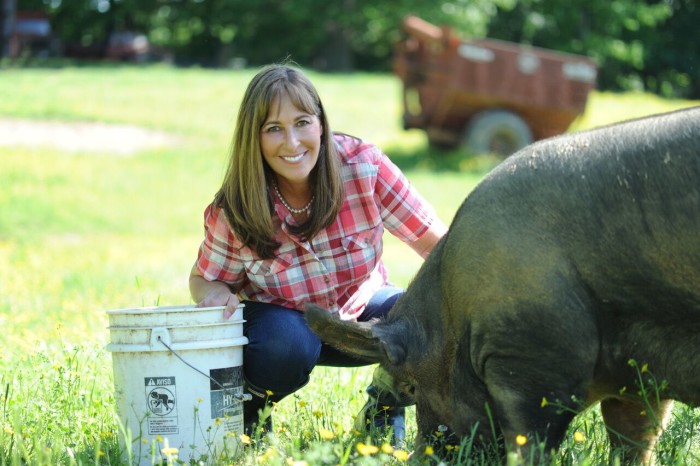 Genetics aren't the only advantage that Cookston's hogs have over her competition. "Feeding the pigs has become the most important thing that we do. You know what they say, 'You are what you eat.' We're looking for a creamy white fat that just melts in your mouth after a long, slow cook." She admits that raising hogs this way isn't very cost-effective and would never work for her restaurants. "We're feeding them a high-carb diet and lots of protein, and we're feeding them all winter long after most farmers would harvest a hog. Most people that are raising pigs aren't looking to cook the whole animal, so it's a totally different thought process."
She doesn't raise the hogs on her own property, preferring to monitor her babies at a contracted farm. "If we had them here, they'd probably be living in my house, and that wouldn't be good!" Besides, her homestead is covered with dozens of different types of smokers and cookers that she uses for various experiments and competitions. "You name it, I got it. I like playing around."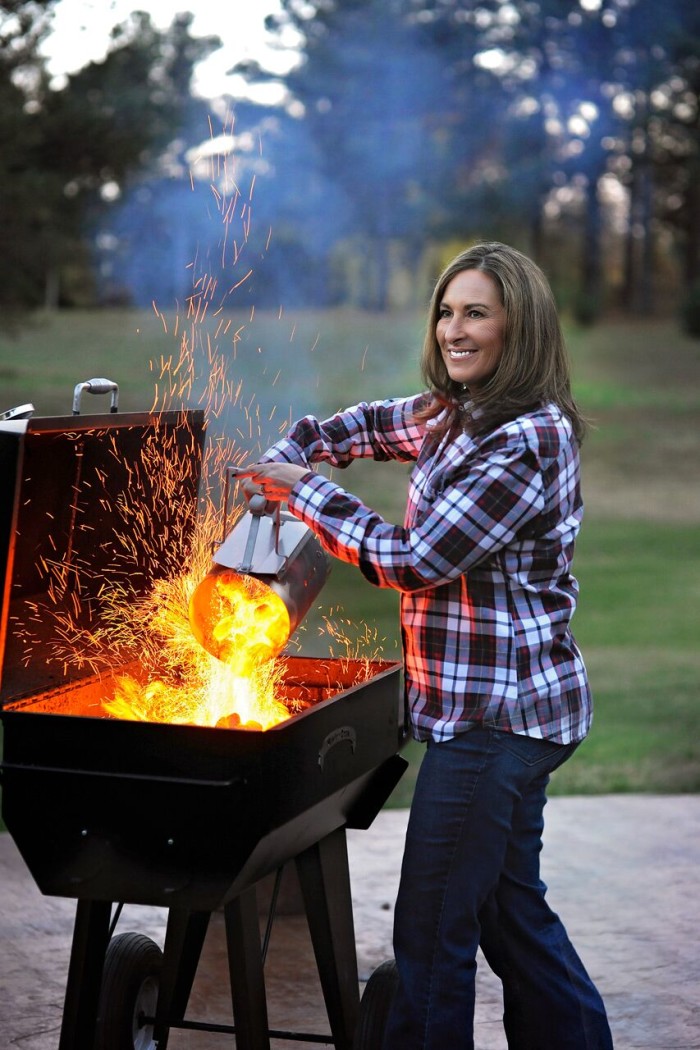 She recently cooked her first experimental hog, and after 24 hours in the smoker, she was very pleased with the results. "It had a good thick layer of fat, a cap of 1-2". And the fat was snowy white with no flavor or aroma. That's exactly what we were looking for. Texture and flavor go hand in hand, and this pig had them both."
Even though she is working toward the ideal pig, Cookston still has to face up to another trend in competitive barbecue that she finds disturbing. The flavor profiles that amateur barbecue judges seem to prefer and award the top prizes to have become homogenized. "This is something that concerns me," she shares. "So many competitive cooks are using the same sauce that somebody else made. I would rather see people step outside the box and come up with something original and take some risks."
If you've ever judged at a KCBS barbecue competition, like I have many times, you might recognize the sweet/hot profile of the sauces that are served with ribs and pork. It's no secret that a lot of competitors use Blues Hog BBQ Sauce, either straight of the jar or slightly doctored up for variety, because judges seem to absolutely love the flavor and award higher points to those entries that use it. Cookston calls bull.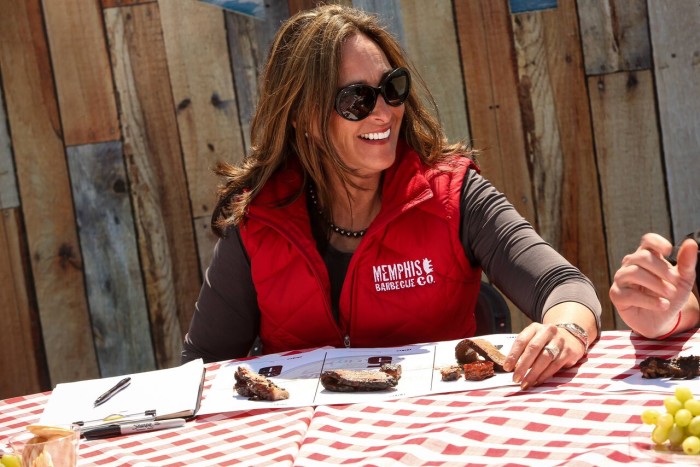 "I still make my own sauce. Let's make it a real competition! Take the bottles away and make them bring some raw ingredients, and let's have a real contest. Barbecue gets muddled when everything tastes the same." Her confidence is certainly borne out by the results of her competition record, but she also shares the credit with her husband.
"TV invented the term 'pitmaster.' We always do everything as a team. Well, I get carsick, so I have to do almost all of the driving. I don't know many teams that pull it off with just two people like we do, but it's a shame that one person has to get pushed into the spotlight."
She continues, "My mom grew up in a small town in the Mississippi Delta with Archie Manning, and I'll never forget something that I heard his son Peyton ask. 'How come there's no hall of fame for football teams?' Nobody does it alone."
While there are a few more women participating in competition barbecue, Cookston was pretty unique when she started out. "Nobody but the media really treated me any different. There are no ladies tees in barbecue; there's no LPGA." Even as a hugely successful role model as a restaurateur and competitive cook, Cookston keeps herself in perspective. "I'll never forget where I came from. No matter where you go, you'll always be from there."
After 35 years smoking meats, Melissa Cookston already made it to the pinnacle of the barbecue mountain, but with her new experimental hogs coming into play, she might just rocket even higher from there.