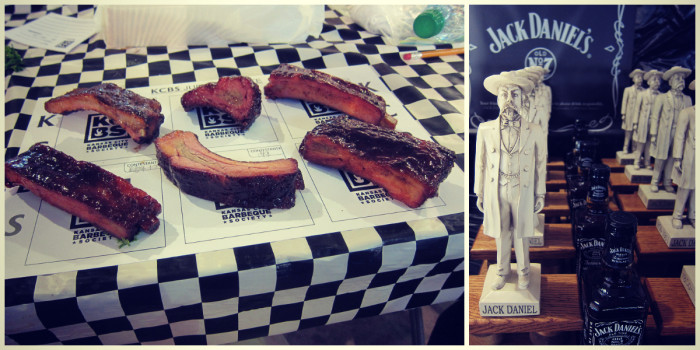 In the world of competitive barbecue, the Jack Daniel's World Championship Invitation Barbecue is one of the biggies. The event, affectionately known as "The Jack" and taking place each October in the small town of Lynchburg, TN, the home of the world-famous Jack Daniel's Distillery. Over 20,000 spectators and competitors crowd into the this tiny hamlet with a regular population of about 500 residents for the two-day event. Lynchburg's one traffic signal works overtime directing cars full of barbecue fans and trucks hauling massive smoker rigs around the quaint town square and into Wiseman Park, the site of the competition.
In order to qualify to compete at "The Jack," U.S. teams must have already won an event in which 50 or more teams participated or they must have finished first in a competition with at least 25 entrants that has been designated as a state championship by the Kansas City Barbecue Society. However, even those teams which do qualify must win a lottery of potential entrants held in early September to pick the 68 lucky teams that participated in this year's 24th annual competition. Additionally, eighteen international teams from Australia, Austria, Canada, Denmark, Estonia, Germany, Poland, Switzerland and the United Kingdom were also invited to compete alongside the domestic teams.
Teams compete in four mandatory categories of pork ribs, pork butt/shoulder, beef brisket and chicken to determine the Grand Champion. Optional categories include a sauce competition, which must contain some of Jack Daniel's finest, "cook's choice," where teams have no limits as to what they can cook or how elaborate their displays may be, "home cooking from the homeland," where international teams showcase their regional cuisines and a truly outrageous dessert category where contestants have been know to fly chocolate in from Belgium or craft entire statues of Mr. Jack himself out of candy.
It's clear that the contestants take this competition very seriously. So, too, must the judges. The panel of judges includes some of the most experienced table captains and judges from the KCBS as well as some lucky invited media members. However, all judges must complete and pass KCBS judging certification to be eligible to participate in helping to select the King of The Jack. Classes are held year-round across the country, but most first-time judges at the event take the class the day before at a meeting facility near the distillery.
The instructors are a no-nonsense bunch of professionals who are dead serious about following the proper procedures. They recognize the amount of work that the competitors put into qualifying and competing, and work to ensure that all teams receive a fair and accurate judging. KCBS is a double blind judging system, with neither the competitors nor judges knowing who is judging whose entry. Everyone acknowledges that this is both a subjective and objective process, but every care is taken to train the judges for a fair evaluation of the contestants.
For example, if a judge is found speaking to a cook team on the day of the competition, they will be excused from the panel. So too will any judge seen drinking an alcoholic beverage prior to completing their duties. With seven categories to taste, palate fatigue can be a real issue, and to foul it up further by drinking is grounds for dismissal. There is even a judges' oath which is recited aloud in unison prior to each competition: "I do solemnly swear to objectively and subjectively evaluate each barbeque meat that is presented to my eyes, my nose, my hands and my palate. I accept my duty to be an Official KCBS Certified Judge, so that truth, justice, excellence in Barbeque and the American Way of Life may be strengthened and preserved forever."
Each major meat category has its own set of judging criteria. Chicken may be presented with or without skin as whole, half or pieces, or it can even be a Cornish hen. It can be sliced, chopped, pulled or diced, though most entries are presented as a trimmed thigh with slices of white meat on the side. Since smoked chicken can take on a pinkish color, it's important to determine if the juices run clear, as redness around the bone is not necessarily a sign of undercooking.
Ribs must come from a pig and can be baby backs or St. Louis style, but country-style ribs are not permitted. Since it is the "rib" category after all, all meat must be presented with the bone. A perfect competition rib is not "fall off the bone" tender. Instead a trial bite at the bone should take a slight tug to come away clean and take little extra meat with it. Mushy ribs are deemed to be overcooked and are marked down accordingly on their score for "tenderness." All categories are judged for appearance, taste and tenderness, though the criteria for each varies a bit depending on the meat.
Pork must come from a butt, picnic ham or whole shoulder that weighs at least 5 lbs. However, talented competition chefs have learned how to cut medallions of meat from what they call "the money muscle" that have the appearance and consistency of a fine pork loin. Pulled pork should be tender but still have texture. Judges are asked to press the meat against the roof of their mouth to see if the pork has been cooked until it is mushy. Crispy bark from the outside of the shoulder is not required, but is almost universally appreciated.
Beef brisket is probably the most difficult meat to prepare and to judge. It can be presented in the blind box sliced, shopped, pulled or a combination of any of those. The old tendency to give credence to a thick well-developed smoke ring around a slice of brisket has recently been de-emphasized since there are now artificial ways to produce a smoke ring using chemicals to speed up the reaction between the nitrogen compounds in wood smoke and the meat. I know…first Lance Armstrong, now this!
A good brisket is tender enough to stretch a little bit before pulling apart if you tug on a slice with both hands. Some cooks will vary the thickness of the slices of their brisket to compensate for over or undercooking by cutting it thin to make it appear more tender or thicker to keep overdone pieces from flaking apart. There's no disguising a tender, moist slice of good smoky brisket, and the chefs that pull it off take home the big awards.
Since The Jack is a World Championship event, there really wasn't much of what most people would call bad barbecue. Although the scale for each judging criterion runs from 2 (inedible) to 9 (excellent), in most cases the entries were at the very highest end of the scale. Judging is made more difficult by the fact that if you take a 1-2 ounce bite of each entry that is presented to you in a full day of judging, you're looking at over two pounds of meat. Experienced judges learn to analyze the flavor and tenderness in just one or two bites of an entry, while at the same time sympathetically nodding their heads at newbie judges who finish off each chicken thigh or all six ribs on their paper judging placemat.
In the end, the Reserve Champion of the 2012 Jack Daniel's World Championship Barbecue competition was Team Swiggin' Pig from nearby Nashville, TN. Now, "Reserve Grand Champion" is a fancy term for second place, as in if the champion cannot fulfill his or her duties as Miss Swinemerica for the year, the reserve champion will complete the term.
In actuality, the biggest prize is the "Grand Champion," which this year went to Pig Skin BBQ from Rockwell, IA. Since the lowest judging score is discarded from each category at every table, the maximum score for any entry from the five remaining judges in the three criteria is 180 points. At this year's Jack, there were four perfect scores, three in desserts and one in pork ribs. Even though none of their entries earned a 180, by the time all the scores were tabulated, Pig Skin BBQ went home with the big prize of $6,500 and the bragging rights as Grand Champion until next October when the 25th annual Jack will invade Lynchburg again.
Read more about barbecue on Food Republic: