Looking for a vegetable to really bulk up a salad with healthy fiber, vibrant color and a flavor that pairs magnificently with any cheese you can imagine? Look no further than the humble but mighty beet. Check out these 12 extra-healthy beet salad recipes to switch up your purple globe game. By the way, one of the salads is a soup and one is a blended spread, but all the salad ingredients are there. Use your imagination and go nuts! (Nuts also pair very well with beets).
Roasted beets have a wonderfully intense, sweet flavor, but the long cooking time means it's not ideal when you want a quick salad. I usually roast a whole tray at once, when I have time, and then use the beets for different things throughout the week — including this salad, which makes a good lunch dish.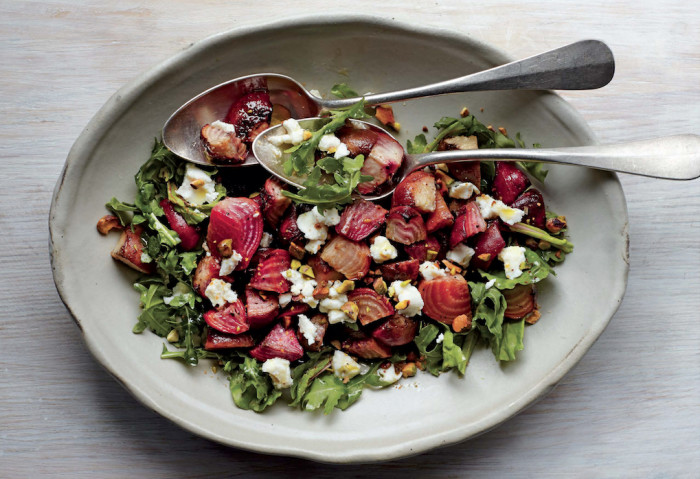 Pistachios have become popular in France, as has good pistachio oil. The quality of the oil can be verified by its golden green color; it should also be redolent at first whiff of the taste of pistachios. When drizzled over sweet roasted beets and paired with nutty arugula, the match seems just right. If you want to make this a main-course salad, add thin slices of smoked duck breast, a little more oil, and just a tiny bit more sea salt.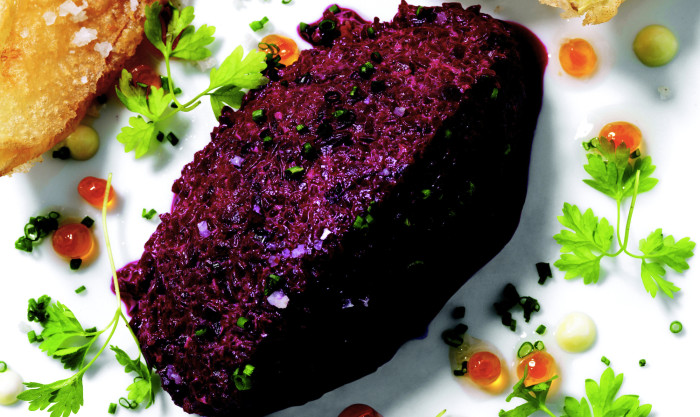 Best of all, this beet dish is not your typical dollop of health food on a plate. There's tempura-fried onion and a horseradish sauce for dipping. If you've never loved beets but are willing to give them a fair second chance, now's a very good time.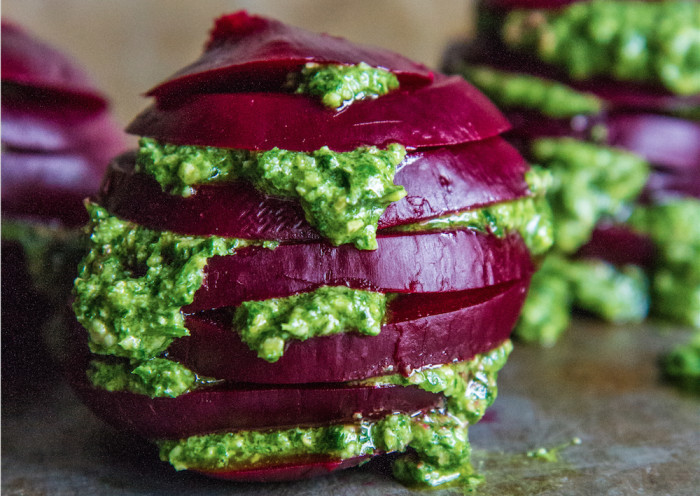 I find the sweet, earthy flavor of beets is well complemented by this fresh herbal pesto, highlighted with fresh mint and thickened with pumpkin seeds. It's a full-flavored salad with ravishing colors that's right at home on a fall table.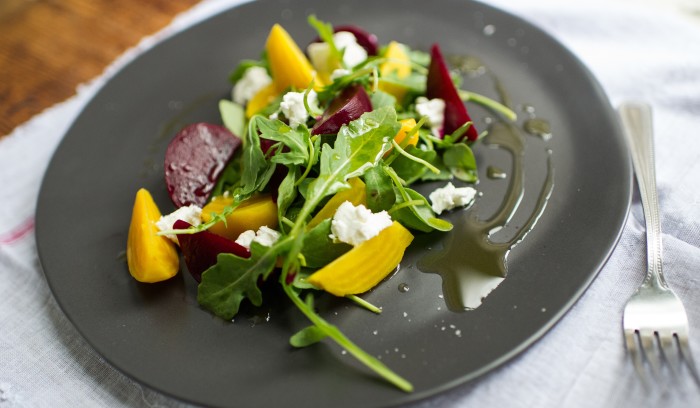 Beets and goat cheese are like peanut butter and jelly: they go together perfectly. Add some oranges and fennel to make this salad really pop with flavor.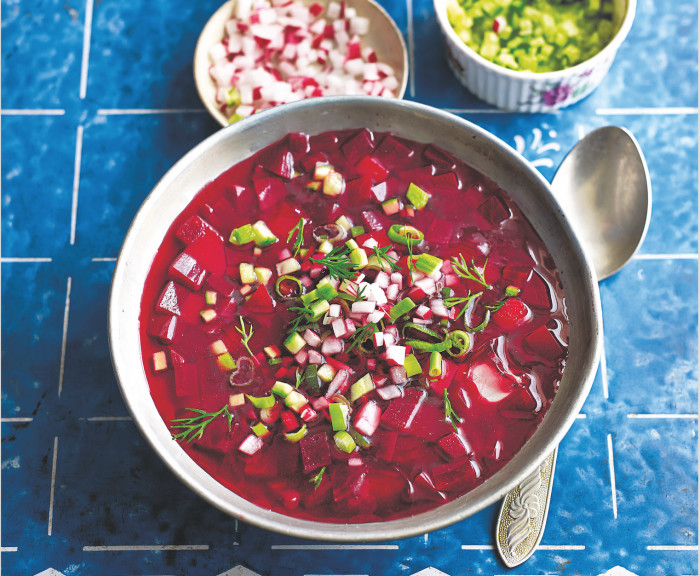 This is incredibly refreshing in the summer. I guess it's a hybrid of something Russians call okroshka (which comes from kroshit, meaning "to chop into small pieces") and the Ukrainians kholodnik ("the cold one"). I like the idea of brining the beetroot first. And I like the idea of fresh radishes and cucumber in it, too. Add a small splash of sherry vinegar, and a tiny bit of Tabasco if you can't find fresh horseradish, to funk it up a little.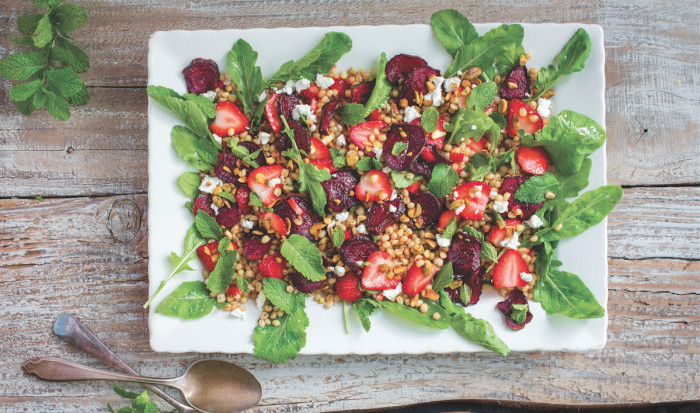 In my garden, strawberries begin to ripen about the same time the first beets are ready to harvest. One day I realized that the sweet, citrusy acidity of my Ozark Beauty strawberries would be the perfect foil for the earthy nuances of beets, and that both go well with maple syrup and balsamic vinegar. Because wheat berries also love maple and balsamic, I had found the perfect pairing for a beautiful and tasty salad. (Cook your wheat berries ahead of time, or if you need a quicker-cooking grain here, use farro.) The cool flavors of arugula and goat cheese add the perfect contrast, but you could certainly leave out the goat cheese for a vegan version. Ideally, use a large platter or two smaller platters for this salad, which gets a whimsical character from scattering and layering the ingredients rather than mixing them in a deep bowl.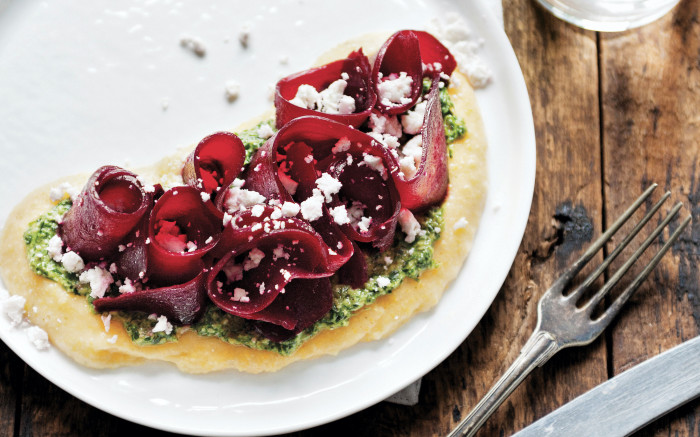 If you're looking to serve something impressive and restaurant-worthy to guests, this dish is sure to fit the bill. Creamy polenta, rich arugula pesto, and sweet, earthy beets combine to create a harmonious, not to mention beautiful, meal. By simply slicing the roasted beets into thin ribbons and curling them around each other, you'll end up with such a spectacular presentation that it will look like you've been to culinary school.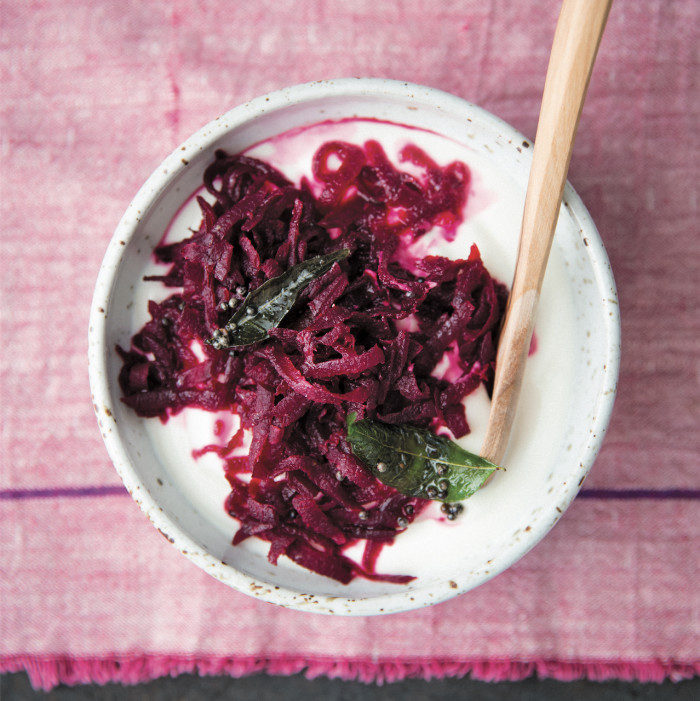 This recipe is essentially a two-for-one. It involves making a beet stir-fry, which is great on its own with a dash of lime juice, or you can continue to the next phase and combine the sauté with yogurt to make a raita. I've made it with all varieties of beets, from purple to golden. The sweetness of the beets mixes nicely with the sour yogurt, coconut, and green chiles. Shredded carrots can also be used for a variation.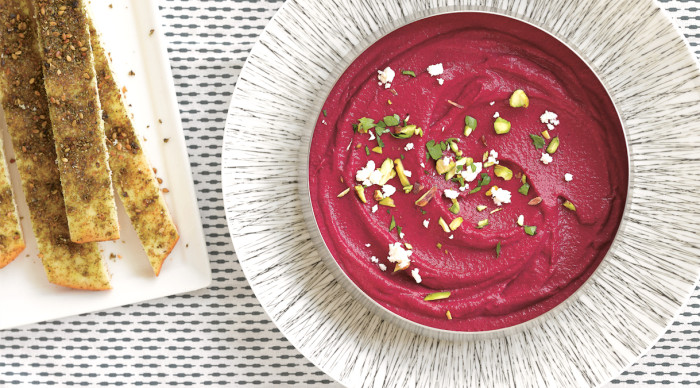 Food writer and recipe developer Dawn Yanagihara figured out something awesome: Those brightly colored vegetables you're supposed to be eating regularly make beautiful, vibrant-hued dips and spreads. Better still: Those dips and spreads are perfect for blending up the nuts, seeds and other superfoods you're supposed to be eating regularly, too. The combination of tangy labneh, thick strained yogurt, and sweet, earthy beets makes for a silky, perfectly balanced dip that will brighten up vegetable crudité or chips of any kind. We're thinking homemade pita chips.