Father's Day Brunch Recipes To Show Dad Some Love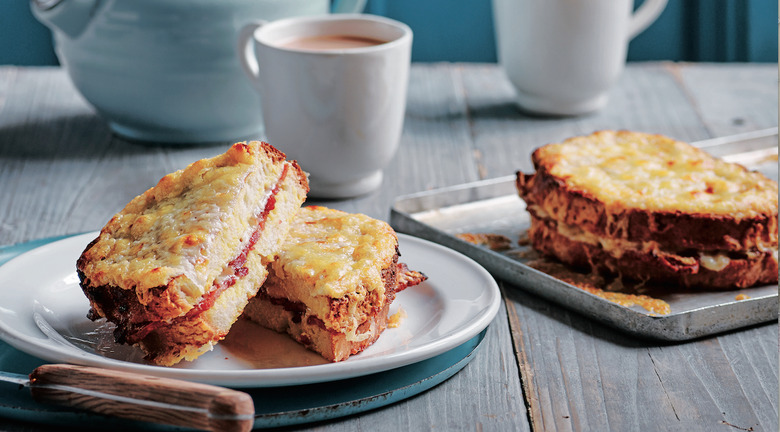 It's Father's Day! Run to the kitchen and make Dad some food — we've got all the recipes you need to make it a memorable morning. Shake up a Persimmon Fizz (it's the new mimosa) and take your pick from our selection of Dad-friendly brunches that'll make him proud you're his kid.
Recipe: Eggy Bread Bacon And Cheese Sarnie
Eggy bread is something my mum used to make me as a kid when I was sick, so for me it conjures up memories of days off school watching kids' TV. The power some food has to transport us back to our childhood never ceases to amaze me. Here, I've added bacon and cheese because, well, why not...
Recipe: Peanut Butter And Banana Pancakes
Peanut butter and bananas are a favorite combination and these pancakes are made with peanut butter and bananas twice. First, peanut butter and bananas are incorporated into the batter. Then, the finished fluffy hotcakes are topped with caramelized bananas and peanut butter-infused maple syrup. For those weekend mornings, brunches or days where you want to jazz up your usual pancakes, this recipe delivers.
Recipe: Lee Anne Wong's Loco Moco
At her island-cool Honolulu restaurant, chef Lee Anne Wong is celebrating the cuisine of her adopted state with dishes that honor Hawaiian traditions — but with a twist. According to Wong, the first loco moco originated on the Big Island of Hawaii in 1949, gaining favor with locals as a rib-sticking, inexpensive staple. In Wong's signature "Koko Moco," a highly seasoned, grass-fed beef patty rests on a crunchy-crusted skillet of rice; her house-made, umami-rific mushroom gravy is a vegetarian wonder.
Recipe: Cornbread Omelet
Totally smitten with the cornbread omelets we sampled at the National Cornbread Festival in South Pittsburg, Tennessee, we returned home, omelet pans in hand, to put our own spicy chorizo spin on the festival favorite.
Recipe: 3-Ingredient Praline Bacon
You want something super-simple done right the first time? Preferably with a tantalizing photo of the fruits of your labor? Once you master this easy recipe from Betty Crocker's Big Book of Breakfast and Brunch, this 3-ingredient praline bacon will be a frequent guest at your brunch table. It might stop by for dessert. It might even make it onto the coffee table for a little TV. Basically, get used to it.
Recipe: Roasted Tomatillo And Poblano Shakshuka
Remember that leftover challah from Friday night? Pull it out along with every other carb in the house. This is the ultimate family-style brunch dish. You'll find so many versions of this dish all over Israel and now, the United States. Every blogger is making it, and there's a reason for it: IT'S THE BEST BRUNCH DISH ON EARTH. If you break it down, shakshuka is a dish of eggs poached in (usually) a spiced tomato sauce. This version is made with a few changes to the classic-style shakshuka. The main difference is that I use tomatillos instead of tomatoes, which makes the whole thing green instead of red. I char them under the broiler with a poblano pepper to give more flavor depth in a matter of minutes. This will become a favorite of yours.
Recipe: Crab And Roasted Corn Frittata
The frittata is an Italian dish (Marcella Hazan's onion frittata was one of the first recipes Ben learned as a kid) that's similar to an omelet but, in our opinion, better and easier. The cheese and fillings are evenly distributed throughout the fluffy egg base rather than sandwiched in the middle, and there's no messy flipping involved. It's another perfect vehicle for our love affair with crab and corn, along with a nice sharp cheddar.
Recipe: Pork Chop-Stuffed French Toast
French toast stuffing usually involves something sweet and creamy—like another topping, but stuffed in the middle. In my world, though, you stuff the French toast with a pork chop and it really turns it into something special. I use store-bought Texas toast and thinly slice it to open like a book and that works well, but if you've got some homemade bread, I think it'll be even better. Just slice it thick and follow the recipe.
Recipe: Jelly Doughnut Pancakes
You could easily argue that doughnuts are breakfast food, which Midtown's Lexington Brass does many, many times every weekend. We thought their jelly doughnut pancakes would look beautiful on our ever-growing list of pancake recipes. Use our recipe for pancake batter, then follow this technique for stuffing them with jelly like any doughnut-loving American would, given the inspiration.
Recipe: Fried Duck Eggs With Blood Sausage
We love the pear, date and ale chutney that one of our suppliers makes for us, but you can use any fruity relish to accompany this dish or replace it with any of your favorite condiments. We use the fairytale white eggs that ducks lay in the daylight hours of spring and summer; they tend to be larger than hens' eggs, so need a little bit longer when frying.