Is there one defining menu item that a majority of recognized New York City restaurants claim as a signature dish? Okay, fine, you're making a reservation at Carbone with visions of veal parm and spicy vodka rigatoni dancing in your head, and you salivate at the mere thought of a stacked pastrami sandwich at Katz's Delicatessen. But take a look at the menus of new city establishments — across an incredibly wide range of settings and price-points — and you should pick up on a common offering. It's one of the food items most synonymous with our country and yet it's long carried the reputation of being incredibly basic. Ladies and gentleman, the once-ordinary hamburger has officially been crowned as the barometer of a restaurant's quality level. And it's never been a pricier commodity.
Be it a classic pub, sparkling bistro or upscale dining room, more and more new restaurants are offering some form of the beloved burger. For the sake of narrowing the field, let's focus primarily on American establishments in the Big Apple.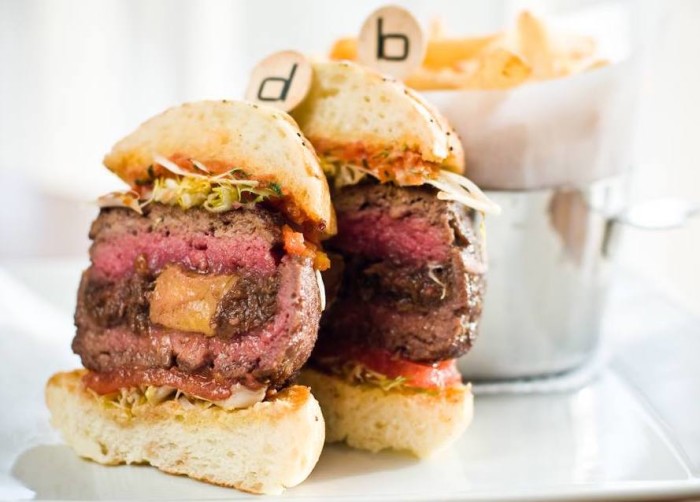 The city has long been home to iconic ground-beef patties. Just over 15 years ago, chef Daniel Boulud debuted the "DB Burger" at Bistro Moderne. Known for his refined take on classical French food, Boulud was the arguably the first to introduce the concept of a "chef's burger," namely, a beef patty composed of prime cuts and loaded or topped with one or more luxe ingredients. In his case, it was — and still is — foie gras and black truffles. Other well-known examples of such burgers are found today at Minetta Tavern, Peter Luger's, The Spotted Pig and Gramercy Tavern.
These are considered some of the city's finest (in some cases, Michelin-starred) and longest-tenured restaurants, and their embrace of the more casual burger could be considered a harbinger of today's dining trends: Chef Daniel Humm of Eleven Madison Park, recently crowned the world's best restaurant, just opened a fast-casual eatery called Made Nice, and Jean-Georges Vongerichten is one of several accomplished chefs to run a stall hawking fast food at Madison Square Garden. In a similar vein, diners at Gramercy Tavern are just as likely to enjoy a burger at the bar as they are to order from an elaborate tasting menu complete with wine pairings.
The line between "chef's burger" and mere chunk of ground beef is more blurred than ever, though you wouldn't know it by the attached price tags.
Now, "limited-edition burgers" have gone mainstream. Upscale restaurants (most commonly, steakhouses) promote varying number of patties available for either lunch or dinner, using social media to entice customers. "Come in to get one of the 24 burgers available tonight!" and "Just seven burgers left this afternoon!" have become commonplace posts on restaurants' Twitter pages and on Instagram feeds. Chefs around the country touch on hot topics like the elimination of food waste to promote these dishes. Chicago chef-owner Ryan McCaskey of two Michelin-starred restaurant Acadia uses scraps of chuck, brisket and Wagyu to assemble his burger. "We actually grind enough burgers to the amount of scraps we have," he says. Chefs use bits and pieces that may have otherwise been discarded, adding the incentive of making the consumer feel good about cutting down on food waste. Meanwhile, the restaurant is able to turn a profit from previously untapped sources (not that this prevents the tacking on of high price tags).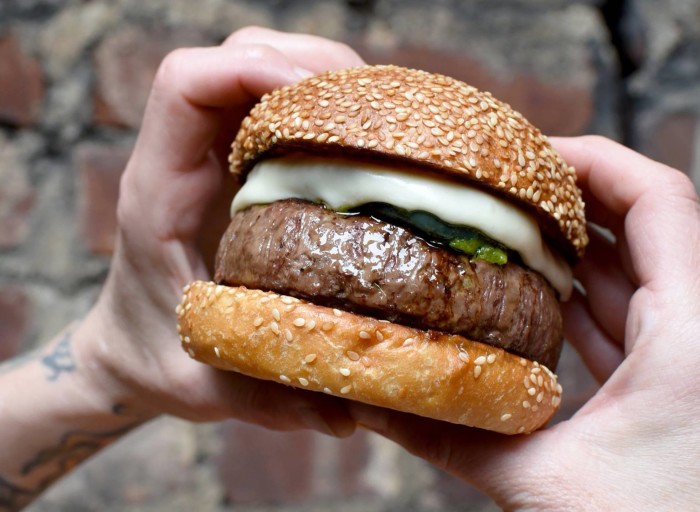 The line between "chef's burger" and mere chunk of ground beef is more blurred than ever, though you wouldn't know it by the price. April Bloomfield's Salvation Burger, marketed as a "casual burger spot," pays homage to the former with its namesake ramp burger. That'll run you $25 — pre-fries. That's $2 less than what you'll pay for the "86'ed Burger" at the recently re-opened Chumley's.
14 burgers available tonight! Bar only. @MarcForgione pic.twitter.com/WsxuZ9H3YH

— American Cut (@AmericanCut) May 18, 2016
But what about longtime city institutions; neighborhood spots known for dishing out no-nonsense, home-style burgers for decades? A hamburger now costs $11.25 at preppy crowd favorite JG Melon, which has locations on the Upper East Side and in Greenwich Village. Cheese is $1 extra and bacon another $2. A side of fries costs $6. So, when all is said and done, a bacon cheeseburger with fries comes out to $19.25. Tack on tax and tip and you're back in that dreaded $25 range. That's a far cry from the "around $10" you might immediately associate with the no-frills burger joint.
The most noticeable trend is the inclusion of burgers at every new American restaurant, which often tout a "signature" house-blend among their selections (just browse the menu next time you find yourself at such a venue). The pricing calls into question the sheer definition of "chef's burger." Once easily separated into one of two categories, it's tougher than ever to make any sort of distinction. Are we to believe that the price of a standard burger at a sit-down restaurant in New York City is currently somewhere around $30? It certainly appears that way.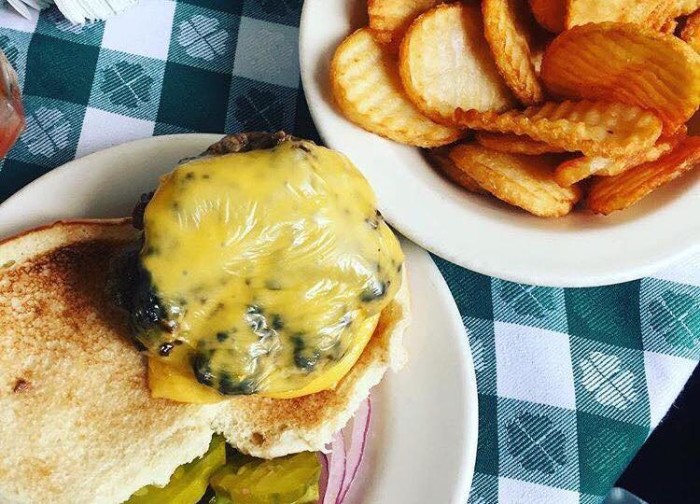 Take this unscientific, albeit telling, case study conducted by yours truly: Food Republic HQ is located near Herald Square, in midtown Manhattan. While it's definitely not among the city's most affordable neighborhoods, it's also not among the priciest. A walk around exactly one square block near our offices earlier this week turned up four sit-down restaurants with burgers on the menu. Average cost? $19.12. Again, that's before tax and tip, and in multiple cases — any sort of side. Add on cheese, bacon and/or avocado or substitute a gluten-free bun and the total cost approaches $30. Not one of these places is packed on a daily basis, let alone garnering attention from the Michelin Guide. That is to say, there's nothing "special" about any of their ground-beef offerings, nor are they known in particular for the supreme quality of their burgers. And yet, the prices are staggering.
Restaurateurs are watching their already razor-thin profit margins shrink while diners are faced with accepting new, pricier norms.
So, who or what is to blame for these inflated burger costs? Perhaps it's just a sign of the times, when dining out is more expensive than ever, and we're simply getting sticker shock from a food item many of us have always viewed as basic. Maybe it has something to do with the increasing minimum-wage laws that recently took effect in NYC restaurants and have owners experimenting with no-tipping policies and increased menu prices. These owners may also be pushing the inclusion of lower-cost food items (such as burgers) to maintain their already razor-thin profit margins, while tacking on extra charges for simple additions (that single Kraft American cheese slice you paid $1.50 for probably cost the restaurant less than 10 cents) and making other items once thought of as included (fries, etc.) to be an entirely different entity.
It's a lose-lose situation out there in the world of burgers: Restaurateurs are watching their slim margins shrink while diners are faced with accepting new, pricier norms. The only immediate winner here might be famed meat purveyors, such as Pat LaFrieda, who are accepting orders for "custom blends" at unprecedented rates. You can find these blends turned into patties just about anywhere these days, from food courts at sports arenas to fast-casual chains to the kitchens of fine-dining establishments. Wherever you are, though, you may want to remember the old advice about bringing your Amex card along: "Don't leave home without it."