How 2-Michelin-Starred Acadia Serves Its Burgers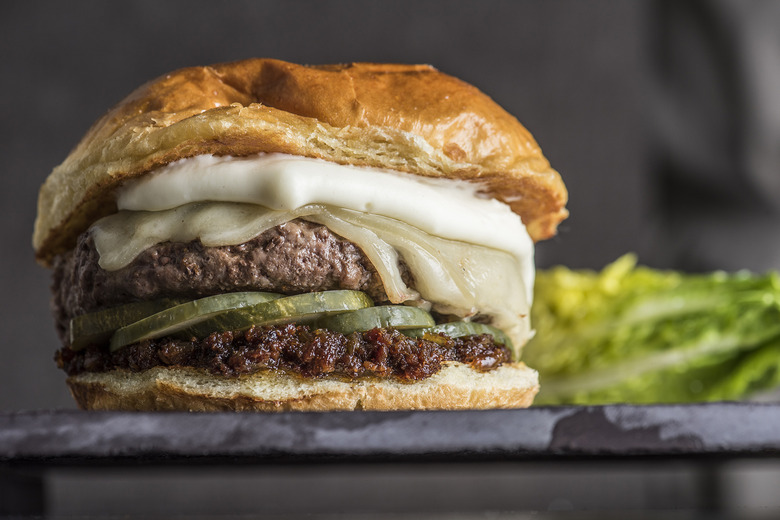 The burger served at the bar at Acadia. (Photo by Anthony Tahl
What is a two-Michelin-star chef doing in the midst of our Burger Week, talking about ground beef ratios? Shouldn't he instead be explaining standouts from the 10-course tasting menu, expounding on what a recent Chicago Tribune rave review called "an elegant composition of osetra caviar, avocado puree and barley-ale ice cream"? The chef-owner of Chicago's Acadia, Ryan McCaskey, seems to enjoy defying logic.
In a city of steakhouses and trendy bistros, the quietly intense chef decided to open Acadia, a restaurant devoted to highlighting coastal Maine cuisine — albeit with a classical sophistication that's more akin to French gastronomy. The 2012 bow made people attention, and the restaurant has continued to thrive, earning a first Michelin star, and then last year, adding a second — making it one of only five in Chicago with at least two stars.
Here's where the burger talk comes in: McCaskey, born in Vietnam and adopted as a baby by Americans and raised in the Chicago suburbs, has a keen appreciation for lowbrow food. It's just that he can't resist putting his polished spin on it. Thus, he riffs on burgers, lobster rolls and more, often entering food festival contests and blowing people's minds with his creations. The Acadia burger, available at the bar for $15 (plus $2.50 for a farm egg), is a constant draw, and can cause customer convulsion when he subs it out for a playful variation on a fast food burger. Here, McCaskey further explains his burger motivations.
Acadia's burger has garnered a lot of media attention. Tell us about it.
Yeah, since we opened, and it was not very intentional. My opening sous chef and I fought about it. I didn't really want to put a burger on the menu. He was like, well if we do a burger let's do a really cool one and make it right.  We decided to do a ratio of 3:2:1, from chuck to brisket to Wagyu fat. So what happens is the chuck is kind of the backbone and the structure of the burger, the brisket adds water content to it and then the A5 scraps we use is the fat. You're left with a really balanced, juicy and kind of deliciously fatty burger. It's served with onion-bacon jam, gruyère cheese, a taleggio-truffled mornay, and bread and butter pickles on brioche. That's it.
How thick is it, and how do you cook it?
I think it's 6 or 7 oz. We were doing a half pound, but the thing is, it takes so long to cook. Right now we're griddling it. We used to grill it but now we do it on a griddle because everyone seems to like the really greasy burger.
How do you get Wagyu scraps?
We have [Wagyu] on the menu.
So it's kind of like food waste re-use between the dining room and the bar menu?
Exactly. We actually grind enough burgers to the amount of scraps we have.
Do you sell out?
Yeah, we do. We'll sell 30 or 40 a night, which is a lot for a high-end place like us. We've also changed the burger. This was controversial. We change the burger once a year. We always go back to the original, but once a year we make homages to my childhood. So one year we did a riff on the Hardee's mushroom Swiss burger. We also did the BK stacker from Burger King. Even with stacker sauce. We sat there and we ate it and we ate it and got it kind of close and it's our take on it. We did a patty melt one year for something different.
What about this year?
Right now the original's back on. We've had people pretty angry that we take it off. We get the locals emailing me. I have to diffuse angry emails — where's the burger? We're not coming in until it comes back. What are you doing? Why the hell'd you take it off?
Ever done seafood burgers?
No, we've thought about it for a contest. We do a lot of casual contests. One year during Chicago Gourmet's burger contest I think we came in second or something but you could upgrade and put a lobster roll on our burger. Which is like out of control. It's like that burger with the lobster roll just piled on top of it. It's insane. It's good but it's kind of gluttonous.
I take it you offer fries?
We serve fries with a roasted garlic dijonnaise on the side. They're deep fried in duck fat and beef lard.
What do you think of gimmicky burgers like the ramen burger?
I'm not into it. At the end of the day it has to be a burger. I don't want to eat fried chicken with a burger in the middle of it. If I wanna eat fried chicken I'll eat fried chicken.
Any burgers you have found where you have to get a burger when you get to a city?
Up in Minneapolis when I see my sister I have to get a juicy lucy. I'm still trying to wrap my head around it. It's good. It's not my favorite thing.
How about in Maine?
Maine is lobster roll country. We have a lobster roll in the restaurant now. We have a friend of mine in Ellsworth, Maine who ships me those buns, those square buns you have to have for the purest Maine lobster roll.
How do you prepare your lobster rolls?
Very purist. Just buttered bun, super buttery. Then the lobster itself is just a touch of mayonnaise, lemon juice, salt and chives. That's it. We stuff a good 4 oz of lobster in there. And a little paprika on top.