Pittsburgh-based Smallman Galley is an incubator of burgeoning culinary talent, providing the infrastructure for a low-risk/low-cost restaurant opening and mentorship in a city where the food scene is bustling more than ever. Co-founders Ben Mantica and Tyler Benson run two bars and four restaurant concepts out of their 6,000-square foot space in Pittsburgh's river-adjacent Strip District. It's a crucible for creativity, like the modern Vietnamese Banhmilicious and the rotating selection of local distiller-fueled cocktails at the Smallman Galley Bar. Over the weekend, the bar menu took a nostalgic turn to one of our favorite movies of the early 90s: The Sandlot. That's right, a Sandlot-themed cocktail menu.
The list, printed and fastened onto a real VHS case, is packed with movie-themed drinks like  "Vincent's Drugstore" and "L7 Weenie."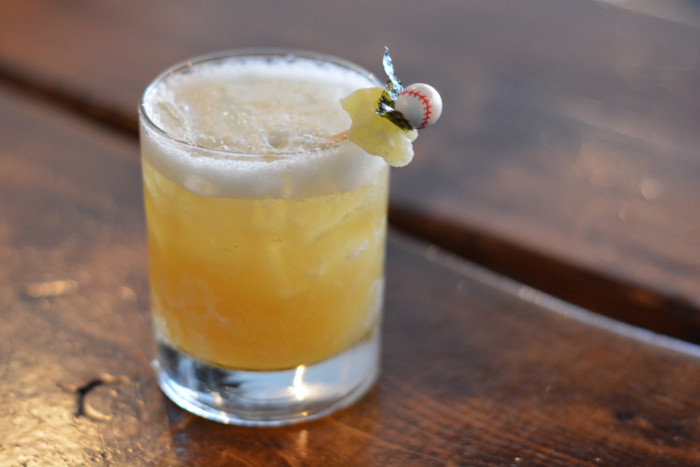 Says Beverage Director Tim Garso, "Our original bar director named all of our opening cocktails after old school hip-hop albums, which accidentally set into motion us only doing themed menus. Last summer we did Pittsburgh Pirates-themed puns, before moving into drinks named after tracks from the various Tony Hawk Pro Skater soundtracks."
So what's in The Great Spambino? Is it Spam?
"For months now, I've been threatening to use my Hawaiian heritage as reason enough to put a Spam cocktail on the menu," says Garso. "Finally, I was able to convince everyone that this was a good idea. I ended up fat-washing local Wigle rye whiskey with a neutral pork fat that I simmered Spam in. We round it out with pineapple juice, a nori tincture and some mole bitters from Wigle. You definitely get the meat-y undertones, but the bright acid of pineapple and the earthy and salty qualities of nori really soften the edges. If I were to sneak this into a ballpark in a flask (not that I've ever done that before), I'd definitely want to eat a hot dog. Cased meats + whiskey + canned meat = an inside the park home run."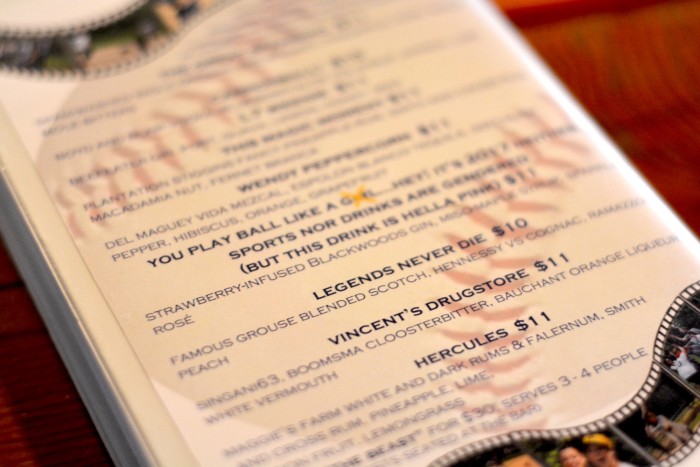 And as far as the VHS case that serves as the menu itself, well, that's just something everyone can enjoy. "There's something very nostalgic about the sensory experience of holding and opening that type of VHS case," Garso adds. "It's probably been a decade since most of us have picked up a VHS, but as soon as you hold that case, you're transported back to your childhood."