5 Places To Eat Incredibly Well In Pittsburgh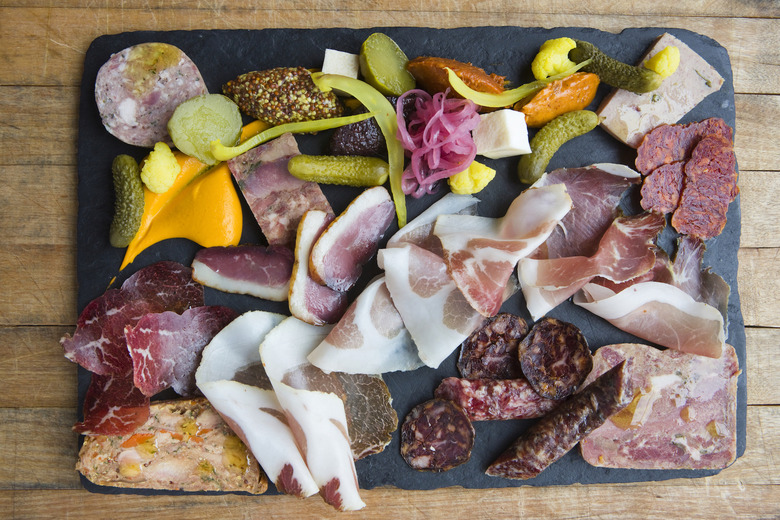 You say Philly, but I say Pitt! Now don't get me wrong: I love Philadelphia. It's a really rad city. And as a Pennsylvanian, I'm stoked that the dining scene there has been receiving so much positive attention as of late. Not only is it well deserved; it was long overdue.
However, I think it's time to shift the spotlight to the western part of my home state. While Pittsburgh has already established itself as a hub for technology, culture and sports — go Penguins! — it's also quickly becoming a destination for people who take their food seriously. From negroni-spiked salami to an impossibly rich vegan red-velvet cake, there are countless ways to taste everything the Steel City has to offer. Here, I share five places to eat really well in Pittsburgh.
1. Cure
There are butchers, and there are chefs. Then there's Justin Severino, who absolutely rules both worlds. It should come as no surprise, then, that the high praise and accolades (including a James Beard Foundation nomination) keep rolling in — even though he opened Cure in December 2011. While Severino's claim to fame is his charcuterie, which ranges from the familiar (nduja and soppressata) to just plain fun (hello, Fernet sausage), there are a lot of other things to swoon over. Consider the luscious pastas, including a gnudi with lamb-heart bolognese and gnocchi with smoked brisket. And there's also the "charcroute," Severino's play on the traditional choucroute. If your palate is geared more toward sea than land, no worries. Severino's newest menu offers savory seafood options including a sockeye salmon nduja, swordfish finocchiona and tuna mojama. They're as equally lip-smacking, rich and deeply flavored as their porky counterparts. 5336 Butler St., Pittsburgh, PA 15201, curepittsburgh.com
2. Root 174
While I waited for my table, a bearded man covered up to his ears in tattoos came over and offered to hang my coat, then proceeded to clear away nearby diners' empty plates. To my surprise, that polite, efficient gentleman wasn't a host or server, but the chef, Keith Fuller. Yes, I said chef. But if the service alone doesn't challenge (in the most positive way) what you know about dining out, then the food definitely will. Sure, you'll find vegetarian options on most menus nowadays, but what about vegan ones? Really memorable ones to boot? I'm an equal-opportunity eater of everything but found myself particularly drawn to Fuller's vegan dishes, like his meatless meatloaf — a crispy, grilled slab of hearty lentils, mushrooms and seitan — and his deconstructed red-velvet cake. I can't remember the last time I left a dinner so full and satisfied, but not so weighed down. 1113 S. Braddock Ave., Pittsburgh, PA 15218, root174.com
3. The Commoner
All too often, new hotels and their restaurants have a hard time finding their footing. But, The Commoner, located on the ground level of the newly opened Hotel Monaco Pittsburgh, is not one of them. Despite its downtown address — the area is really more of a business hub — it packs in the crowds, even on the weekends. And here's why: While the menu reads like a straightforward tavern menu (with Scotch eggs, beef tartare and steak pie), you'll quickly learn how deliciously over-the-top everything is. Because here, the Scotch eggs also happen to be deviled and the beef tartare is cold-smoked and crowned with a poached egg yolk. The best-selling beef pie is prepared with beer gravy and a suet (fat rendered from a cow's kidney) crust. As a playful nod to the hometown hockey team, it comes topped with a penguin pie bird. 458 Strawberry Way, Pittsburgh, PA 15219, thecommonerpgh.com
4. Penn Ave Fish Company
Think you can't find fresher-than-fresh fish in landlocked western Pennsylvania? Think again. This seafood market, which doubles as a casual dining spot, has on-site mongers and turns out solid yet affordable sandwiches, soups and even sushi. The fish tacos, in particular, are exceptional. Generous chunks of grilled swordfish, salmon and tuna are stuffed into a soft or hard shell before getting smothered in two hot sauces and shredded cabbage. At $5.99 for two, they're a legit deal. And the newly extended hours (now open until 8 p.m. Wednesdays through Saturdays) make early dinner a breeze. Just don't forget to bring beer or wine, because it's BYOB with no corkage fee. As the space is large and a bit oddly arranged, first-timers should take note: Simply place your order at the register, and your food will be brought to you. 2208 Penn Ave., Pittsburgh, PA 15222 and 808 Forbes Ave., Pittsburgh, PA 15219, pennavefishcompany.com
5. Eleven
Even though Eleven is turning, um, 11 this year, it's dodged the typical pitfalls that other city institutions have fallen victim to (like dated menus and decor) by consistently turning out crowd-pleasing cuisine that feels both familiar and fresh. It also happens to be one of those rare places that match just about any occasion and appetite. If you're looking to splurge, for example, go for the chef's tasting menu at dinner. Sunday brunch is equal parts refined and fun with its pork belly confit hash and grilled cinnamon brioche served with — get this — bacon butterscotch. But if you're seeking a more casual and laid-back experience, pop by the tavern for lunch, as I did. It's the only time of day that you can get the legendary burger — a beautiful behemoth topped with braised veal, thick-cut pepper bacon, fried onion rings and cheese. Make sure to ask for some of the house-made hot sauce, too. Made with over 30 ingredients, it's a zippy blend of heat and sweet. 1150 Smallman St., Pittsburgh, PA 15222, elevenck.com
This post is brought to you by our friends at MasterCard Priceless Cities.
Read more city guides on Food Republic: