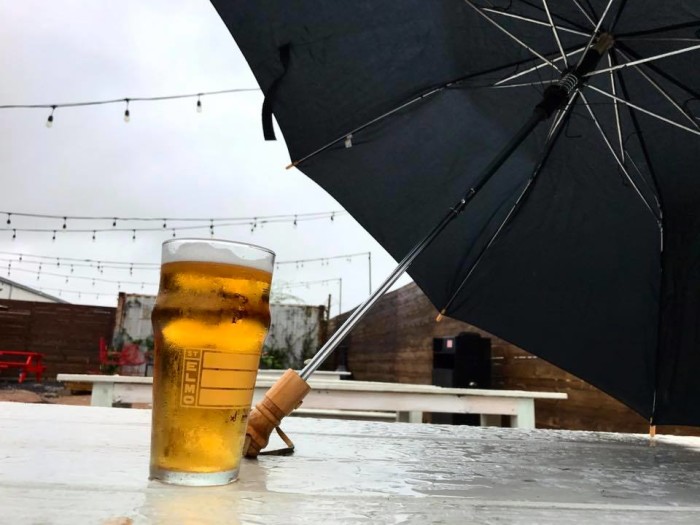 When it rains, brew beer. That's the thinking behind St. Elmo Brewing Co.'s collaboration with Richard's Rainwater in Austin, TX.
Quick refresher: beer is made up of four ingredients: barley/wheat, hops, yeast and water. Water plays a huge part in every beer. That's why lead brewer and co-founder of St. Elmo's, Bryan Winslow, was so keen to work with Richard Heinichen in making the Rain Pale Ale.
"It's a really true sense of collaboration," Winslow says. "I've done a lot of 'collaboration beers,' with brewers. This was super-fun because we actually got to work with the producer who makes water, which is extremely rare because how many people make water?"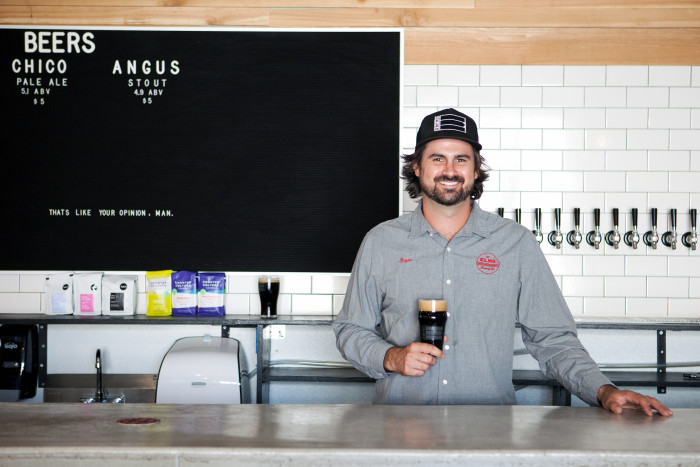 The water itself is incredibly pure. Heinichen collects the rain in massive containers and then performs reverse osmosis to achieve a super-soft quality that's completely mineral-free. It's so pure, in fact, that Winslow needs to add calcium chloride and calcium sulfate to it.
"It's clean and perfect, so I did have to change how I add water to the brewing process because enzymes and yeast need certain ions and compounds and molecules to do their jobs properly," he says.
Winslow had originally caught wind of Heinichen's rainwater while he was working at Austin Beerworks. He wanted to collaborate with him then, but thought the company was too big. Fast forward to 2016: Winslow opens St. Elmo, and to their surprise, their landlord is good friends with Heinichen! Once introductions were made, Heinichen sent Winslow some of his water and rainwater beer was made that very day.
"Richard was super excited about making a 'pail' ale," Winslow says. "He thought it was pretty funny. So I though ' Why not, man? Let's do a pale ale.' I used Cascade and Mandarina Bavaria hops. They add a real brightness, almost sunny, to go with that outdoor feel and the crispness you get from rain."
Winslow's already thinking about the next style to brew with the rainwater: a German helles lager, a malt barley lager.
"I think we'll keep most of the styles lighter because the focus of this collaboration is the water," he says. "I don't want to use too much hops or too many crazy malts or anything like that."
St. Elmo is currently draft-only and sells 95% of their stock out of their brewery. The other 5% is distributed to 12 bars in Austin. So you'll have to do a rain dance (or head to Austin) to grab a pint.