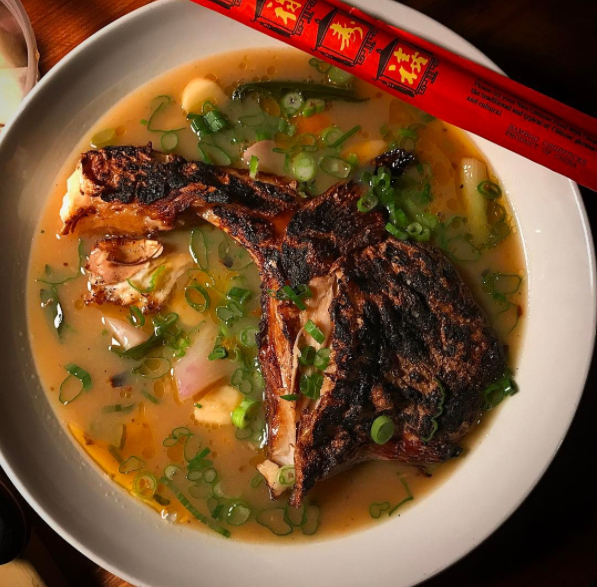 Brooklyn-based chef Sean Telo knows a thing or two about food waste reduction. One of his favorite dishes on any menu is a big, meaty fish collar. You don't have to wait til you're at a restaurant table to try one though —  it's not hard to source one to cook at home. Ask your fishmonger to save you a couple (they're not usually found in the display case) and practice until you get it just right. Serve them as a first or main course at your next get-together, and impress your guests.
An excellent tip we got: use chopsticks to gently poke and nudge the meat off the cartilage and bone. Without further ado, here's how to cook fish collar. Now go out and find one!
What's so great about fish collars?
They're pretty cool. They're basically the pork shoulder of fish — the meeting place of all the parts. On any animal, that's usually where the most flavor is. Fish collars are really popular in Japanese cooking, like hamachi kama, which is yellowtail collar. That's how I serve it too, broiled Japanese-style, but with local fish. I've been able to source pollack collars for a long time, which is just a really succulent unused piece of fish.
Are a lot of fish collars going unsold?
Part of the reason is because it's a tricky dish to eat. The best way is with chopsticks, but it's definitely a little more out there for people. Fish fillets are much more mainstream and easier to understand — you eat it with a fork, and there's no fin looking at you. Fish collar is one of my favorite things to work with, but you have to be cognizant of it. It probably won't be your most sold item.
Which fish collars should you be looking out for?
Yellowtail and salmon collars are great. Any big fish is the one to go with. You wouldn't want to serve a John Dory collar, for example, it would be too small.
If you're breaking down a whole fish, how would you remove the collar?
When you make your first slice behind the head towards the belly to get the fillet, you leave the collar on the head and cut it off in one big piece. That way you get both sides of fish, then cut that in half. It's actually pretty fun taking the collars out.
Is it a complicated piece of the fish to cook?
For some, but it doesn't have to be. Any time you're cooking a piece of fish, you should have a "fish tester," which can be anything you can use to poke into the fish when you think it's ready. If you feel resistance, it's still raw. The way we've been cooking fish collar here is on our Japanese grill, then we pop it in the wood oven for a minute. Or we'll put it in a hot pot with kimchi and fish broth, and steam it the rest of the way.
What's one piece of advice you could give the home cook in making their first fish collar?
Fish collar is really good, but can easily be overcooked. If it's your first fish collar, a good rule of thumb is to not stress about it being a little undercooked. You can always put it back in the oven, but you can't take away what you've done. Fish testers are the way to go. Poke into it and if it comes out clean and easy, it's ready.