Greenpoint, Brooklyn, is home to a wealth of diverse eateries, and if you find yourself hungry in the neighborhood, stop by 21 Greenpoint. Restaurateurs Homer Murray (son of actor Bill Murray) and Syd Silver opened this cozy spot in September 2016. With a strong focus on food waste reduction and responsible sourcing, chef Sean Telo launched a weekly Sunday dinner service called 21 Sunday centered entirely around repurposed ingredients.
"We don't fit into any one genre of food," says Telo. "We're not Italian, even though we have pizza and pastas on the menu. We have Korean on the menu right now, some New American. We look a lot at how other cultures and food styles use seasonal ingredients, and embrace that concept."
And for $21, you can enjoy a loaded five-course meal constructed from ingredients that would otherwise go to waste. We spoke with Telo and Murray about their venture, waste reduction mantras and how this business model could benefit other restaurants and…well, everyone really.
Do you find that your clientele is pretty aware of the problem of food waste?
Sean: I think everybody recognizes food waste as an issue, but it's not something that's very popular to talk about. There's a lot more being done about it, and some restaurants use that as their focus, but it's not a popular thing, and I don't know why. It's a great thing to focus your restaurant on, it's less expensive for you to operate and it's better for everyone in general. 
Homer: I don't think many people know about it, and I think it needs to be talked about. The problem with the term "food waste" is that people think we're serving them our garbage: stuff that's gone bad, old vegetables, dead clams, you know? It's important to inform people about the project. It's the stuff that would be thrown away, not the stuff that WE would throw away. It's more excess than waste.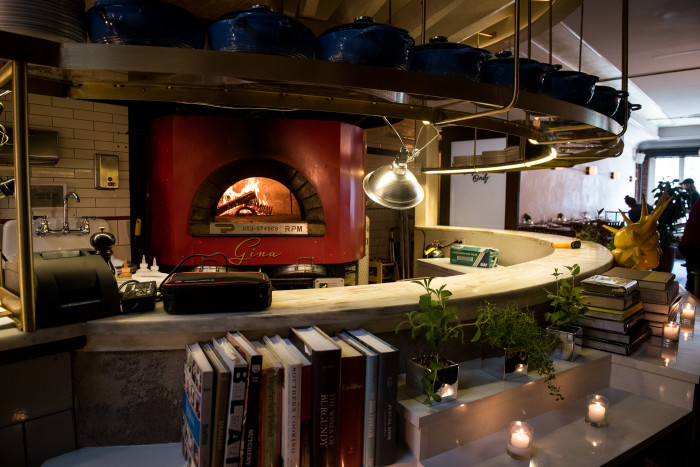 Sean: I came up with 21 Sunday on a trip to the Hudson Valley, at a farm called Glenwood with my old boss Steven Satterfield and Mark Bittman. We were all chatting about the restaurant before it opened, and I wanted a way to focus on replacing the current brunch model. I'm not a fan of brunch — or having a restaurant that serves it — so I came up with 21 Sunday, and it's perfect. We get to use everything we already have in house; we don't have to order anything for it. It's really fun for the guests — they can come in, sit down, relax and not make any choices. And it's inexpensive.
Homer: It started because of Sean — this a passion of his that I'm totally on board with. I didn't think it would be a cool marketing thing more than just a smart thing to do. It is bullshit "morally I'm cooler than you" Brooklyn-type stuff, but it's also always exciting to see a great chef express himself. It's a fun challenge. Our sous chef Nate is a super-talented guy, and he's definitely the hardest worker at the restaurant, so he gets to do his own thing one day a week, and he gets really excited about it.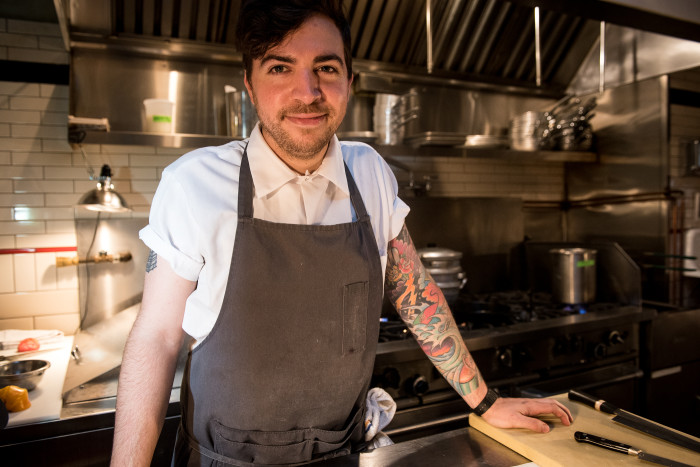 What was the best lineup you've had, and is there a dish that reliably makes it onto each menu?
Sean: It totally changes week to week depending on what we have. We try and hit all the notes people are looking for in a dinner out. It's also a great way for my sous chefs to practice running a restaurant and come up with not just the specials but the whole menu (and I can take the day off). It's hard to be a sous chef. You never get your food on the menu even though you put in most of the work, and you don't get much credit, so I wanted it to be their thing. 
As for the menu, we take the leftovers from the week, so we'll do maybe a whole roast fish, a tasty spaghetti — we make all our spaghetti in house — a salad with Hudson Valley greens, a soup and a dessert. We try to keep it vegetarian-friendly; in fact, everything is as dietary restriction–friendly as possible. I'm proud of every week we do it. People have a great time, and we get really busy. Last week we got so busy we had to close a little early.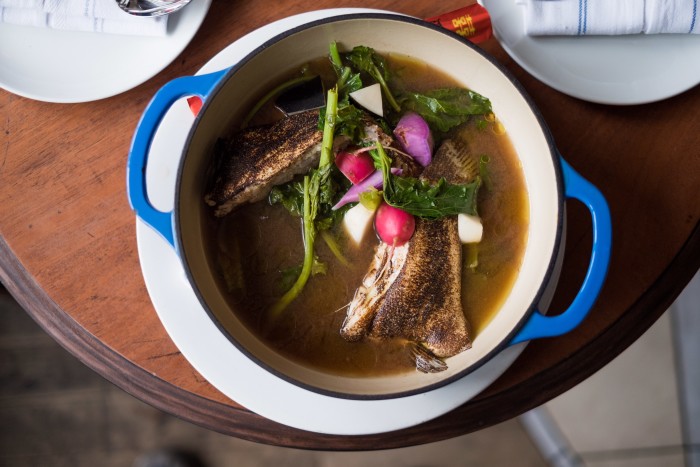 So you've got a nice cleaned-out kitchen at the end?
Sean: Yes, and what we don't use for 21 Sunday or family meal is composted and sent to New Jersey. We only throw away a couple of bags of trash a day — foil, gloves and stuff like that. Again, it's incredibly easy to do and doesn't take much effort. 
I saw an "ugly vegetable snack" listed on the menu. What does that entail?

Sean: A while back, I went to Donaldson Farm in New Jersey and they were telling me about all the food they can't sell because nobody will buy it — it has spots or bumps or whatever. I was like, "Well, I'll buy it!" They sell those vegetables for pennies on the dollar. Our ugly vegetable snack, which is always on the menu, is a crudité with salt, some cultured butter and pesto we make from the vegetable tops. It's a dish devoted to getting farms more money and purchasing items that would normally be wasted.
What are some other ways you use those vegetables?
Sean: We didn't want to serve Bloody Marys at the bar. I encourage the bartenders to think differently, so instead of a Bloody Mary, we invented a drink called the Ugly Carrie. We take those "ugly" carrots, which are perfectly good, juice them and mix them with cucumbers, vodka and poblano liqueur. Then we'll take the pulp and make Bolognese sauce for family meal or 21 Sunday. 
Homer: The cocktail is named for my cousin Carrie — she's marrying a bartender who used to work with us.
Have you ever worked within a really inefficient kitchen? 
Sean: I've worked in places where there's been a lot of waste, and places that are the opposite. Most restaurants, especially fine dining, waste a lot of food because they want to serve a very pristine product and don't really take scraps into account. Something we like to say is that the food is good before it comes here.
What are some ways you reduce food waste at home?
Sean: I never cook at home anymore!
Homer: Well, I finish every single bottle of wine; I'm very on the ball there. At home, my girlfriend is trying to learn how to cook, and I've been a cook for a very long time, so I'm teaching her. Two days ago, we roasted a chicken. We made stock and chicken salad from the leftovers — we stretch everything as far as we can. It's not specifically about saving money, although it does, but about utilizing this great thing. I know there are people who would love to have chicken scraps.
Have you heard of a new style of grocery market popping up in Europe and Scandinavia that sells ugly or past-prime food at a steep discount? Do you think something like that would be successful in Brooklyn? 
Sean: I think it could be successful. People would be into it if they heard the story about it. Grocery stores don't make money on produce anyway; they just sell it at cost to get people in there to buy other things. 
Homer: I think they should give it away. I don't think it should be some "holier than thou" thing; it's almost insulting to sell it at a discount. It should be more like "Well, nobody's going to buy it anyway, please take it." This is viable food, stuff that was grown by a human being and made for consumption. The only reason it wasn't sold was because someone didn't pick it out of the bin for whatever reason. We have our daily staple, the ugly vegetables, because we like to take things off people's hands. We don't want anything not sold. I think our kitchen is talented enough to make something great out of anything. If there's something that's going to go to waste, give it to us and we'll figure it out; we know what we're doing. I don't want to say we can fix any problem, but we can definitely make the best out of anything.
Homer, does your dad come by the restaurant often?
He comes by whenever he's in town. He likes to say, "Make me one of everything, but make it small." He'll bring a few people in with him and say, "Cut everything in four pieces."