It's Spritz Weather Again, Time For The Jägermeister?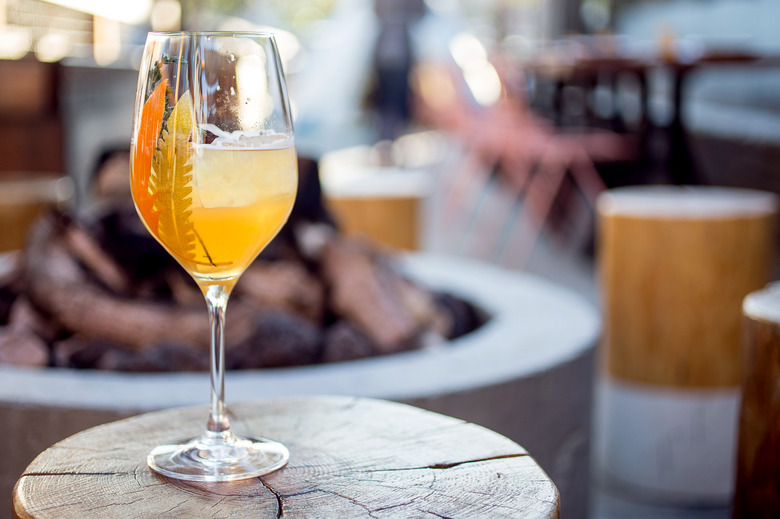 Consider adding some Jägermeister to your spritz. (Photo: Arlene Ibarra.)
Warmer weather often means lighter drinking, and with that, the return of the spritz. As Talia Baiocchi puts it in her recent book Spritz, this iconic aperitivo is more than "just an early evening cocktail — it's a style of drinking." However Aperol is far from the only bitter that fits the bill, as proven by lead barman Brian Prugalidad of Campfire in San Diego with his Jägermeister-driven "Spritzing Sie Deutsche" cocktail.
"I love spritzes, and they're one of the only types of cocktails my wife enjoys. I wanted to make something that would blow her socks off and have her (and anyone else, really) disbelieve that there is Jägermeister in it," says Prugalidad. Having moved on from shots and various bomb-iterations, Jäger's blend of spices is both surprisingly healthful and useful in various cocktails. It contains 56 herbs, roots, blossoms and dried fruits in total, including cloves, ginger, orange peels, cinnamon bark, coriander and juniper.
For his spritz, Prugalidad notes that "up front, you get the first taste of the deep, herbaceousness from the Jägermeister perfectly balanced with the acidity of the lemon, the sweetness from the pears and quince and the spice of the ginger." From there, the bubbles and fizz from both soda and sparkling wine lift the whole drink to a light, dry finish. It's a delicate balance, and most of the heavy lifting is achieved through Prugalidad's milk-washed spritz batch, which infuses both fruit and Jäger together in a smooth, translucent liquid perfect for a wine glass. It's an excellent example of the versatility of this often-overlooked spirit. Enjoy.
Spritzing Sie Deutsche
Serving: 1 cocktailPrep Time: 2 minutes (plus time to make batch)Difficulty: ModerateIngredients
3 parts Jägermeister spritz batch*
1½ parts soda
1½ parts Champagne/sparkling wine
Directions
Pour batch, soda and sparkling wine into a wine glass and add 5 or 6 ice cubes.
Garnish with thyme, star anise and orange zest.
*Jägermeister spritz batchIngredients
2 ½ parts Jägermeister
1 ½ parts Anjou and Bartlett pear juice
1 part lemon juice
½ part Quince syrup*
½ part Ginger syrup*
Directions
Add the batch to 1½ parts whole milk and let sit for at least an hour, preferably around 4 hours.
Allow to strain without agitation through chinois and cheesecloth.
Repeat straining until the curds are absolutely strained out.
Refrigerate for later use.