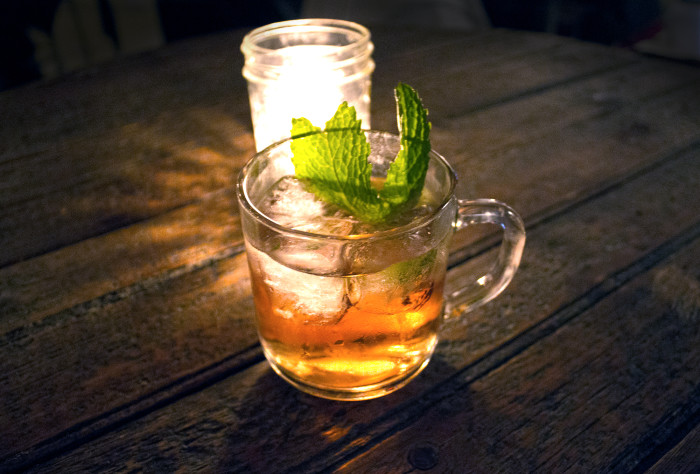 After centuries of obscurity, variations of milk punches are now appearing in cocktail bars all over the country, though few drinkers know what they are or how milk even fits into the equation. Dating back to the 1600s, this blend of tea, citrus, sugar, alcohol and water is similar to a conventional bowl of punch, except for the final addition of milk as a coagulant and clarifying agent, a facet believed to have been brewed first by English poet and novelist Aphra Behn. Even with all of the tech apparatus available behind the scenes in today's bars, the process for creating milk punch remains essentially the same.
Located in the heart of industrial Bushwick in Brooklyn, Forrest Point offers up to five distinct milk-laden punches, all derived from the California Milk Punch published in Jerry Thomas's 1862 Bartender's Guide. Forging perhaps one of the first iterations of milk punch that has cachaça as a base, head barman Gareth Howells wanted the ingredients of his Panchito's Way to be as close to 100 percent Latin American in origin as possible. Yerba Mate tea, mango, papaya and even habanero peppers give his punch a soft tropical profile, somehow bypassing the intense heat one would expect, though the pepper's profile is still there. Astonishingly, the process of milk clarification is able to round out not only sharp citrus flavors, but also the majority of the potent capsaicins found in the peppers.
There are several ways to create milk punches, all of which require a bit of experimentation and precision. Howells's approach and recipe, which is approximated below, requires several days of marinating the fruit, tea and spirits together before adding more citrus and hot milk at the end to create a thick curdling effect. As gravity takes over and the curdled bits eventually settle, they also pull any larger molecules down with them. After it is strained several times, the curdled milk leaves a clear, whey-yellowed elixir that is intensely beguiling and nuanced in flavor. For those who venture to try their hand at making milk punch, this feature on the Panchito's Way produced by the good folks at Leblon should help, but I'd say it's best to sip this one from the source.
The Panchitos Way Milk Punch
Servings: Approximately 60-70
Ingredients
2 bottles Leblon Reserva Especial Cachaça
1 bottle Encanto Distillers Reserve Moscatel Pisco
12 ounces Del Maguey Vida Mezcal
12 ounces Ancho Reyes Chile Liqueur
1 mango, cubed
1 papaya, cubed
20 black grapes
1 quart fresh squeezed lemon juice
3 cups fresh squeezed lime juice
2 oranges, zested
4 limes, zested
1 quart Yerba Mate tea
8 sticks canela cinnamon
10 star anise
5 vanilla pods, split
8 habanero peppers
2 pounds demerara sugar
2 quarts hot water
2 quarts simmering whole milk
Mint sprig
Directions:
In a large container (12+ quarts in size), add in chopped mango, papaya and demerara sugar. Mix well.
Muddle fruit into the sugar. Add grapes, habaneros and lime/orange zests, muddling gently until mashed.
Add canela, star anise and split vanilla pods. Then add lemon juice, tea and 1 gallon hot water at the end. Stir to melt down sugar and combine ingredients.
Once mixture has cooled to room temperature, add liquor, cover and let sit for 3 to 4 days to infuse.
Strain mixture through a chinois into a larger (20+ quart) container to remove solids.
Add fresh lime juice first and then simmering whole milk into the mixture to create curdling. Let rest for several hours until curds have settled at the bottom.
Place cheesecloth into the chinois and pour mixture through to strain, repeating 3 to 5 times until only a translucent liquid remains.
Store for later use. To serve, pour over ice in a glass tea cup and garnish with a mint sprig.
Prep Time: 4-5 days
Difficulty: Hard