5 Things To Know About Tom Yum Paste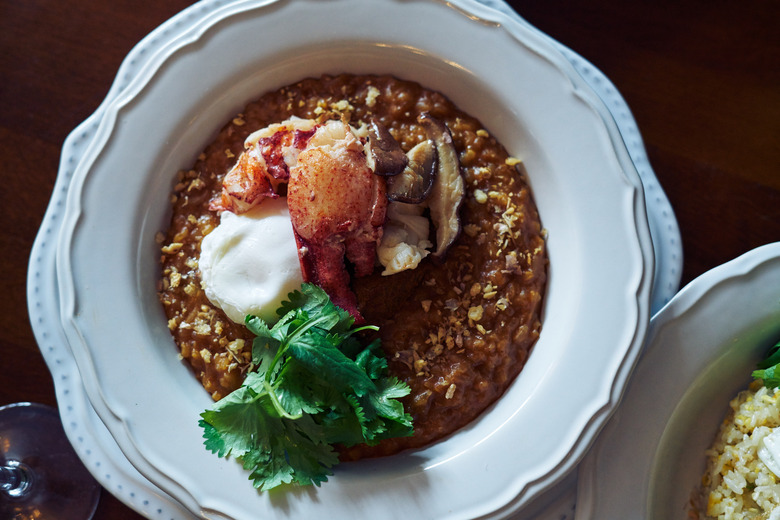 Lobster congee is served at NYC's Pinto Garden with a poached egg and mushrooms for brunch. (Photo: Lorenzo de Guia.
Tom yum soup is as ubiquitous in Thai cuisine as pad Thai. Even cookbook author and supermodel Chrissy Teigen uses the soup as a benchmark when dining at new Thai restaurants.
At Pinto Garden in New York City, Chef Teerawong "Yo" Nanthavatsiri condenses all the flavors of tom yum into one paste. He says that the soup has so many different layers of flavors to it, which makes it a distinctive dish.
"It's very delicate in flavors," Nanthavatsiri says. "It's an interesting dish because they have all different flavors in the dish but they don't kill each other, it just incorporates everything together. You have the sweetness, you have the sour, you have the spicy, you have the saltiness from the fish sauce — everything is just incorporated."
Originally from Bangkok, Nanthavatsiri studied theatre before moving to New York City to work on his master's degree in directing at Columbia. As most students or actors do, Nanthavatsiri started out working in a restaurant, becaming a bus boy at Spice. From there he worked up the ranks to server and manager. Upon graduating, Nanthavatsiri says he was looking for a reason to stay in New York. That's when his mom turned him onto the idea of opening his own restaurant.
"My mom came to visit me and she saw me working at the restaurant and saw that it was good business and that I like it, so she gave me the idea of opening my own," he says. "I was like, 'Why not?' So, I opened Pinto on Christopher Street 10 years ago."
Since then, Nanthavatsiri has opened a Brooklyn location and most recently Pinto Garden in the West Village, where he currently serves as executive chef. Having recently started brunch service, Nanthavatsiri offers a lobster congee where the tom yum paste is arguably the star of the dish. He tells us how he came up with the idea of turning the pungent soup into a paste.
1. It's all about the herbs.
There are three herbs that must be added to tom yum to achieve that distinctive flavor: kaffir lime leaf, lemongrass and galangal. Nanthavatsiri says that the herbs play off the fish sauce and chilies and enhances those flavors.
2. Don't go overboard with spice.
The beauty of tom yum is the balance of the spice, sweet, savory and tartness. Nanthavatsiri says that people often add too many chilies when cooking Thai cuisine in general, which can overpower one's palate.
"When people think about Thai food, they think Thai food is very spicy so they put too much chili or that Thai food uses a lot of herbs, so they put too many herbs," he says.
3. Tailor it to your own tastes.
There's no one definitive recipe for tom yum. Nanthavatsiri says that it's common for people to make the soup fitting to their preferences.
"Some people like it saltier so they add fish sauce," he says. "Some people like it sweeter so they'll add more sugar, or some people really like it very sour, they'll put lime juice at the end. Some people love really, really spicy things so they put fresh chilies in it, just smash it and put it in there."
4. It makes for an easy instant soup.
Since the paste is basically the basis of the soup, you can use the it as a concentrate. Simply add some to boiling water, stir to dissolve and garnish to your liking!
5. The possible applications are endless.
Nanthavatsiri currently uses the paste in his lobster congee, which gives it the rich red color. He previously used a similar paste to make tom yum fried rice and has been experimenting with it by smearing it on a toasted baguette with boiled shrimp.
♦♦♦
Pinto Garden's Tom Yum Paste
Ingredients
1 1/4 tablespoons galangal
3/4 tablespoons lemongrass
Scant 1/2 teaspoon fresh chilies
1/3 tablespoon kaffir lime leaves
2 1/3 tablespoons chili paste
Scant 2 tablespoons fish sauce
Scant 2 tablespoons fresh lime juice
3/4 teaspoons dried chilies
2/3 teaspoons cilantro
Salt to taste
Directions
Add ingredients to a mixer and blend until it reaches jam-like consistency.