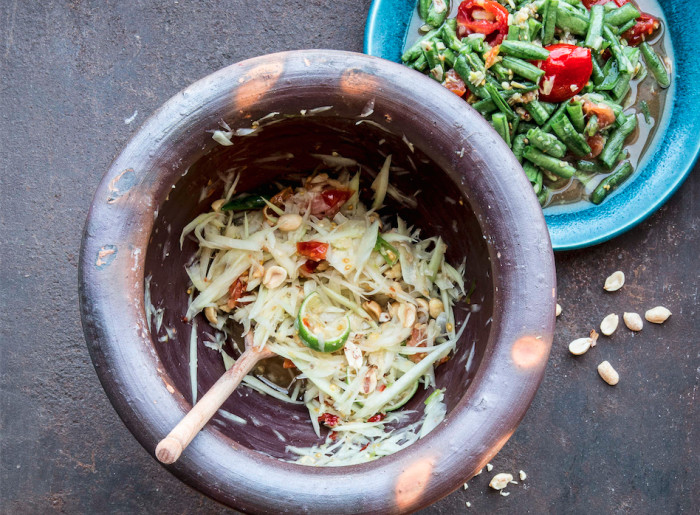 News flash: Model Chrissy Teigen's brand-new cookbook, Cravings, is a sriracha-stained page-turner for the ages. Flip through the Sports Illustrated swimsuit sensation's sweet and savory tome, coauthored with Food Republic contributor Adeena Sussman, and think for the umpteenth time that husband John Legend is one lucky guy. 
This has ruined me for ALL. OTHER. PAPAYA SALADS. Mom can cook evvvvverything well, but man, she is a papaya salad ninja. Once requested, it's on the table in three minutes and never fails to be perfect. When trying out a new Thai restaurant, I always order two things first: tom yum soup and papaya salad. If their tom yum or papaya salad sucks, the chances of anything else being good are slim to none. It's a rule that's always held true for me.
Made at least five times a week in my household (did you know an Asian mom lives with us? It's awesome), I live on this before shoots. We add WAY more chile, to the point where my face has a stroke and I can't blink one eye or symmetrically smile, but I finish the entire plate. Serve it with steamed rice and roasted chicken or pork rinds. Seriously. They cut the heat, but even if they didn't, they're pork rinds, and pork rinds are awesome.
(Oh, and by the way, unless you have a Thai Town lying around, green papaya can be tricky to find, but fear not — this is equally good with green beans or even shredded cucumber.)
The Thai Hotness: Thai bird chilies used to be super-hard to find, but now you can buy them at Asian markets and even regular supermarkets. They are hot as hell. If you can't find them, use serrano chilies.
Ingredients
1

lime, halved

1

large jalapeño pepper (pretty hot) or 3 fresh Thai chilies (really hot)

1

dried red Thai chili (optional)

2

cloves

garlic

2

tablespoons

palm, raw or light brown sugar

10

cherry tomatoes, halved

2

tablespoons

fish sauce

1

pound

green papaya (or 1 pound green beans)

3

tablespoons

chopped unsalted roasted peanuts (optional)

Cooked sticky or jasmine rice, for serving
Materials
Large mortar and pestle (or you can fake it; see recipe)
Directions
For the salad
Cut one-half of the lime into small wedges and place in a large mortar along with the fresh chilies (and dried chili, if using), garlic and sugar. Crush with the pestle until the chilies are mashed and bruised but not totally pulverized and the sugar is dissolved. Add the tomatoes and pound a few times to bruise the tomatoes. (You can also accomplish this with a plain old bowl and a round-ended cocktail muddler. Or you can chop the garlic first and just mix and mash everything in a mixing bowl. Sorry, Mom.) Squeeze the juice from the remaining lime half (about 1 tablespoon) into the mortar and stir in the fish sauce.

If using green papaya, peel and seed it, then shred with a food processor or mandoline. If using green beans, trim them and cut into 2-inch lengths. You should have about 4 cups of papaya or beans.

Add the papaya or green beans to the mortar and mash and toss lightly. Divide the salad among bowls. If desired, top with the peanuts. Serve with rice.