Don't Mistake This Coffee Cocktail For A Regular Cup Of Joe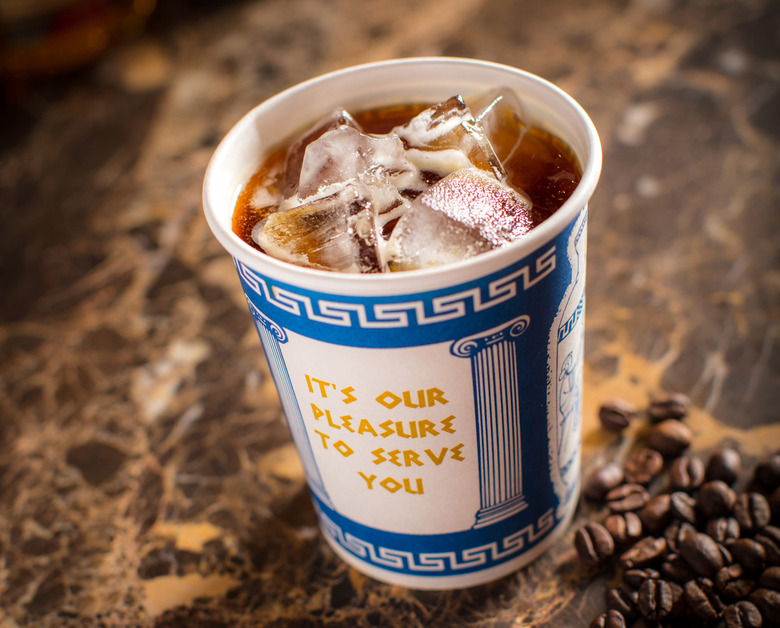 What looks like your average cup of coffee has an extra kick of rum.
Barman Sammy Ross loves the classics; he cut his teeth behind the bar during some of the earliest days at NYC's legendary Milk & Honey. He also loves to experiment with subtle twists and derivations on fabled drinks from the past. Often asked to lend his expertise to bars outside of New York, Ross's menu at Las Vegas's The Dorsey at the Venetian features a coffee cocktail that might feel a bit more kitschy than serious, but looks can be deceiving.
"Although the cocktails on this Dorsey menu have a lot of thought and intention behind them, I didn't want the drinks themselves appear too serious," notes Ross. His Coney Island Express can firmly be traced back to Dick Bradsell's Espresso Martini created in London in the late 1980's. Instead of a flat walled martini glass, Ross uses an iconic NYC takeaway coffee cup — "a little nod to my NYC allegiance," he notes — as the vessel. It's an unexpected juxtaposition amidst the Dorsey's plush decor.
Originally made with vodka, Ross's version uses the Venezuelan Diplomatico Anejo rum, which brings a darker sweetness to Bradsell's Martini spec. The sweet Spanish Licor 43 adds notes of citrus, vanilla and spice, which is contrasted by a bit of bitterness from the herbal Amaro CioCiaro. Cold brew finishes it off, making this boozy pick-me-up a bit stronger and definitely more delicious than your regular cup of joe.
Coney Island Express
Serving: 1 cocktail
Prep Time: 2 minutes
Difficulty: Easy
Ingredients
1 ounce Diplomatico Anejo
½ ounce Licor 43
½ ounce Amaro CioCiaro
1 1/2 ounces Cold Brew
Directions
1) Combine ingredients into a cocktail shaker and shake vigorously for 5 seconds.
2) Strain over ice into a coffee up, or alternatively neat in coupe.