When Irish Whiskey, Coffee And Guinness Meet (It's Not What You Think)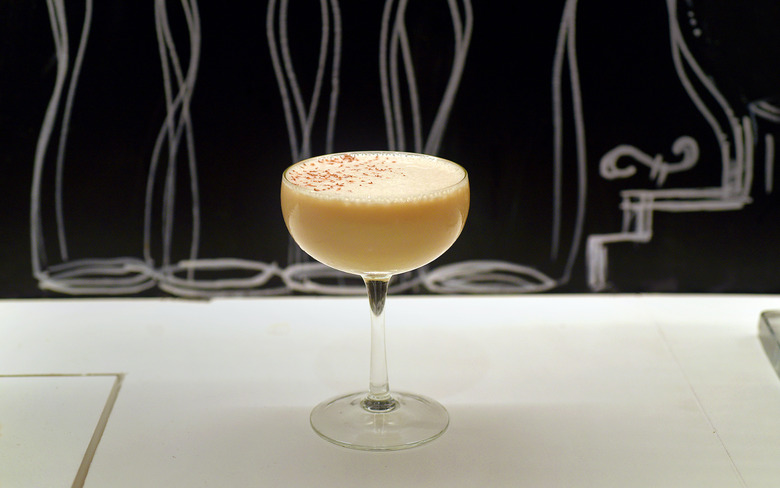 A creamy dessert cocktail with just the right amount of heat.
For no-nonsense Irish pubs, shots from the homeland have always been plentiful, but Irish whiskey is seeing a spike in appreciation these days. Largely overlooked in cocktails compared to other whiskies, Irish whiskey is a versatile spirit and now making its way into more original creations. For DiSean Burns, officially the "manager of drink" at Charlotte's Stoke restaurant, a recent addition to his menu brings the spirit together with stout, coffee, chocolate and a little chili heat for a dessert cocktail called the Dublin Redeye.
"The flip is not a style of cocktail we see a lot down in the Charlotte area," notes Burns. "Working through it conceptually, we came across Jameson Caskmates, which added quite a few subtle dimensions outside of the standard Jameson." Using whiskey barrels that had previously been used to age stout from the Franciscan Well brewery, Jameson added darker, cocoa flavor elements from the beer to what is typically a fairly light and clean spirit. Burns takes this a step farther with an actual Guinness syrup, which he infuses with coffee and serrano chilies.
Balancing the heat and sweetness through the cream and egg white, the stout and whiskey flavors are accentuated in the Dublin Redeye, with a bit of espresso in between. A flip itself would have traditionally used a whole egg, as well as cream, giving the drink a lot of weight. Burns's cocktails is "more like an Irish coffee, but delivering it in a slightly different manner," as he puts it. And for those who remember the disaster of a drink that was the Irish Car Bomb — invented in Norwich, Connecticut, in the late '70s, and not something you would ever want to order in, say, a Dublin pub — this is certainly a far more exciting way to bring those flavors together. Sláinte!
Dublin Redeye
Serving: 1 cocktailPrep Time: 3 minutesDifficulty: ModerateIngredients 
1 ounce Jameson Casemates Stout Edition
1 ounce Serrano Chili Stout Syrup*
1 ounce  half & half
1 egg white
Directions
1) Combine the Jameson Caskmates Whiskey, serrano chili stout syrup, half & half and egg white into a shaker tin.
2) Add ice and shake. The strain into empty shaker and dry-shake.
3) Strain into a chilled coupe glass and garnish with shaved dark chocolate.
*Housemade Serrano Chili Stout Syrup*
1) Heat 12 ounces of Guinness Stout with equal parts superfine sugar until sugars are dissolved.
2) Add three split serrano chilies and five cracked espresso beans into an airtight container (Mason jar with a lid).
3) Allow to sit and infuse over five days. Strain and store for later use.
4) For an alternative method: Add two shots of espresso to Guinness syrup and add three muddled chilies. Let sit for 30 minutes before straining and serving.