The Dead Rabbit Might Have Perfected The Irish Coffee. Here Is How To Make It.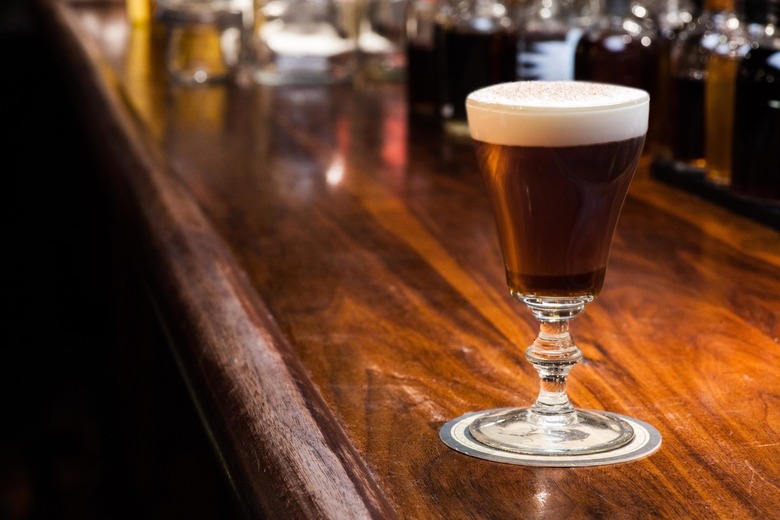 Sean Muldoon takes his Irish coffee seriously. I mean, really seriously. Some might say his obsession borders on maniacal. And it's not just because he's proudly Irish, or because he's one of the most revered cocktail experts around. Prior to the opening of the Dead Rabbit, his award-winning bar in Manhattan's financial district, Muldoon and long-time comrade Jack McGarry went to what some might call preposterous lengths to perfect what is essentially a rather simple cocktail. They made the drink, if their memory serves them correctly, "several hundred times."
There are few beverages that I find more comforting than an Irish Coffee, especially when enjoyed in the slender confines of the Dead Rabbit's downstairs saloon, known officially as the Tap Room. The drink has quickly established itself as one of those "must-haves" in a city that is arguably the world's cocktail capital. Another of those obligatory experiences might be nursing a Plymouth martini in the Carlyle Hotel's Bemelmans Bar, or a pitch-perfect julep in the plush back garden at Maison Premiere.
You might find a group of visitors from Belfast clutching a round, proud that one of their own has made it in the Big Apple. There are invariably a few off-duty bartenders dissecting the minutiae of whipped cream. It's not uncommon, in fact, to see almost everyone in the room sipping on an Irish coffee. It almost seems sacrilegious to be in this venerable, egalitarian public house and not have the one drink where the staff's pride in its execution is palpable.
Despite their devotion to mastering the drink, even the Dead Rabbit guys would agree that the home of the Irish coffee, at least in America, is the Buena Vista Café in San Francisco's tourist-laden Fisherman's Wharf. It opened in 1916, though it didn't become ground zero for its own signature drink until the early 1950s, when a writer for the San Francisco Chronicle named Stanton Delaplane tried it at the Foynes air base (now Shannon Airport), on Ireland's western coast.
Joe Sheridan was the head chef at Foynes and the so-called creator of the drink. He was the first to give it to Delaplane, who mentioned it often in his prose and presented it to the owners of the Buena Vista. They, in turn, became so obsessed with it that they, like Muldoon, spent countless hours trying to perfect the recipe. Today, they boast of selling more than several thousand a day, with Tullamore Dew used as the base.
A great Irish coffee clearly starts with a great Irish whiskey, and there's a veritable kaleidoscope of options behind the bar downstairs at the Rabbit — more than any other bar in America, in fact. The base for this signature drink, however, seems to change on a whim. Sometimes it's Clontarf, though on my last visit it was Jameson, as it will be moving forward. And to confuse things even further, upstairs in the Parlor, they use Power's Signature, a pure pot still whiskey, which is heavier and oilier and boasts fruity notes of apple, pear and peach.
For the coffee, they use Stone Street, which is kept at a consistent temperature of 78 degrees Celsius through the use of an immersion circulator that might typically be used by a chef. I've always thought their coffee could be a little hotter, although this can be remedied by preheating your glasses. Try filling the vessels with boiling water for 20 seconds, then discarding and add the ingredients. One of the greatest pleasures of a perfectly made Irish coffee is drinking that piping-hot coffee through the subtly chilled layer of cream.
That cream should be whipped to a consistency that is not so thick that it can't be poured in a fluid motion straight from a pitcher or carafe. It shouldn't be scooped out and ladled on top with a spoon (too thick). And under no circumstances should it ever come from a canister of whipped cream. Scofflaws in Ireland have been stoned to death for less. The Dead Rabbit version is adorned — in a break from tradition — with a grating of aromatic nutmeg, a garnish that McGarry uses liberally like a great chef does salt and pepper. Personally, I think this unorthodox flourish makes the drink pop, and now I can't imagine an Irish coffee without it.
For added depth, I've often enjoyed flavoring my whipped cream either with a spice (try clove, ginger, vanilla, cardamom, cinnamon or star anise) or with a liqueur (such as amaretto, Frangelico, Licor 43 or Sambuca). And if bastardizing something sacred doesn't bother you, you can change up the base spirit. With rum you have a calypso coffee; add a little tequila and Kahlua and, unsurprisingly, it goes by the name of Mexican coffee.
Somehow, even amid the sticky and often oppressive August heat, an Irish coffee doesn't seem so out of place. Muldoon serves it year-round. But right now it's March and blisteringly cold. St. Patrick's Day is again upon us and there's no more appropriate drink than a warm, ambrosial Irish coffee. Note: The photo does not depict the absinthe glass or nutmeg garnish.
The Perfect Irish Coffee RecipeCourtesy of the Dead Rabbit
Ingredients:
1 1/2 ounces Jameson original blended Irish whiskey
4 ounces fresh-brewed coffee
1/2 ounce rich Demarara syrup
Freshly whipped cream
Freshly ground nutmeg
Directions:
Make a batch of rich Demarara syrup by blending two parts sugar with one part boiling water. Stir, dissolve and store in fridge.
Pour four ounces of fresh-brewed coffee (preferably made with a French press) into an absinthe glass.
Add 1/2 ounce of the Demerara syrup and stir.
Add 1 1/2 ounces of Jameson original blended Irish whiskey.
Gently spread on a thin layer of whipped cream (learn how to make your own here), preferably pouring straight from the bowl or carafe.
Using a grater, garnish with fresh nutmeg shavings and serve.
Read more cocktail recipes on Food Republic: