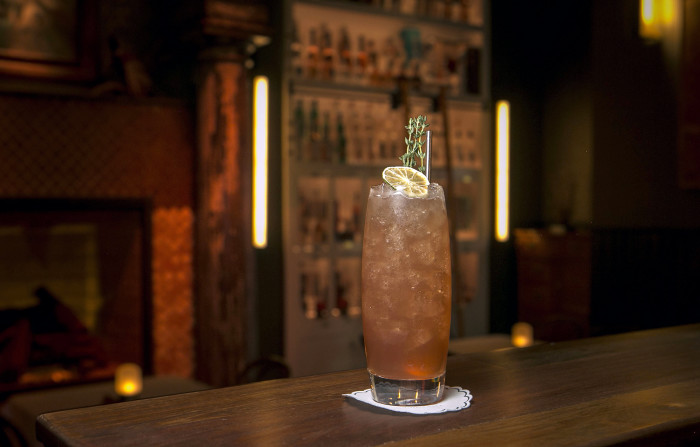 Holding the first distillery license in America, Laird's Applejack is deeply embedded in the roots of American history, including being a favorite of George Washington himself. Strangely, this robust and complex apple brandy largely seems to play second fiddle to whiskey in the classic cocktail lexicon, apart from the notable Jack Rose. Perhaps it fell out of fashion, but today, modern classics like Richie Boccato's American Trilogy combine applejack and rye in an old-fashioned format, which serves the spirit's elegant grit well.
Grenadine and pomegranate also pair well with applejack and give the iconic Jack Rose its rosy hue. Young Kim, beverage director at the recently opened Fine & Rare in New York City, brings a new take to these two ingredients in her Forbidden Fruit cocktail. As a child, Kim's mother would make apple soju — fermented apple juice with neutral spirit added — which served as the drink's inspiration. "On winter nights, my siblings and mom used to drink black tea after dinner, and my dad always added apple soju in his tea," Kim says. "Since we had a pomegranate and fig tree in the house, those fruits were the accompaniment."
Using soju as a base might also work in this drink, but rather than fading into the background, the high-proof applejack can easily stand out alongside most any liqueur, herb or other modifier. While apples might often be seen as a fall or winter flavor, the spirit is essentially as versatile as whiskey or other brandies in cocktails, and even works well with gin as a split base, such as in a Bramble. Will applejack reclaim its position as America's favorite spirit? Doubtful, but just like the jazz heard from the bar at Fine & Rare, it's a uniquely American invention we should all take more enjoyment in.
Forbidden Fruit Cocktail
Serving: 1 drink
Prep time: 3 minutes
Difficulty: Easy
Ingredients:
1 1/2 ounces Laird's Applejack
1 1/2 ounces black tea (steeped with oregano, thyme, rosemary, orange peel)
3/4 ounce PAMA Pomegranate Liqueur
3/4 ounce fresh lemon juice
1/2 ounce honey
Directions:
1) Combine all ingredients into a shaker tin and add ice.
2) Shake vigorously and strain over crushed ice in tall glass.
3) Top glass off with more ice and garnish with a lemon slice and thyme.