Here Are Our Favorite Bites From The Charleston Wine + Food Festival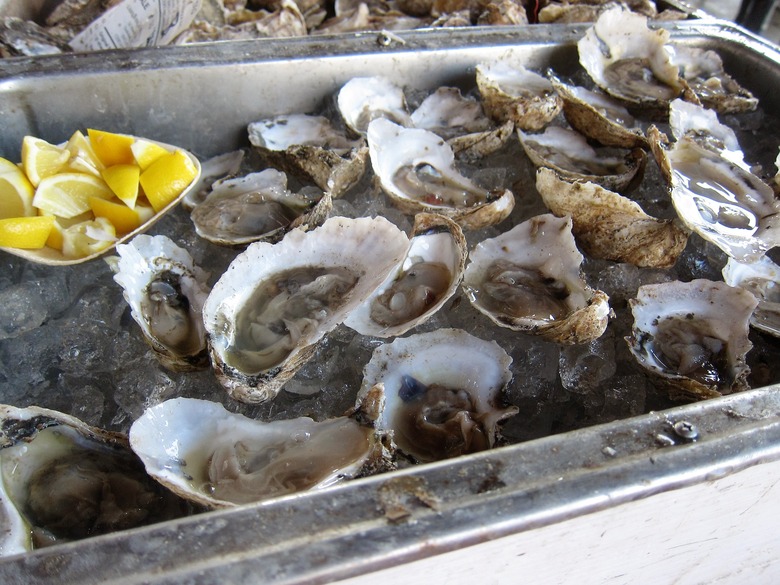 Smoky, porky goodness at Rodney Scot
For a dozen years now, fans of Southern food descend on Charleston, South Carolina, for an orgiastic weekend of eating and drinking at the Charleston Wine + Food Festival, and this year's edition delivered some fantastic bites. From March 1-5, the hits just kept on coming. I think my camera gained three pounds just taking these photos.
As soon as I arrived in town, I made a beeline to Rodney Scott's new barbecue joint on Upper King St. The whole town is abuzz about the amazing meats coming off of Rodney's new custom smokers, and everyone appreciates no longer having to make the four-hour round trip to Hemingway for a proper pork sandwich.
Unlike at the original Scott's BBQ location in Hemingway, which specializes in whole hog and crispy pork skins, meaty ribs are on the menu in Charleston, and locals are snatching racks of them up every day by the hundreds. It's a tough time to be a pig in the Lowcountry.
Quail was in the spotlight on Thursday night, specifically Manchester Farms birds that were cooked in numerous preparations at the huge Fowl Mouth party at Cooper River Brewing Co. I've always said that all you need to throw a successful event at one of these Southern food festivals is an empty parking lot, a few kegs of beer and some chefs willing to cook their food outdoors. If you build it, the tribe will gather, and they sure did at this festive event.
It's not easy to distract a crowd of brown-liquor lovers at a whiskey tasting event, but the crowd at the Bourbon Affair held on Friday in the Cigar Factory did at least pause to nosh on some excellent bites presented by cooperative chefs. Robert Grace of M Street in Nashville offered a highlight with his crispy chicken skin lettuce wrap.
Charleston played host to this year's season of Top Chef, and former contestants were everywhere in town over the course of the festival. Jamie Lynch hosted fellow chef-testant Katsuji Tanabe for a dinner at Lynch's 5Church restaurant, and the pair combined for a menu featuring all sorts of inside jokes for fans of the show. Charlestonians knew all the minutiae of the interaction between the chefs, so they giggled at the fact that Tanabe's mole sauce with his beef tongue was made with peanuts. (Apparently the show's judges hated Lynch's peanut butter sauce in a challenge. All I know is that the mole I tasted was delicious.)
Even the small bites that accompanied beer tastings at education seminars were noteworthy at the CHSWFF. I had heard that Shuai Wang was recently named a James Beard semifinalist despite the fact that he doesn't actually have a restaurant in Charleston — only a food truck — so I was intrigued to try his food. His tray of Asian-inspired snacks that paired with sour beers from Revelry Brewing Co. convinced me that those Beard judges know what the heck they are talking about.
Another Top Chef alum, Dale Talde, was the guest chef at a signature dinner at Le Farfalle along with host chef Michael Toscano. Eric Asimov waxed poetic (and at length) about the wine pairings at this 12-plus-course dinner marathon, but when this smoked pit beef came out to the table covered with an obscene amount of shaved truffles, we diners pretty much tuned out the commentary. Sorry about that, Eric.
One of my favorite events every year at the Charleston Wine + Food Festival is the "Shucked" party, held under the pavilion at the Charleston Harbor Resort & Marina. Not only was there wine, tequila and plenty of wonderful oyster preparations created by talented chefs at this year's event, but clusters of roasted oysters were continuously poured out on tables with holes cut in them to pitch the shells. I always love watching demure Southern belles sidle up to the tables and reach into their clutch purses to pull out the oyster knife they always have on their person. (Note to self: Hang out at the TSA security checkpoint at the Charleston airport the next time I need to acquire a free knife.)
This being Charleston, I had to at least drop by some of the city's classic restaurants. A visit to the Charleston Grill at the Belmond Charleston Place Hotel featured the opportunity to try some fantastic wines by the glass thanks to their innovative Coravin preservation system, which allows them to offer pours that are generally only available by the bottle. A 2002 Künstler Riesling Spätlese Trocken off their "Bucket List" of BTG wines was an amazing complement to a small plate of venison tenderloin with foie gras and a huckleberry-port sauce.
If I do say so myself, the event that I heard the most compliments about happened to be the one presented by us here at Food Republic. At, "What the Pho," a party thrown at L'Atelier at Le Creuset, a dozen chefs prepared their takes on the delicious Vietnamese noodle and broth dish. Variations included phos made using country ham, kangaroo and a particularly bracing broth created by Thai Phi of Pink Bellies food truck. Phi was my guest on a Facebook Live session earlier in the festival, so I was excited to try his chicken-based pho dressed with a raw quail egg to add a little silkiness to the noodles. The kid has skillz!
Remember I said something earlier about country ham pho? Well, that was the ingenious creation of Jason Alley of Pasture and Comfort in Richmond. He whipped up a potlikker flavored with ham and then created "noodles" by extruding hush puppy batter into a deep fryer. It was as smart as it was delicious!
A pumping DJ kept the party going long after the anticipated completion time, and crowds filled the dance floor led by a couple of hired hands who encouraged frivolity like the paid dancers at a bar mitzvah. Actually, it might have been the cocktails mixed up by a team of bartenders led by Diageo's Todd Richman, but whatever it takes to stir the pot, right? My only complaint about the festival was the cruel coincidence that it kicked off on the first day of Lent. So excuse me while I pop my gout pills and continue my atonement.