Manchester Farms Is The Brand To Know For High-Quality Quail In The South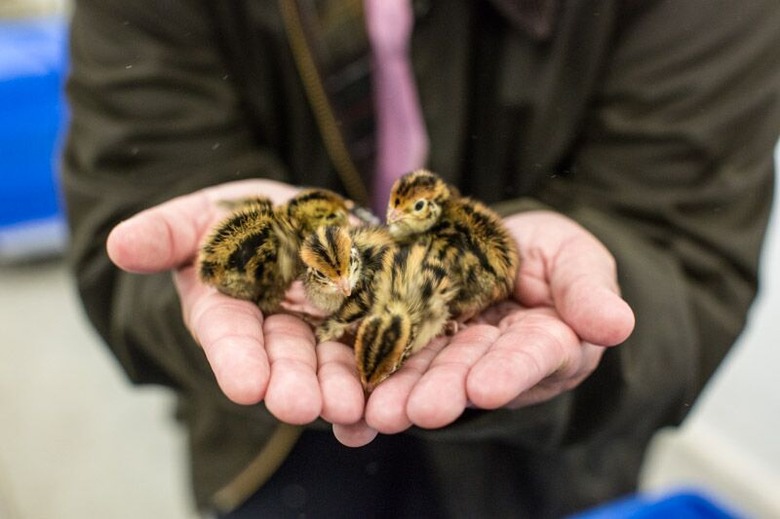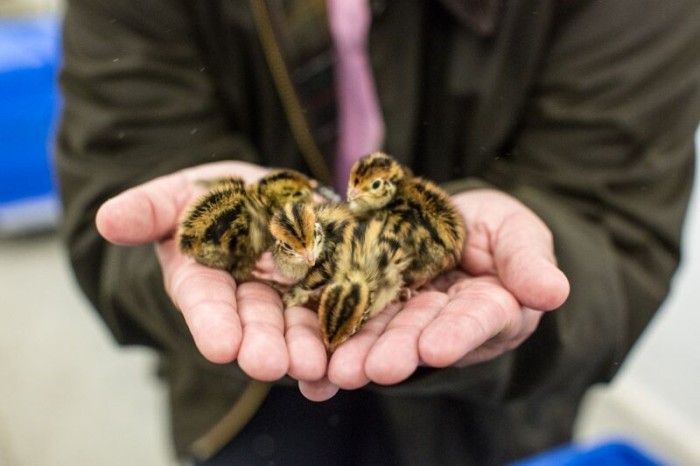 In the throes of post-Thanksgiving leftovers malaise, poultry might be the absolute last thing you want to think about. If it's true that Tupperware is really just a vessel to store your garbage in for a week before taking it out to the trashcan, that remaining turkey in your fridge is probably looking less than appetizing right about now. And chicken probably isn't firing up your creative juices either.
But what about quail? These small birds offer delicate flavors with just a hint of gaminess and promise a quick cooking time thanks to their petite lean breasts and legs. To the husband-and-wife team of Matt and Brittney Miller of Manchester Farms in Columbia, South Carolina, quail also offers a way for them and their 100 employees to make a living, supplying the birds to retail and restaurant customers across the country.
The family-owned business has been in operation since the early 1970s, when Brittney's father, Bill Odom, left his position as one of Campbell Soup's top flock managers for its chicken suppliers to start his own operation raising quail. Odom had been raising Pharoah quail to use in training his hunting dogs, and he felt that raising the smaller birds in his own operation would be preferable to moving up as a cog in the giant Campbell corporate machine.Starting out on two acres of his own farm, Odom soon discovered that there was more demand for his birds than just hunters looking for easy game. There were few options to buy processed quail back then, and the business soon became a family affair of picking and cleaning birds on the backyard picnic table to provide meat for sale to Odom's neighbors. "I literally grew up as the farmer's daughter," recalls Miller. "When I told people what I did for a living, I got a lot of funny looks and the occasional scowl."
Hunting wild quail has become increasingly difficult through the years as predators such as armadillos and fire ants have decimated coveys of the delicate birds, so Odom began to grow his heirloom heritage breed Pharaoh quail in larger chicken houses to meet the growing demand. After a decade of selling its product direct through mail order, Manchester Farms started to distribute through food-service companies to chefs like Wolfgang Puck, Thomas Keller and Daniel Boulud.
What these chefs had in common was a background in European cuisine and a familiarity with quail, a protein that had rarely been seen in American kitchens. Manchester Farms responded to a customer request to develop a European-style semi-boneless whole quail, and the business took another leap. Leaving in the drumette and winglet bones while inserting a proprietary "v-pin" to hold the breast open for easier stuffing, this process creates a presentation that cooks quickly and evenly. Other developments that arose from customer requests include splitting the breasts instead of a traditional butterfly backbone cut to allow for even shorter cook times and offering a bacon-wrapped quail because, well, bacon.
As Manchester Farms grew in popularity with restaurants and retail outlets, the demands on the company's production capabilities grew. The current operation seems quite large, hatching 80,000 to 100,000 chicks per week and processing more than 300,000 quail every month. That is actually rather tiny compared to other commercial poultry operations, which can slaughter that many chickens in a day. Additionally, the throughput of the farm is so much smaller than a chicken plant, as a half-ounce quail chick might grow to six to eight ounces in the five weeks between hatching and processing, as opposed to a chicken, which can top out at ten pounds over the same time period.Manchester Farms is a combination of intense plantation management with artisan practices and extreme precision. Unlike chicken plants, which purchase their chicks from hatcheries, Manchester Farms controls its birds throughout the entire process. "We could grow them bigger if we wanted to push them," explains Brittney Miller. "But we're stewards of their lives. We don't want to force them."This attitude also precludes the use of antibiotics or hormones in the company's flocks. The one part of the process that Manchester Farms does not have total control over is the feed mill. The company partners with a turkey grower to keep up with the supply needs. It's also currently trying to source a non-GMO corn for its feed as yet another ecological and sustainability improvement to the operation.
Since quail grow from chick to eating size in about five weeks, Manchester Farms maintains five barns that are stocked in rotation with a new brood every week. Because quail eggs are each uniquely speckled, it isn't possible to see through the shell to determine whether eggs have been fertilized, so each egg is sorted by hand and slowly rocked in special racks in high-tech incubators to make sure that the yolk doesn't stick to the side of the shell before hatching, sort of like the riddling process in the méthode champenoise. These procedures lead to an impressive 85 percent hatch rate from the laying hens.
However, the majority of Manchester Farms eggs are never intended to be hatched, as the company provides more than 13 million eggs per year, primarily to the Asian grocery market. Labeled under various names, packages of 15 quail eggs are incredibly popular in these markets and are an excellent addition to your own culinary repertoire.For five weeks, the quail grow up in long houses under strict environmental controls. Lighting is intentionally dim to keep the flock calm, and specially designed feeding and watering stations stimulate healthy movement around the bird house. As you enter the building, it is what is not present that is surprising. There is none of the foul aroma normally associated with a chicken house, nor do the quail appear at all agitated by the presence of visitors. While they do live in a covered environment, there is plenty of room to fly around, and occasionally a bird will noiselessly take flight to visit another section of the flock.
The Millers are sticklers for cleanliness, and not just because an illness rampaging through one of their five farms would wipe out 20 percent of a month's production. Brittney Miller explains, "I have a rule. If it looks dirty, it eats dirty." This commitment to cleanliness, quality and continuous process improvement has led to Manchester Farms being certified as the only SQF Level 2 Certified Quail Processor in the United States.
Brittney Miller doesn't want to rest on these laurels, though. "We try to respect these birds from their infancy, and it starts at the foundation, with all-natural feed and no antibiotics," she says. "Like a wine grower concentrating on the rootstock, we use a heritage breed and won't raise some other larger bird with more white meat. I tell folks who ask for that to save themselves ten bucks a pound and go buy a chicken!"
Chefs who regularly use Manchester Farms quail on their menus appreciate these practices and depend on a consistent supply of quality product. "Chefs say they can rely on us, and that's the biggest compliment we can get," says Matt Miller. His wife adds, "The care that we put into these birds and the low stress level translate into the tenderness of the meat. When we see our quail on the menu at Husk, it sure makes us proud!"
Another big fan is Steven Satterfield, chef-owner of Miller Union in Atlanta. "Ever since I met the folks from Manchester and tried their quail, I was smitten. They are delicious, plump and beautifully cleaned. [Editor's note: the quail, not the Millers, although they are also beautifully cleaned.] We serve the semi-boneless and have them on our menu often. I love it that they are a family business in the South and also how connected they are with the chefs and the food scene — in particular with Southern Foodways folks, which goes a long way with me."
Satterfield serves Manchester Farms quail in a myriad of ways, he says: "Grilled with Carolina BBQ sauce, crispy buttermilk fried, sautéed in olive oil, roasted with thyme, stuffed with cornbread, wrapped in country ham.  Right now we have these little guys on our fall menu with creamed farro studded with Brussels and caramelized turnips. There is a rosemary-scented prune and red wine puree on the base of the plate and some crispy dehydrated cabbage leaves as a garnish."
As an inspiration to creative chefs like Satterfield or as a bacon-wrapped treat to throw on the grill at a casual tailgater, Manchester Farms quail have become a market leader thanks to a continuous commitment to supplying a consistent quality product. "It looks simple to do," cautions Brittney Miller. "But quail are very sensitive picky eaters who stress easily and can be cannibalistic. It's taken 40 years to make it look this easy."