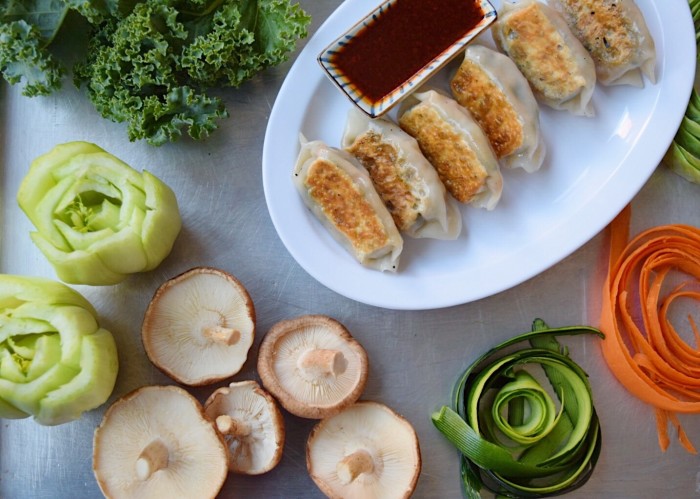 New York's beloved Nolita and East Village dumpling shop Mimi Cheng's has teamed up with Blue Hill chef Dan Barber and his wastED initiative. The wastED dumplings, on the menu through the end of February, were inspired by the organization's commitment to working together as a food community to rethink the "waste" that occurs at every link in the food chain. The team is also donating half the profits from these dumplings to NYC food-rescue nonprofit City Harvest, so grab a pair of chopsticks and get your roughage on!
"There are tons of food wasted every year because it doesn't look like it's 'supposed' to or it's discarded because we're taught not to eat parts of it," says cofounder Hannah Cheng. "Our hope with this collaboration is that it will challenge people to at least rethink the food that they throw out. City Harvest does an amazing job of rescuing this food from restaurants and commercial kitchens and redirecting it to feed 1.4 million homeless New Yorkers."
We asked Cheng what the home cook can do to make wastED dumplings of their own (but really, it's pretty easy!).
What are a few vegetables that reliably make it into the mix?
Bok choy, cabbage and zucchini are good places to start.
Have you discovered any particularly great new combinations you wouldn't have considered before this project? 
This project has showed us to relook at different combinations with fresh eyes. Culinary creativity can make anything taste good.
Any combinations that haven't worked so well? 
Not that we've tried. We have a good sense of what would work well and what wouldn't work well in a dumpling based on flavors and textures.
What's the most important thing for the home cook to keep in mind when making dumplings from saved vegetable scraps?
Make sure you wash all the vegetables very thoroughly before prepping. No one wants to be rinsing off dirt from thin carrot ribbons!
What would you recommend using as a dipping sauce? 
Mimi Cheng's secret sauce! If you want to make a good reliable sauce at home, we love black vinegar, soy sauce, sesame oil and raw garlic.