At first blush, nothing seemed unusual about the long line that had formed on Friday around 11 a.m. After all, the Madison Square Park location of Shake Shack is a favorite lunch spot for locals, and it was a perfectly warm spring day, ideal for a date with burgers in the park.
But there was a special menu item that day — though not everyone was aware of it. Following the critical acclaim and wide-reaching attention generated by chef Dan Barber's month-long "WastED" pop-up, which featured a rotating cast of chefs cooking at Greenwich Village's Blue Hill with food trash like bones and carrot tops, the chef and author paired up with Shake Shack's culinary director, Mark Rosati, for a one-day pop-up. On offer was a vegetarian burger made with juice pulp, smeared with "rejected" beet ketchup, atop a bun made partly from day-old Balthazar bread.
"I'm a huge believer in what Barber does as a chef," said 28-year-old Chris Baas, just before he bit into the WastED burger. (The "ED" in WastED stands for "education.") He had heard about the WastED pop-up but didn't realize the burgers were being served that day. Once he saw them on the menu, he decided to give it a shot. "The pulp brings a unique flavor. And I love the bun," he said.
Barber has long been concerned with creating a more sustainable food system, and it's the subject of his 2014 book, The Third Plate, which considers a future in which "the whole farm" is on our tables, not just cherry-picked ingredients like grass-fed steak. His cooking revolves around heritage grains and unusual produce, provoking diners to consider locavorism with greater depth. It's top-notch, cerebral cuisine, loaded with not just superb flavor combinations, but politics. Danny Meyer's Shake Shack, on the other hand, is a widely loved, family-friendly fast-food joint with healthy overtones. After a successful public offering this past January, the fast-casual chain just opened its 70th location worldwide.
Barber had originally asked Shake Shack to provide some kind of waste ingredient for his WastED pop-up, but they didn't have enough consistent waste to provide. Shake Shack's culinary director, Mark Rosati, dined at Barber's WastED pop-up on the first night and was blown away from the start, with the "beef tallow candles you could use to dip your bread in," he recalled. The two decided to collaborate with this one-time burger pop-up.
The cunning of introducing Barber's concept into a popular fast-casual spot was not lost on people. "We were talking just this morning about how to get people interested in sustainability. This is perfect. It's not dumpster diving — it's Shake Shack. Look at this line at 11 a.m.," said 29-year-old Lauren Golenbeski, after eating WastED burgers with her colleague Jeanine Pederson. Earlier, the two had attended a breakfast hosted by the IDEAS City festival downtown, which had included food waste like day-old pastries and leftover coffee made into ice cubes for "cold brew." The breakfast was served in a recycled-materials setting, using crates as tables. They had come to Shake Shack after learning about the burgers on a food blog. Pedersen chimed in: "It's amazing that this is at Shake Shack. You don't think of it as this kind of venue. It's not trendy; it's burgers." Both women loved the taste of the juice-pulp patties and the upcycled bread.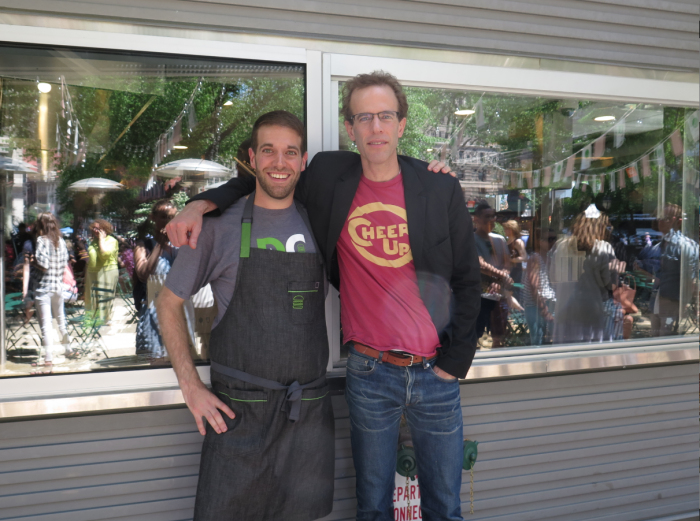 While some attentive foodies came specifically for the special menu item, others were simply Shake Shack loyalists — such as 34-year-old Michael Lapayower, who works nearby and loves the chain's burgers so much that he imitates their recipes at home (he showed me pictures on his phone, and they did look good). He and two friends were innocently waiting in line for lunch when I asked them if they were planning to get the food-waste burgers. Immediately they were curious — and when I saw them ordering, 40 minutes later, Lapayower yelled to me, "I decided to get the waste burger – why not!"
His friend, 23-year-old Radhika Parekh, got one, too. When the moment of judgment came, Lapayower bit enthusiastically into the burger. "My God! It's amazing. So much flavor going on." He said he would "definitely come back and have this." Parekh agreed, saying the "texture was creamy and a little dry, but there's so much flavor."
But were the burgers really that good? Mine tasted a little dry, and the bread seemed crumbly. One guy, who said he manages a restaurant in the East Village and would give me only his first name, Kai, had come specifically to try the burger. He wasn't too impressed. "I don't think it's that interesting. It tastes exactly the way I thought it would," he said. "It's well executed but not great." But Lapayower seemed to really love it. Can food taste better if there's a cool story behind it?
Barber was there, enjoying lunch with his family and handing out wisps of turnip-seed pod from Stone Barns Center, the upstate agricultural center and restaurant he runs. He said the turnip-seed pod was an oft-wasted weed that was edible (it tasted nutty) and would be on the menu at Blue Hill that night. He wouldn't say whether this pop-up, or collaboration, would lead to something new.
There are a lot of statistics out there about food waste. Barber has said that 40 percent of food produced goes to waste, but it's probably impossible to measure such a thing. The beets in the WastED "ketchup" came from a breeder in Wisconsin, and according to Barber, they would have been just left in the fields because they were "rejected" – meaning they either looked or tasted weird. (Incidentally, numerous campaigns have cropped up recently around the issue of "ugly foods" and how they are wasted.)
So there's waste in the field. Then there's the waste at supermarkets, the thrown-out leftovers in home kitchens, the tossed-out foods at restaurants and bakeries. It's really unfathomable, impossible to quantify. It's hard to make a dent in it, too. Where to start in the face of such massive disrespect toward food, while an also unfathomable number of people go hungry every day? Statistics don't matter as much as solutions do. Barber is sending out ripples toward this end. A farm here, a book there, a pop-up, another one. This is a chef with fierce beliefs. Looking around the Shake Shack scene on Friday, it seemed to be catching on, burger by burger. It may be that we are finally seeing "foodie" and "locavore" culture mature to a point where the possibility of making change is real and palpable.