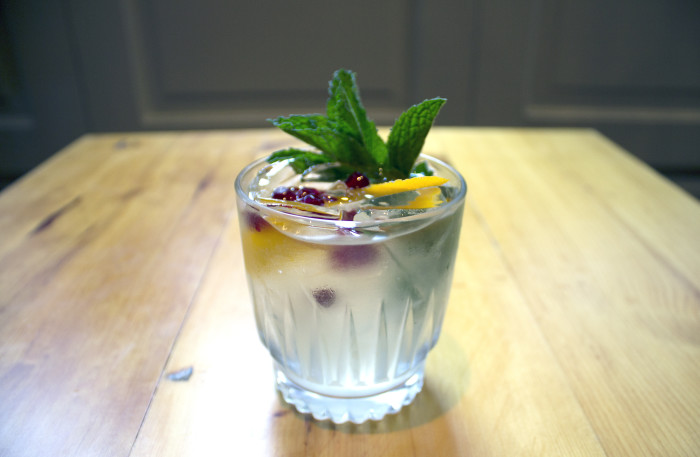 The concept of health in Japanese culture might mean more than taking the body and pure ingredients into consideration. It also applies to finding balance, intentionality and a sustainable approach to what you are creating, even if it is a cocktail. At NYC's Bessou, a restaurant that serves a modern take on Japanese comfort food, owner Maiko Kyogoku wanted to bring her own take on the clarified-milk punch to the menu, using one of the restaurant's unique sakes as its base and providing guests with a low-ABV, health-minded beverage in the process.
Celebrating the Chinese, or "lunar," new year, Bessou's Gantan punch starts with a mixture of dark karigane green tea, oranges, lemon and star anise. Fortified with a small amount of sake, Maiko then adds simmering whole milk to the batch, causing it to curdle in reaction to the citrus. This process for milk punches, which is centuries old, allows the proteins from the milk to attach to the larger particles of citrus and other ingredients in any mixture, ultimately extracting them for a clear, slightly lactic-tasting end product once strained. Shelf-stable, the restaurant can keep this mixture refrigerated for about a week, cutting down on the waste many cocktail bars see each night when they have to throw out most of their citrus juices and garnishes.
The Gantan's elegance combined with the complexity of a milk-punch drink makes it a definite crowd-pleaser, though the process of using curdled milk might suggest otherwise. Sake can have the ability to evaporate in a cocktail, if paired with other strong ingredients. In this case, the subtlety of the milk-punch cocktail allows a perfect pairing with a delicate rice wine, and Maiko heightens the experience by adding pomegranate kernels, a mint spring and most importantly, citrus aromatics from an orange twist. Maiko recognizes that people want to be healthy without sacrificing great flavors and enjoyable experiences. She feels her Gantan punch balances both. Enjoy.
Gantan Milk-Punch Cocktail
Servings: 1 cocktail
Ingredients
2 ounces milk-punch base*
2 ounces dry sake
Pomegranate seeds
Sprig of mint
Orange peel

*Milk-punch base ingredients:
3 cups brewed dark green tea (Bessou uses karigane green from Kettl)
3 cups fresh lemon juice
1 1/2 cups fresh orange juice
1 1/2 cups simple syrup
1 cup dry sake
3 cups whole milk
8 star anise
Directions:
For the milk punch:
Combine green tea, lemon juice, orange juice, simple syrup and sake.
Bring milk to a simmer. Pour milk into sake mixture. The milk will curdle.
Filter through a coffee filter to skim the whey from the milk base until you are left with a translucent light orange liquid.
Cover and chill. The punch base can keep for up to 10 days.
For cocktail assembly:
In a rocks glass filled with ice, pour milk-punch base and add sake.
Stir briefly and garnish with pomegranate seeds, mint sprig and expressed orange peel.

Difficulty: Hard
Prep time: 2 minutes (not including punch base)