12 Restaurants And Bars You Can't Miss In Cleveland, Ohio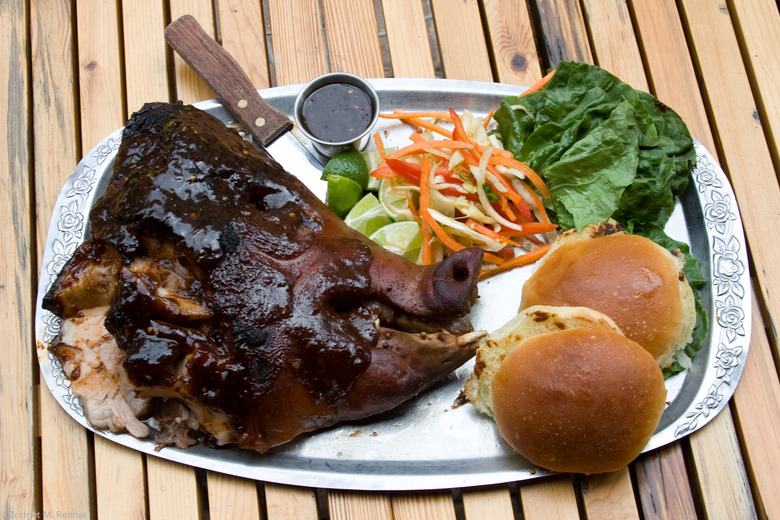 (Photo: Bridget Rehner.
For most Americans, the city of Cleveland, Ohio, brings two things to mind: professional sports and the Rock and Roll Hall of Fame and Museum. While both of these long-standing institutions deserve our attention, there's another good reason to visit this vibrant Midwestern city: truly noteworthy eating and drinking destinations.
Did you know that Cleveland is home to over 100 ethnic groups? (Translation: You'll find lots of deliciously diverse culinary contributions from each.) Did you also know that the city plays host to a cool crop of chefs, all of whom are elevating the local dining scene to great new heights? (I didn't, until my recent visit.)
So without further ado, here are 12 restaurants and bars proving there's much more to love about Cleveland than just sports and music.
Eating and Drinking in Cleveland
The Plum Cafe & Kitchen
Could this be the most exciting restaurant to open in Cleveland in recent years? Chef Brett Sawyer — he cut his teeth at another beloved local spot, Greenhouse Tavern — and his culinary team are passionate, focused and fun-loving. The design is spot-on, too, with its tiled bar, white walls, exposed brick and pink leather banquette seating. As for the food? It's whimsical and wholly original, but most importantly, delicious. (Sawyer calls it "pan-American.") Not to be missed are the pretty beet-pickled deviled eggs and the top-selling fried chicken skins, which arrive with a shot glass of house-made hot sauce. 4133 Lorain Ave.; 216-938-8711; theplumcafeandkitchen.com
Porco Lounge and Tiki Room
Opened in 2013, this bustling, lively bar is proving that tiki is here to stay. To convey a true spirit of aloha, owner Stefan Was decorated the space with salvaged decorations from iconic tiki institutions (like Fort Lauderdale's Mai-Kai, Detroit's Chin Tiki and Cleveland's Kon Tiki). He also makes sure the classic cocktails (like the Zombie and Singapore Sling) are faithfully reproduced with quality spirits, house-made mixers and fresh-squeezed juices. All it takes is one drink — especially if you order Tiki Bob's Concussion, which is limited to one per customer and is only served before 10 p.m. — to fall under Porco's intoxicating spell. 2527 W. 25th St.; 216-802-9222; porcolounge.com
Greenhouse Tavern
Located on a busy strip in downtown, this restaurant by James Beard Foundation Award winner Jonathon Sawyer is one that's adored by critics and locals alike. Though Sawyer's claim to fame is his meaty treats, like the infamous roasted pig head and confit chicken wings, he also shows plenty of love for vegetarians with his hearty eggplant "meatballs" and flavorful squash gnocchi. Since Greenhouse is Ohio's first LEED-certified restaurant, you can feel good not only about what you're eating, but where you're eating at as well. 2038 E. 4th St.; 216-443-0511; thegreenhousetavern.com


The Spotted Owl
Set in a former Bible factory dating back to the 1850s, this handsome drinking den in Tremont features unique design details, like colorful stained glass panels, tables built from vintage freezer doors and a bar made with salvaged barn flooring. The affable and able staff can whip up anything you want, but it's the original sake-based cocktails — the Red Shiso Shrub, for example, blends junmai sake with gin, shiso, rice vinegar and umeboshi — that showcase the Japanese spirit's complexity and versatility. The house rules, including "women initiate conversation" and "no kissing," ensure that every experience here is civilized, but far from stuffy. 710 Jefferson Ave.; 216-795-5595; spottedowlbar.com

Trentina
For starters, the space couldn't be any more chic. Also opened by Jonathon Sawyer, the former carriage house is now kitted out with crisp, white walls, mirrored tables and a striking beaded chandelier. Meanwhile, the cooking by chef de cuisine David Kocab is equally polished, drawing inspiration from northern Italy. While Trentina packs in the dinner crowds with wood-fired pizzas and gutsy pastas — the bucatini with heirloom tomato butter and rigatoni with white lamb ragu are standouts — brunch is no slouch, either. From a lardo- and potato-topped pizza to breakfast bolognese pasta, Kocab makes sure the indulgent weekend meal cures whatever might be ailing you. 1903 Ford Dr.; 216-421-2900; restauranttrentina.com
Happy Dog
Part neighborhood bar, part live music venue and part restaurant, Happy Dog is in a league all its own. The bands and acts that have rolled through the doors run the gamut, from classical to punk to polka. (Even members of the Cleveland Orchestra have graced the stage.) There are over 75 beers available, with more than 20 on tap at any given time. Though only quarter-pound hot dogs (beef and vegan) and tater tots are on the menu, there are 50 toppings (such as SpaghettiOs, Froot Loops and chunky peanut butter) to choose from. For a mere $6, you can check off as many items as you want and get really creative. 5801 Detroit Ave.; 216-651-6474; happydogcleveland.com
Lucky's Cafe
The speciality of this cozy Tremont cafe by chef and owner Heather Haviland is comfort food done right. Ingredients are sourced within a 100-mile radius, and the kitchen makes everything — even hot sauce — from scratch. If you can order only one dish, make it the legendary biscuits and gravy. Imagine split and toasted buttery biscuits topped with soft-scrambled eggs, a perfectly creamy sausage gravy — Haviland says her secret is not using a lot of flour, and cooking it low and slow with a hint of sage and nutmeg — and chopped scallions. Unlike other versions — where the gravy gets gloppy and the biscuits get soggy — every bite in this dish, from first to last, is soul-soothing and satisfying. 777 Starkweather Ave.; 216-622-7773; luckyscafe.com

Mabel's BBQ
The city's most beloved chef, Michael Symon, continues his winning streak with his latest restaurant, a culinary love letter to "Cleveland-style barbecue." That means the meats are smoked over local cherry and apple woods. The dry rub is a blend of spices favored in Eastern European cooking (such as mustard seed, celery seed and coriander). Beyond the standard brisket and ribs, local favorites like kielbasa and lamb ribs get the smoked treatment, too. Even the sides take a fun Cleveland twist, as evidenced by the red cabbage Cleveland kraut, spaetzle and dilly cucumber salad. If you're down with the brown, check out the extensive list of bourbons. 2050 E. 4th St.; 216-417-8823; mabelsbbq.com
The Black Pig
As the name implies, there's a strong showing of all things porcine (think charcuterie, bacon-studded Brussels sprouts, and weekly pork-based specials) on the menu of this Ohio City spot by chef Mike Nowak. But it's the house-made pastas that really showcase the chef's ability to layer incredible depth of flavor in a single bite. In the popular agnolotti, for example, Nowak stuffs the toothsome pasta pockets with wild mushrooms, before finishing them with more sautéed mushrooms, leeks, chard and parmesan. The dish is rich, earthy and packed with umami. 2801 Bridge Ave.; 216-862-7551; theblackpigcleveland.com

L'Albatros Brasserie & Bar
Chef and restaurateur Zack Bruell — he also has eight other popular local restaurants under his belt — turns out classic French fare (think escargot, cassoulet and croque monsieur) alongside chewy, wood-fired pizzas in this popular brasserie housed in a historic carriage house. And if you love cheese, you'll flip for the Maître Fromager. The in-house artisanal cheese expert curates an ever-rotating, worldly collection of interesting cheeses, from soft and stinky to rich and blue — making it easy to nibble away on an old favorite or discover something new. 11401 Bellflower Rd.; 216-791-7880; albatrosbrasserie.com
West Side Market
Okay, so this technically isn't a restaurant, but we'd be remiss not to include it. Open since 1912, this bustling indoor/outdoor market showcases Cleveland's diversity with over 100 booths purveying a mind-boggling selection of produce, meats and baked goods. And to this day, both locals and chefs depend on West Side Market for their culinary needs. If you're feeling peckish, beeline to Frank's Bratwurst or Pierogi Palace for a little taste of Poland. 1979 W. 25th St.; 216-664-3387; westsidemarket.org
Slyman's Restaurant
For over 50 years, this humble, family-owned deli and lunch counter on St. Clair Avenue has been slinging some of the city's best deli sandwiches. But its real claim to fame is the legendary corned beef. In traditional fashion, the meat is sliced thin, but Slyman's piles on a whopping 11.5 ounces. As you'd expect, the place is perpetually packed, but tables turn over quickly — so you'll never have to wait very long to stuff your face. 3106 St Clair Ave. NE; 216-621-3760; slymans.com