Michael Symon Is Trying To Invent "Cleveland-Style Barbecue"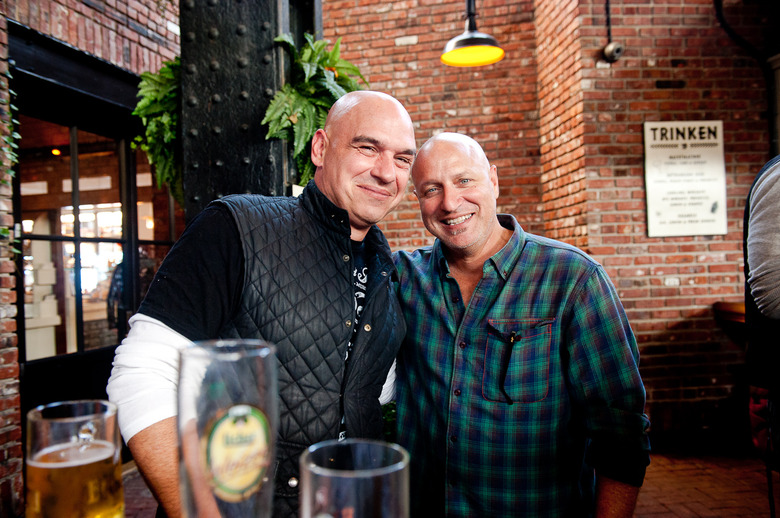 Cleveland is known for a number of things — the Browns, the Rock and Roll Hall of Fame, Drew Carey, LeBron James — but not barbecue. Acclaimed city chef Michael Symon is on a mission to change that.
But what's in a name? Barbecue by any other name would smell as smoky. Sure, there are a number of distinct styles of smoking meats over a flame that hinge on whether the meat is marinated with a vinegar- or tomato-based sauce and the type of wood with which the flame is built. But can nitpicky details like the specific type of mustard used also be considered a new style of barbecue? If pork is smoked specifically over, say, vertically chopped cherrywood, would that be a style in itself? If we're speaking about regional specialties, could New York pastrami ever get the BBQ stamp of approval?
With his new joint, Mabel's BBQ, set to open soon in his hometown, Symon will be using materials he hopes will come to be associated with "Cleveland-style barbecue." Dedicated to the large Eastern European population in the city, kielbasa will be smoked over applewood, an homage to the numerous apple orchards in northeastern Ohio. Sauerkrauts will also be on hand.
Symon told Playboy in an interview that much of the attention will focus on the house's sauce.
"Cleveland's known for its mustard, and I wanted to use that as the base of our sauce. But instead of the classic Carolina yellow-mustard BBQ sauce, I'm using Cleveland's famous brown mustard, Bertman's."
One could call it modesty, or just a safe cushion of time, but Symon hopes that in a couple of decades people will recognize this as Cleveland's distinct style of 'cue.
"Our hope is that 20 years from now, when people think of BBQ in Cleveland, they think of applewood-smoked meats and brown mustard sauces. Like when you go to Texas and you get hot links," he says.
Whether or not Cleveland-style barbecue will ever be a thing — and whether or not one can really invent a style of barbecue — we're giving brownie points to Symon for trying.