Dry Alternatives: A Non-Alcoholic Bottled Bitter Cocktail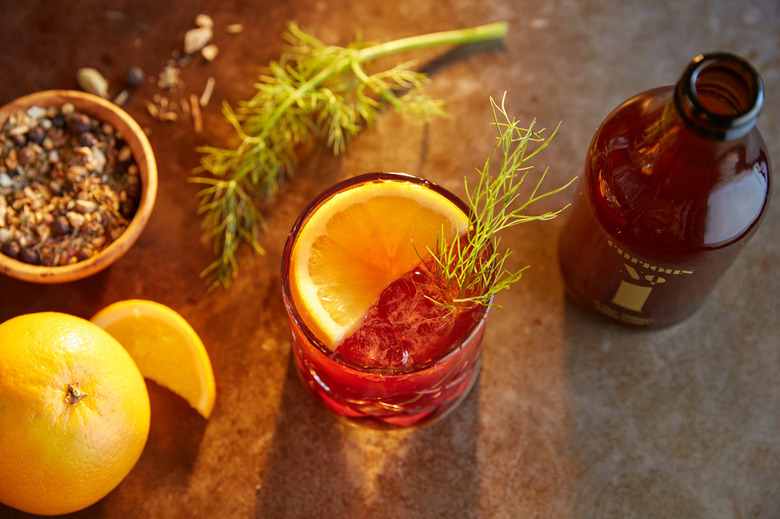 Fancy, complex and 100 percent non-alcoholic! (Photos: Tory Willi
Non-Alcoholic Drinking
Cocktails are characterized by the presence of alcohol, modified by any multitude of other flavors and ingredients. But what if you were able to replicate the contemplative, invigorating and refreshing qualities spirits bring — except in a soft format? Considering the intensity and complexity of a drink like the Negroni, which might exhibit dozens of botanicals collectively (when you add up those found in its ingredients of gin, Campari and vermouth), this is no small task and leaves those looking for healthy alternatives to cocktails with very few options. Ironically, alcohol keeps many people healthy by killing off bacteria, in addition to the medicinal properties found in the herbs, roots and spices of the spirits themselves.
For those practicing a dry January, the recently launched Curious Elixirs — a company aimed at re-creating cocktail-inspired flavors in non-alcoholic, bottled form — seeks to satiate those who are often frustrated by the lack of guilt-free options available. Cofounder John Wiseman keeps its recipe close to the vest, only sharing that this first Elixir blend has "somewhere between 12 and 20" ingredients, including organic juices, roots and herbs. Citrusy, bitter and complex in flavor, this initial blend was aimed at being a cross between a Negroni and a muddled old-fashioned. With a slice of orange to brighten the aromatics, the brain can easily be tricked into thinking it is entering an imbibed state.
The process is far from easy, and the team often collaborates with numerous lauded bartenders along the way, including Mace's Nico de Soto, Legenda's Ivy Mix, Compère Lapin's Abigail Gullo and Amor y Amargo's Sother Teague. Carbonated and bottled at a proper dilution level, a chilled Curious Elixir No. 1 can be poured out straight into the glass without ice. Unlike many sodas, there is no added sugar, so any sweetness is derived only from the tonic's fruit juices. As low-ABV cocktails continue to rise in popularity, bottled concoctions such as the Curious No. 1 might just strike that perfect balance of being both consumer-friendly and a suitable alternative to cocktails that even bartenders might enjoy. Either way, it looks to be walking a straight line in the right direction.
Curious Elixir Cocktail
Servings: 1 drink
Ingredients
6 ounces Curious No. 1
Orange slice
Directions:
In a rocks glass, pour 6 ounces of Elixir and add ice, if desired.
Garnish with an orange slice.
Prep time: 30 seconds
Difficulty: Easy