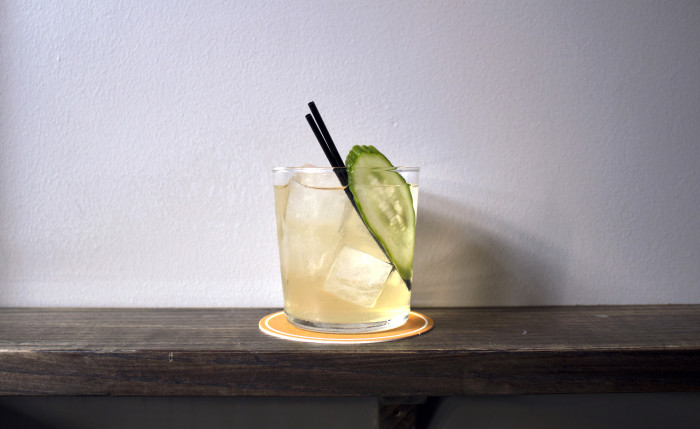 "We still need a name," recalls Leyenda's co-owner and head bartender Ivy Mix as she nods to fellow bartender and fellow SpeedRack alum Shannon Ponche, who's behind the bar. They quickly land on the playful "Hombre Lobo," a wolfman in Mexican lore, and with that a new mezcal cocktail is ready for the Brooklyn bar's spring menu. Despite the name, this drink's light and nuanced flavor isn't what one would normally expect from a mezcal cocktail.
Starting out as a take on Phil Ward's Pale Rider at Mayahuel — a drink borne out of his loathing sangria — the drink uses only a single ounce of select Mezcal Amarás Cupreata, which is distilled from a species of agave that grows only on high-elevation mountain slopes in the state of Guerrero. The flavor carries more of a grassy, vegetal profile than a smoky one.
Amarás is part of a growing movement of quality, sustainable mezcals available in the U.S. that offer an alternative to the industrial production methods of mezcal's better-known cousin, tequila. Though locals and farmers prefer to drink mezcal straight, that approach still hasn't caught on in the U.S. and it's understandably hard to enforce when the spirit is so well acclimated to cocktails. Shannon's Hombre Lobo frames the Cupreata beautifully, with a delicate balance of grass, cucumber, herbs and sherry hitting the palate all at once.
As tastes expand and bar programs like that of Leyenda's showcase the spirit prominently, drinkers' increasing awareness and affinity for mezcal as a true expression of Mexico's terroir and culture will likely grow, just as many now understand that Mexican cuisine is far more than just tacos. With bartenders who carry the experience that both Mix and Ponche bring, it's an easy sell. Enjoy.
Hombre Lobo Cocktail
Serving: 1 drink
Ingredients
2 1/2 ounces La Guita Manzanilla Sherry
1 ounce Mezcal Amarás Cupreata
1/4 ounce chamomile syrup
1/2 teaspoon demerara syrup
Bar spoon fresh lemon juice
1 ounce soda water
For the chamomile syrup:
Bring 1 quart of water to a boil and then remove from heat to add 1/3 cup of loose chamomile tea.
Let steep for 15 minutes and then strain out the chamomile flowers.
Add 2 pounds of sugar to make a rich syrup (2:1 sugar to tea ratio).
Stir to dilute and refrigerate for later use.
Directions:
In a chilled rocks glass, build all ingredients and add ice.
Stir for 5-10 seconds and top with 1 ounce club soda.
Garnish with a cucumber slice and add straws.
Prep Time: 3 minutes
Difficulty: Easy