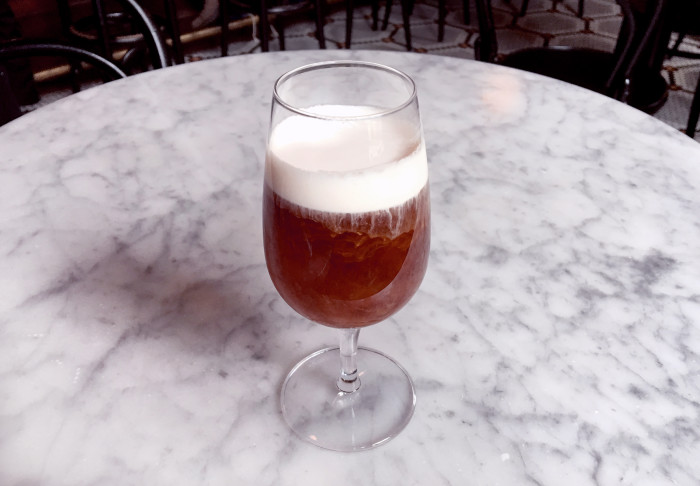 Are those who are serious about their coffee equally as scrupulous about their coffee-laced cocktails? Old standbys, like the Irish coffee, can be delightful — especially if you're at the Dead Rabbit, where the drink is a house specialty. The espresso martini, created in London in the early '80s when a patron asked barman Dick Bradsel for a drink that would "wake me up and then fuck me up," also comes to mind. In addition to sweeter flavors, bartenders today explore the drier floral or citrusy notes found in coffee, as opposed to just chocolate, cream and spices.
At Reynard in Williamsburg, Brooklyn, beverage director Rustun Nichols features a cold-brew cocktail on the menu called the Beccacino; a nearly forgotten coffee drink from the West Coast. "The drink was an old Seattle recipe that was revived by my favorite bartender, Murray Stenson," notes Nichols. Mur "The Blur" Stenson is a local Seattle legend and was also named "Best Bartender in America" at Tales of the Cocktail in 2012. For Nichols's iteration, he uses "a nutty, almost savory Jerez brandy. It goes really well with the acidity of the cold brew."
Related: How To Make Cold-Brew Coffee At Home
It's a welcome treat to see an obscure classic like this cold-brew cocktail pop up in Brooklyn. The Beccacino's brandy- and liqueur-laced base (a combination of amaretto, Irish Mist and Benedictine), with its pillow of whipped cream adding a rich decadence, does feel slightly old-school, but in the best way possible. It's hard to imagine a better taste of nostalgia for the daylight hours or the season. Enjoy.
The Beccacino Cold-Brew Cocktail
Servings: 1 drink
1/2 ounce Benedictine
1/2 ounce Irish Mist Liqueur
1/2 ounce Luxardo Amaretto
1 ounce Brandy de Jerez
2 1/2 ounces cold-brew coffee (Stumptown, or homemade*)
Top with fresh whipped cream
Cold-brew directions:
Combine 1 cup coarsely ground coffee with 8 cups room-temperature water.
Cover or seal container with a lid and let sit at room temperature for 12-16 hours.
Strain through a mesh sieve, and then a paper filter. Refrigerate for later use.
Assembly directions:
Combine ingredients into a mixing glass and add ice.
Stir for 10 seconds and strain into a small wineglass.
Use a spoon to gently float fresh whipped cream on top.
Prep time: 3 minutes
Difficulty: Moderate