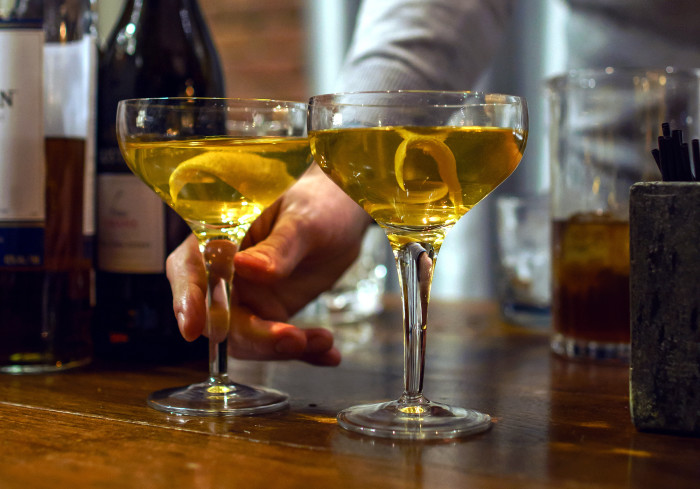 One doesn't often think of Spain when they think of Scotch whiskies. At the center of this kinship is sherry — the fortified wine made in the southern coastal Andalucía region of Spain. Sherry and scotch pair well, both through casks during sherry's aging process and in cocktails, where the fortified wine adds complexity without sweetness. Still a misunderstood category, sherries can range from incredibly dry to raisiny sweet and provide a diverse range of options against the flavors found in scotch.
"Fino [sherry] is bone dry and very lean but brings a brightness and slight acidity that accentuates the brighter fruit notes of the Macallan," notes barman Robby Nelson of Prime Meats and Long Island Bar. At a recent dinner featuring sommelier Josep Roca of Spain's lauded El Celler de Can Roca — the number-one restaurant in the world in 2015 — Nelson crafted several drinks to showcase the interplay between sherry and Scotch with a take on the Brooklyn cocktail using Fino sherry, Macallan Double Cask and Maraschino liqueur. "I enjoyed the slight richness the Maraschino added, along with the fruity and nutty characteristics that it has, which pairs nicely with the fruit and nut elements of both the sherry and whisky," he says.
Scotch, despite its richness, can easily disappear in a cocktail. Vermouth can be a bit heavy-handed, especially when using an expensive single malt, while drier sherry varieties, such as Fino, Amontillado and Palo Cortado, avoid that pitfall. Nelson's Fino cocktail is decidedly acidic, nutty and bright, which is unexpected for a scotch drink, but a great highlight of the fruit and grain notes in the Macallan. The next time a stirred Scotch-whisky cocktail comes to mind, think about making it with sherry. You won't be disappointed.
Fino Sherry Cocktail

"Warm and mature, like Josep Roca"

Servings: 1 drink
2 ounces The Macallan Double Cask 12-Year-Old
1 ounce Lustau Fino sherry
1/4 ounce simple syrup
1/4 ounce Maraschino liqueur
Directions:
Combine ingredients in a mixing glass and stir with ice.
Strain into a chilled coupe glass and garnish with a lemon twist.
Prep time: 2 minutes
Difficulty: Easy