Sherry — the word itself conjures up of an array of images and tastes that are as varied as the styles of sherry itself. Regardless of preconceived notions, it is no longer a dram relegated to the cooking wines section or your grandmother's dusty liquor cabinet. It's a diverse category meant to be enjoyed alongside a wide array of foods, with thousands of culinary applications. With the increasing resurgence of the various styles of sherry on wine lists and in craft cocktails, where does one start to understand the complex and antique style of winemaking? How to use it and appreciate it? Let's start from the very beginning.
A Brief History
The word "sherry" is an anglicization of the Spanish "Jerez," a port town on the Andalucian coast of Spain near the Strait of Gibraltar. As a strategically important Mediterranean port, the town has played a large role in trade and commerce since ancient days, when it was populated by Phoenicians, Romans and, later, the Moors. The Phoenicians and Romans planted large vineyards in the region, and with the Moors came the practice of distillation. Grape brandy was added to the wine to extend its life, creating a very specific style of fortified drink. By the 16th century, many conquerors and warriors had passed through this area of Spain and brought with them this wine, considered the finest in Europe. The long shelf life of sherry made it a popular drink for extended sea voyages. Columbus notably lashed casks of sherry to his ships as ballast, and when Ferdinand Magellan embarked on his journey to circumnavigate the globe, he spent more money on sherry than on weapons. Thanks to the conquest of Cadiz by Sir Francis Drake, the British fell in love with sherry and began investing and purchasing sherry bodegas in Spain. To this day, a decent portion of sherry bodegas hold British names.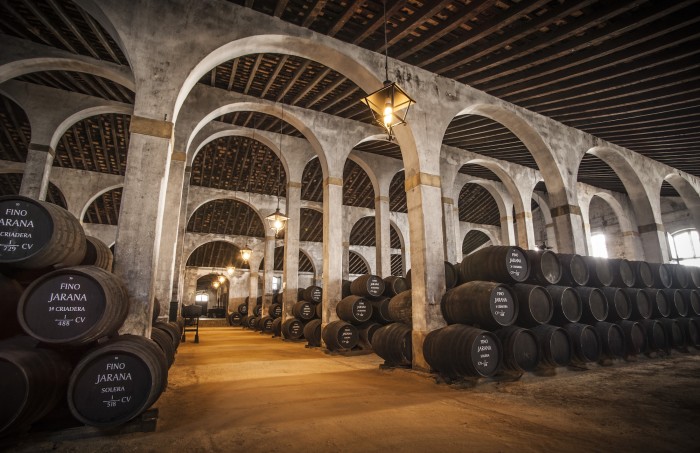 So what exactly is sherry?
Sherry comes in many styles, but as a basic principle, it is a fortified wine: Distilled liquor is added to the wine to increase its alcohol content and extend its shelf life.
Sherry begins its life as a dry white wine made from the Palomino grape, grown within the area known as the sherry triangle on the Spanish coast. After the wine is fermented to dryness, grape brandy is added and the wine is aged in a solera, a series of barrels that age wine over time, fractionally blending older wine into the newer to produce a consistent style. When harvesting the finished sherry from a solera, a portion of the wine is removed from the bottom-most rack (or criadera) of barrels, making sure to leave two thirds of the wine in the barrels to impart its flavor to younger wine. Wine is then moved from the row of barrels directly above the bottom rack to refill the bottom row and continues to be migrated row by row from the top toward the bottom to refill the casks. The new fortified wine is used to fill the top-most row of barrels, and the finished product will have been blended with all the barrels that came before it, producing a specific style of aged wine. The vast majority of sherry production creates a non-vintage wine, though there is the rare exception to this rule.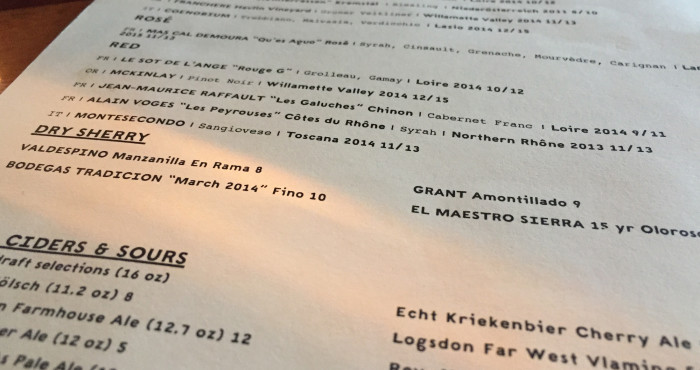 Styles of Sherry
Under the Flor: Fino and Manzanilla
Flor is the name given to the specific moss-like bacteria that naturally occurs in symbiosis with some styles of aging sherry. Flor grows on the top of the aging wine in the cask and protects the wine from interacting with the air and causing oxidation. Sherry that is aged under flor is bright and light in color and offers a characteristic bready or yeasty flavor component.
Out in the Open: Oloroso, Pedro Ximénez, and Moscatel
In many instances, the fortified wine will pass through the solera without the flor. Flor will only grow when certain conditions are maintained, and wines that have a higher alcohol content will not support flor growth. This gives the wine a chance to interact directly with the air and to take on a more oxidative quality.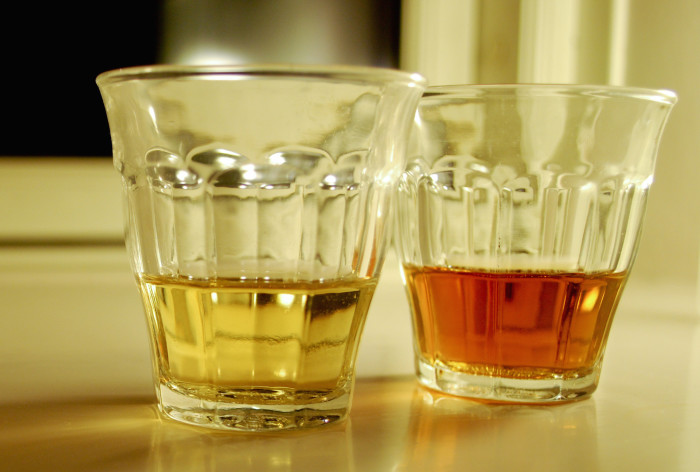 A Mixture of the Two: Amontillado and Palo Cortado
In certain instances, sherry is aged for a portion of its life under flor and a portion without. There are many reasons for why flor may die in a cask, but if it fails to thrive, a wine may be removed from the solera, inoculated with a bit more brandy, and aged oxidatively. The wine produced is the best of both worlds: a wine with the briny, yeasty character of a Fino, and the raisin and caramel notes of an oxidatively aged oloroso.
The Sweet Stuff 
Dessert versions are called cream sherries, though no dairy is involved. These are blends of a dry style, usually amontillado or oloroso, and the juice of sweeter Pedro Ximenez grapes. They present the nutty, rich, oxidative qualities of sherry against a raisin-y, more unctuous backdrop of sweetness.
So what makes sherry great?
Up until the latter half of the 20th century, sherry enjoyed a premium status as a commonly called-for drink among the middle to upper classes. Many of America's founding fathers drank and collected sherry and other fortified wines, and the wine was commonly found in the liquor cabinets of many more modern American citizens. The wine was so popular that it formed the basis for many a classic cocktail and was called for in numerous kitchen recipes. So what happened to sherry? Why don't more Americans know and love the wine today? We sat down with the House of Lustau Sherries and Brandies to discuss the state of the industry.
Meet the team:
Paul Sanguinetti: Lustau brand ambassador
Sanguinetti currently works as a brand consultant for the House of Lustau in addition to his responsibilities as assistant blender for Campo de Encanto Pisco. He is also the co-founder of No Scruples, an elite, nationwide bartender collective and consulting group that focuses on community-driven charity events, education, and bar and brand consulting. When not imbibing on cocktails, Sanguinetti is most likely traveling in the pursuit of beverage and culinary education or tending bar at the Normandie Club in Los Angeles, California.
Lucas Paya: Lustau brand educator and sommelier
Currently working as an independent consultant for several quality firms within the wine, beverage, restaurant and gastronomy industries. For five years, Paya served as head sommelier for acclaimed chef Ferran Adrià's highly esteemed restaurant elBulli, in Catalonia, Spain, with a wine inventory worth more than $2 million. Most recently, he worked as the wine and beverage director for José Andrés ́s ThinkFoodGroup (TFG), where he oversaw the wine and beverage programs for all 15 TFG restaurants around the world.
Myrna Santos Mayor: Lustau North American director
Santos Mayor is the North American director for Grupo Caballero, which acquired Lustau in 1990. She works tirelessly to promote and educate all tiers of wine service professionals nationwide about sherry. Lustau has been producing sherry since 1896 and exporting on the international scale since 1950. More recently, Lustau has been recognized by several awards: Best Spanish Producer in 2011 at the International Wine & Spirit Competition in London, and in 2012, it was the most award-winning winery in Spain. Lustau winemaker Manuel Lozano has been named Best Fortified Winemaker of the Year seven years in a row by the International Wine Challenge of London.
Now, let's ask the professionals….
The buzz for sherry in cocktails and on wine lists continues to grow. What are the root causes for the attitude change toward sherry after such a period of decline?
SANGUINETTI: "The bottom line is people are concerned and interested in what they eat and drink. They want top-quality ingredients prepared by qualified chefs and mixologists, baristas, distillers and brewers. The consumer wants transparency. I believe the craft cocktail world is leading the movement, as it has caused a resurgence in the revival of old cocktails. During the pre-Prohibition years, the Sherry cobbler was one of the most popular cocktails of its day, i.e., the modern-day Moscow Mule or old-fashioned. It created the need for the 'straw' and is one of the reasons it is so prevalent in bars today. The Bamboo and the Adonis were also old staples of any barkeep's repertoire. Sherry was also very fashionable in punches of the 19th and early 20th centuries, and it was fanciful for women to drink sherry as an aperitif all the way up through the 1950s.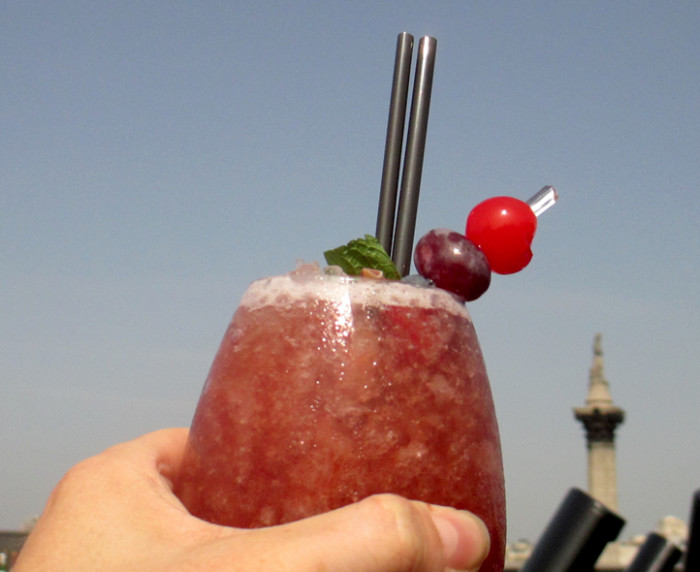 In addition to sherry being necessary in the revival of these old cocktails, it also plays as a valuable and essential ingredient in creating modern classic cocktails. The dry sherries can add wine acids, salinity, umami, nuttiness and a long drying finish to a cocktail, adding depth, complexity and tactile sensations that may be lacking. The sweet sherries can add a beautiful richness, sweetness, as well as a bright acidity to drinks like an old-fashioned or a Manhattan, which may traditionally lack a little acid. So sherries are as versatile as all the styles that are available, which is many and varying and in the end makes very interesting and (for pairing purposes) food-friendly, sessionable cocktails."
What strategies can wine professionals give bar managers and sommeliers to effectively present sherry to their customers?
PAYA: "Education, exposing both the industry and consumers to the countless possibilities and exciting combinations that sherry offers — talk about it! Sherry isn't a wine, per se; it is a portal to a broad and colorful way to appreciate food and wine."
SANGUINETTI: "Education is key. Letting guests try a taste of sherry and its different styles and explaining to them what makes them unique is key to renewing interest. Then incorporating sherry cocktails into the menu and letting guests try it in its many cocktail applications as well. Sherry is fun and exciting and new and unique, and that's what having a great bar experience is all about. So it's not just about what bars bring to sherry, but what sherries bring to a bar and to the guest experience. Also, incorporating sherry into cocktails gives an opportunity to lower beverage costs and increase a bar's profitability."
Are there any great cocktails for sherry that bar professionals should be familiar with or can use as good go-to drinks to introduce the wine?
SANGUINETTI: "The Sherry cobbler for sure. It's a great, refreshing drink and can be open to so many interpretations. The presentation can also be beautiful and appealing to the eyes, with large mint sprigs and powdered sugar and seasonal berries gracing a mound of crushed ice. I also like making a daiquiri with rum and pisco and a dry sherry like an amontillado. The amontillado adds depth, complexity and a drying, nutty finish, which adds a very nice dimension to an otherwise simple yet deliciously crushable cocktail and bartender favorite."
Who are the customers seeking out sherry in today's market? What styles of sherry are currently garnering the most attention?
PAYA: "The bone-dry and/or drier wines, and the semi-intermediate or in-between older biologically aged styles."
SANTOS MAYOR: "Of course there are sherry lovers that swear by it, as I do, but we are seeing a new consumer these days. They express a fascination for the crafted cocktail and an interest for the best in what they will consume — the foodie. Their interest for sherry may have first been sparked while tasting it as a modifier in a cocktail, then [they] eventually enjoyed it paired with food. We cannot say the consumer is of a certain age group, as it's more a common life appreciation that is shared."
In what new (or old) ways are bars and restaurants presenting sherry to their customers? Flights? Cocktails? As a traditional dry wine?
SANGUINETTI: "As far as restaurants, unique food pairings allow sherry to really shine as it works wonders with food, especially with foods that other wines fail at: i.e., salty hams, almonds and olives, high-acid foods like escabeches, and hard topper items like asparagus and artichokes, etc. They also can make unique pairings to foods like oysters, consommes, grilled rib eye, etc. Flights are another option that allow guests to experience the many styles. I personally like to order sherry by the bottle at a restaurant as a good fino or manzanilla or amontillado can be very versatile and pair with most foods if I'm sharing a lot of dishes.
Cocktails have proven very effective as consumers are very interested in cocktails, and sherry allows a cocktail to be balanced and shine. As mentioned previously I have seen Sherry cobbler, Manhattan, and old-fashioned variations that include sherry and make those cocktails unique, flavorful and more sessional than their original counterparts."
Lustau is taking part in this year's Tales of the Cocktail in New Orleans. What can we look forward to? What kinds of results do you hope to see in the cocktail sphere after your events at Tales?
SANTOS MAYOR: "We will be involved with a focus on education this year. In 'Deconstructing the Solera,' we partner with Ron Santa Teresa to tell the story of soleras, the history, and evolution of the spirits these casks keep. We will also showcase Lustau's Vermut in the U.S. beginning this fall at a seminar with Francois Moti and Guiseppe Gallo, 'The Spanish Vermouth: Dark Horse of Aperitif.' And a party or two! We trust that by sharing more knowledge, making available various styles of sherry and explaining why casks aged with it are so cherished, we will challenge bartenders to venture not only to include more sherry in their recipes but also to enjoy a glass or shot on its own!"