Do You Add This Secret Ingredient To Macaroni And Cheese?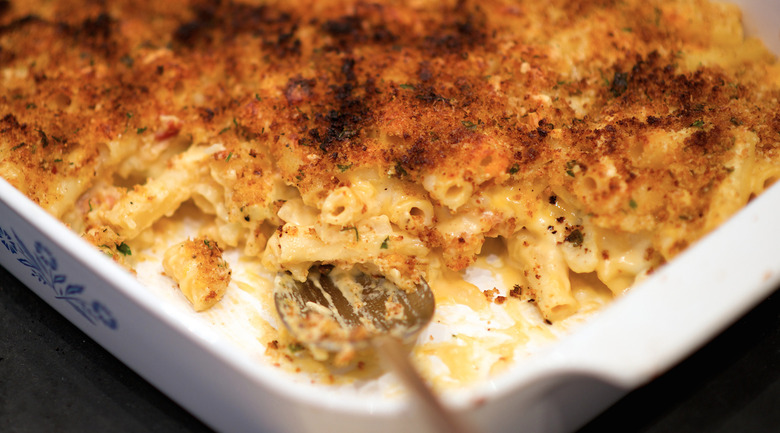 (Photo: jseita/Flickr
Macaroni and cheese is a notoriously rich dish, calling for milk and/or cream, butter and as much cheese as you can fit in there. It's excellent, but it's intense. A time-tested way of fitting more into your stomach is to trick your palate into thinking you're eating less fat by "cutting" it with something acidic. This technique brings the nuances of the heavier ingredients to the forefront to create a more well-rounded overall flavor experience, not unlike the pickles or ketchup do on your cheeseburger. Some people turn to beer or wine for an acidic component, others employ a dash or two of hot sauce, and more often than you may realize, some stir a secret ingredient right into the mix.
Mustard, whether yellow or Dijon, in its prepared or powdered form (typically powdered), has long been added to the blend. Don't believe us? Alton Brown's go-to recipe calls for mustard, as do the recipes of Ted Allen, Andrew Zimmern, Fabio Vivani, Pioneer Woman Ree Drummond and, of course, Thomas Jefferson.
The Guardian published a particularly good example of incorporating an acidic ingredient (or two): renowned recipe developer and cookbook author Diana Henry's cheddar, cider and mustard macaroni and cheese. She notes that it works with whiskey as well, but the smooth tartness of the cider sounds pretty great. Mustard adds a great kick without any pronounced mustard notes to stovetop, baked and even boxed or frozen versions — try it yourself and discover a whole flavor layer you didn't know you were missing.